16 Best Free Standing Punch Bag in UK for 2022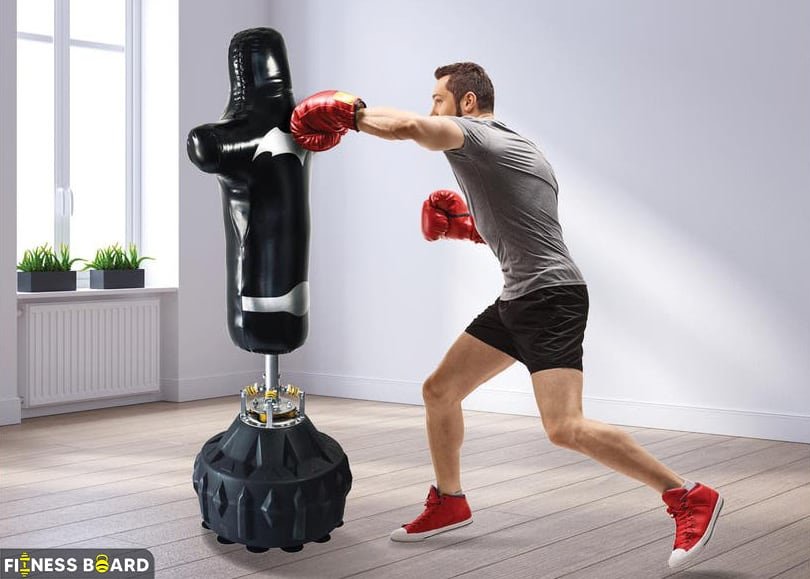 When it comes to getting into good physical shape, you need to stay resilient and you need to stay focused. You also need to make use of all of the best tools and toys out there that you could use to stay in good condition. Fitness is always a hard thing to balance out properly, as it takes immense time and honing of your craft to stay in good condition. If you intend to start boxing, though, you need something you can use at home to improve your technique. That's why you should consider buying a free standing punch bag.
With a tool like this, you give yourself all of the help that you need to start boxing better. Yet, it isn't quite as simple as just going online and buying a free standing punch bag. You need to buy the right punch bag and the best punch bag for your budget. In a bid to make your job easier, we have broken down the best products below for you to choose from. Use any of these products to your advantage, and you will find it much easier to start boxing at home!
Before you go ahead and make any kind of investment, though, we want to help you understand why a free standing punch bag can be such a useful investment. A standing boxing bag can be a wonderful workout companion, but you just need to get the right model.
To do that, though, you need to understand the benefits of using such a boxing companion. So, before we show you a list of the best free standing punch bag options, we want to talk about the benefits of using such a product. What, then, matters here?
The Benefits of Using a Free Stand Boxing bag
There are many benefits that can come from using a boxing bag, and some of the most important benefits might surprise you. Here, though, is a list of the main reasons why we would suggest moving from a ceiling-secured punch bag into something that is a bit easier to use day-to-day.
Quicker Setup:
A main reason why many will choose to go down the route of a free standing boxing bag is the quicker setup. Instead of having to burst holes in your ceiling to make sure that the bag can hang safely, you can simply put sand, water, or any other recommended substance into the bottom of the bag. This will ensure that it can retain a strong position even when you start to really push forward with the combinations!
Softer, Easier on The Hands:
Another positive is that you should find your hands don't feel the wear and tear impact quite as much. Most boxers will find that using a bag for prolonged periods of time can lead to quite a lot of hand issues. With a free standing boxing bag, though, you can find that the bag is nowhere near as heavy to connect with. While you should still wear gloves, it does soften the impact quite significantly.
Smaller Space Demands:
Whether you are setting up a gym at home and need the extra space or you are buying the best free standing boxing bag for your gym, these take up far less space. This means that you can often set out more of the boxing bags, allowing more athletes to take part in growing and honing their skills. This can be very useful for making sure your gym continues to produce talent that can get on the bag on a regular basis.
Suitable For Other Sports:
Not every punch bag that hangs from the ceiling is going to be a suitable choice for other activities. With a free standing punch bag, though, you have something that can ensure that boxing is not the only sport you can take part in. A free standing solution allows for things like kickboxing, MMA, Muay Thai, and other combat sports with the same model. This means you don't have to buy the same quantity of products and equipment.
Suitable For All Ages:
Buy a free standing punch bag in the 4-6ft range and even a smaller athlete could enjoy using this. Buy a ceiling-raised punch bag, though, and it will likely prohibit who can properly use the bag. As such, you should look to find something that is suitable for all ages. A good quality punch bag can go a long way to improving your accuracy, but finding a bag that is the right height is essential. With a freestanding option, though, you know that most of the household/gym can use it without issue.
Want to make sure you buy the best free standing boxing bag, then? Take a look at the list of options that we have for you below.
What are The Best Free Standing Punch Bags on The Market Today?
Want to make sure that the bag you buy is the best bag for you personally? Then take a look at some of the products that we have listed below.
With these options, you can make sure you buy one of the best punch bag solutions for home or gym usage. Set any of these models up at home, and you will benefit from their extensive quality overall. What, then, might be the best model for you to go and pick up if you want to start punching better?
1. Athens Free Standing Boxing Bag
As one of the best solutions on the market just now for those buying a punch bag in the UK, the Athens free standing boxing punch bag offers all the features you might need. Suitable for both kids and adults alike, you can build up a real fluency and confidence when you are on the bag with the help of this particular model.
Made using comfortable PU leather, too, you can hit away on this small bag without having to worry about wear and tear. It's comfortable to hit, it makes little to no noise when you are laying waste to the bag, and it gives you one of the easiest installations possible, too.
This is also useful as it can be easily assembled or disassembled if you so choose; you can simply use the powerful suction cups to keep it in place, too, ensuring you can keep on boxing with confidence and comfort.
2. Mirafit Punch Bag /w Base
If you want a solid punch bag that gives you a full body area to fight with, though, you might wish to look a this Mirafit option. While a little more expensive than some of the other options on our list, this gives you an excellent lace to start your build-up and your combo-creation.
The 80kg weight when filled with sand or cold water means that you would need to pack an absolutely lethal punch to knock this bag over. The rubber sealing avoids any kind of spillage, though, and the quality rebound system means that it springs around with the precision and the accuracy that you would want when trying to get into your rhythm.
The faux leather used is durable, and the easy to fill and setup nature of the bag makes this one of the best boxing bag options on the market. With a total height of 156cm, too, it offers ample height.
3. XN8 Free Standing Punch Bag
Want to find a model bag that lets you aim for specific targets as you go? Then this is the bag for you. This is ideal for anyone who is into boxing, MMA, kickboxing, or any kind of martial arts that might require you to work on your hand speed, your footwork, and your overall co-ordination.
The pedestal style of the stand means that you can have this sitting on the floor without it moving around too much. The easy assembly is also very impressive, with the chance to raise the height from 175 to 183cm. The 5cm EPE foam used also helps to make sure that hits are absorbed without impacting your knuckles negatively.
Suitable for both home and gym use, this has become a common choice for those who want a free standing boxing bag.
4. BodyRip Body Bag
When you are on the lookout for a punch bag that retains the shape of a human body, though, this is the one for you.
We love this bag as it gives you a solid frame to fight with, giving you a much more lifelike body to hit. This makes it easier to time punches for a human shape, as even the biggest opponent won't be shaped like a normal punch bag. As one of the best workout companions around, this uses the 5cm EPE foam that provides much greater shock absorption on the hands.
You can use this for just about any kind of punch exercise, too, from practicing your combos to moving on your feet around an opponent. For training at home or in a gym, this model provides you with one of the easiest, sturdiest dummies that you can practice with on the web.
5. Gallant Max Strike 360 Free Standing Punching Bag
If you are taller than the average boxer, though, you might need something with extra height. Capable of rising to a height of 6ft, this free standing boxing bag makes it much easier to start building confidence as you flow from combo to combo.
Like other bags, it has the targets painted onto the bag so you can work on hitting each of the different numbers in a flow and combination. Great for building belief that you can swing with confidence and control. The height offers for total control when you are building combos, while the 5cm EPE foam helps to give your hands that bit of extra cushioning as you throw down.
An excellent choice, with a narrow base that ensures you can bob and weave without having to worry about tripping over a stand that is bigger than it probably should be.
6. LEOHOME Kids Punching Bag
As a parent, one of the best things you can do is show your children the importance of physical defence. And with the LEOHOME inflatable punch bag, you have a solid option that you can use at home for a good price. This is an affordable starter option that just about any young child can use for combo building and developing the right kind of footwork needed.
The impressive price belies the fact this stands at 5.2ft in size, making it easy for even taller children and teenagers to work around the bag with ease. Add in the fact that it can give you a solid base of some 2.1ft and you are left with a solid base that you can easily move around. Simply make sure you fill up the base properly and you can move around and bob-and-weave with total confidence here.
7. RDX 6ft XXL Heavy Duty Punch Bag
Looking for something a bit more durable and suitable for adult trainers? Then you should have a look at this option. RDX is a well-respected brand, and this is a highly quoted free standing boxing bag that you could use every day with ease. The 17 suction cups on the base make this one of the most durable and sturdy punching bags that you could get today.
So long as you give yourself enough space to move around the wide-rimmed base, you can use this to fight with total confidence. The bounce and the weave of the bag ensures you can get used to moving around the bag, flurrying combinations, and simply building greater self-belief with every punch that you throw.
For that reason, we highly recommend you take a look at this easy-to-use 185cm free standing punch bag. The suction cups do a great job of keeping it stuck down, meaning even the heaviest of haymakers won't send it sprawling.
8. Lions Free Standing Punch Bag
At 5.5ft in height, this is one of the best solutions for those of a medium-height. Unless you intend to be fighting people much taller than you, this could be a useful training platform just about anyone to build skills on. The starred and numbered sections help you to build up accuracy when it comes to body punches and kicks.
On top of that, the use of heavy duty multi-layer leather helps to ensure that every punch feels great when it lands. Without the fear of cracking and/or damaging the leather, you can keep fighting and simply fill up the bag with sand or water to keep it stable and durable for more and more rounds.
It's one of the best solutions for both parent and child to train on, making it ideal for home use or even for setting up in an all-ages gym.
9. Century Original Wavemaster
The Wavemaster is one of the best free standing boxing bags on the market today; easy to work with, to use on a regular basis, and suited for continuous use in a gym environment.
If you are looking for a solid, all-purpose option that can take plenty of punishment and stand up strong then you should absolutely look to this particular model. Easy to fill it up with either water or sand, making sure that you can keep the Wavemaster standing stronger for longer. A reliable choice made with synthetic leather for added durability over time, too.
The 172cm height makes it more than tall enough for you to work with and to use as your training companion for years to come. A solid choice that should absolutely make a good pick for you to work with when you need a free standing boxing bag that can withstand punishment.
10. Century Versys VS1
As one of the lightest free standing boxing bags on the market today, the Century Versys wins lots of friends for its style. It has a robust and impressive structure that ensures that it can take ample punishment, all the while leaving you with a strong and durable free standing punch bag.
This fills with sand easily, and gives you a full 165cm to fight with. It might not be 100% suited to extra-tall boxers, but teenagers and fighters of average height should find this works well. the high density foam allows you to be as aggressive as you like, too, using the bag to its absolute maximum when it comes to intensity.
The bag itself just weights 50kg, too, so it is easy to move around and put wherever you think it would make the best sense. A lightweight option that is great for use at-home or in a gym.
11. Everlast Powercore Boxing Bag
As one of our most popular other options on the market, though, you might find the Everlast Powercore is a good choice for a free standing boxing bag that won't knock you out on price. Filled with water and/or sand with ease, this gives you a simple to use synthetic leather bag that can take ample punishment. The use of C3 foam allows it to absorb punches and kicks with ease, while the overall thickness of the bag ensures that you can keep on using it without worrying about durability damage.
Another nice positive is the fact it is as tall as 193cm, making it one of the taller bags on our list. For those who are used to fighting taller foes or simply need something that is in their own eyeline and height range, then this is a very useful boxing bag.
12. Everlast FIT Boxing Bag
The Everlast FIT boxing bag is a fine combination that is packed with quality, with the impressive PowerCore™ steel plating technology suitable for those who need a bit more power and strength in their boxing equipment. This is a high density solution that comes with a lot of useful additions including skipping ropes, ab wheels, and a pair of gloves for using on the bag.
You should find this to be a good solution for setting up, too, as it can easily be put together in a fraction of the time that you would normally expect. A good, all around option that we highly recommend you look into.
The Everlast FIT is a boxing bag that gives you a resilient, durable option that can take more than its fair share of punishment. Definitely a choice to look into if you are trying to find something that can take plenty of combinations. Thanks to the Power Transfer Ring, this can absorb impact and improve the recoil standard, ensuring that you don't have to skip a beat while you practice combinations.
A must-try solution for anyone serious about buying a new boxing rig today.
13. MAXSTRENGTH Free Standing Boxing Bag
While it might not be the best option for every fighter, the MAXSTRENGTH boxing bags is aimed at those who aren't aiming at all-body workouts. If you need to focus on your head-height combinations, then you might want to pick up this model. The large 200mmx260mm ball size gives it a good enough size for most boxers, while the fact that it uses a thick and durable foam material on the speed ball means that it is far less likely to get damaged than other models.
We recommend this for anyone who is trying to improve their speed combinations especially. It comes with a durable 30kg base tank that can be filled with water, ensuring that you can then empty it out and move it around as and when needed. The speed ball has been tested for the required strength and endurance that one would expect, allowing you to unleash your full potential on the bag without worry.
A good, solid choice that should make it even easier for you to get better as a boxer in a short period of time.
14. Century Bob Freestanding Boxing Bag
Wile it might be comfortably the most expensive product on our list, the Century BOB is a wonderful boxing accessory. This provides you with a human body to fight with, giving you total control over where you hit. For those moving into the realms of sparing and even matches, you want to be using a person-shaped bag to ensure you get used to hitting a human form.
This offers you an excellent height of around 78" in size, ensuring that you have enough space to hit the bag even if you are relatively taller. The 16.7kg weight also ensures that this can take a real pounding when you are laying off hits, ensuring that you can have no problem in having a bag that can take the punishment you are giving out.
Tough, reliable, and the best training partner you could ask for! Safe, secure, and great for improving your physical style and profile without having to risk your hands or feet. A top quality boxing aide that could be used in any fighting environment.
15. Dripex Free Standing Punch Bag
The 175cm height should suit most fighters, while the 26cm diameter of the bag means you have plenty to move around and lay into. The ABS base tank is extremely strong, making it easy to both rollaway with the punch and bounce back into the position that it should. The high-density EPE foam powered with the 2mm PU leather makes sure you have a great surface to hit without worrying about damage or pain in your knuckles. Definitely a top option.
16. Gallant Free Standing Punch Bag
Out of all the options on the market today, though, we cannot recommend an option more than the Gallant 5.5ft Free Standing Punch Bag. Affordable and capable of taking extreme punishment, you would do well to find a better model than this on the market today.
The standard height should suit most fighters, while the 26cm diameter of the bag means you have plenty to move around and lay into. We like this bag as it provides some of the best base design going around today; it is a narrow yet stable base that should never get in your way. This is great for improving agility around the bag and ensuring that you don't get your feet caught up or lose you balance as you try and lay off combo after combo.
For those who want to bob and weave with total confidence, then you need this. Add in the fact that you had no need for nuts and bolts, and this becomes an instant choice for anyone who wants to find a punch bag that can be easily assembled, taken apart, and placed anywhere that you wish to place it.
Buying The Best Free Standing Punch Bag
With the ideas that you have above, you should find it much easier than ever to start getting on the bag. You will now have a clear idea about what matters and what comes into your thinking as you box. With that being the case, we highly recommend that you now look to go ahead and buy a boxing bag from the list above.
By using these options, you can make sure that you buy the ideal free standing punch bag. With this list, you should never struggle to buy boxing aides again!