11 Best Boxing Gloves in UK for 2022
As a boxing enthusiast, it stands to reason that you want to have the best equipment on your hands at all hands. You want to be hitting the best bag, but you also want to be hitting the bag properly. And for a boxer, proper boxing technique comes from the way you punch as much as what you punch with. For example, are you trying out using a proper pair of punch bag gloves?
If not, you should probably make the investment. Yet it can be tough to buy gloves, correct? You can spend a fair amount of time looking for gloves that provide a very particular style. You might need something made from a specific material. You might be looking for heavy bag gloves that can provide more durability and weighting. You might want something that gives you the lightest coverage possible. As you can see, you have more than a few things to think about!
Like buying any other piece of quality gym equipment, punch bag mitts require some research. Before you do anything else, then, we recommend you take a look at our quick guide to what matters when buying boxing gloves. Then, you can make a decision based on the gloves that we have recommended for you down below.
Take a look at each pair, and you should be able to find a knockout pair of boxing bag gloves. Just be sure to look closely at each pair, because every boxer has their own specific preference in gloves!
What Matters When Buying Boxing Gloves?
Of course, there are many things to take into account when buying a set of boxing gloves. For those who are serious about buying punch bag mitts that won't fall to bits, though, you want to focus on the following areas of criteria. Take each one seriously, and you should have no problem at all in finding boxing gloves that can withstand the pressure for years to come.
What Type of Boxing Glove do you Like?
First off, be sure to look closely at the kind of boxing gloves you would like to wear. We all tend to have our own choice, with some preferring a lighter weighted glove while some preferring a style that is a touch more weighted. From heavy bag gloves to particularly lighter gloves, you should be looking for something specific.
From sparring gloves to bag gloves to fitness gloves, consider each available type closely.
What Material is The Best?
These gloves need to give you a firm hit when you land a blow, without losing the cushion around your hand to protect long-term damage. You want something that is made from leather and/or vinyl. This is the best style, as they tend to give you something with padding without losing any of the power in your punch. Once you get used to throwing down, you should find that you might want to go for full leather.
How do They Grip your Hands?
Some boxing gloves, such as those made with vinyl, tend to use a Velcro sealant to make sure they stay nice and tight on the hands. However, you might wish to go for the more vintage lace-up option. This is going to be harder to get on/off but comes with the advantage of making sure you know that it is 100% fitted into place from the minute you throw that first crucial punch. So, consider the way that it grips to your hand carefully beforehand.
Are Boxing Bag Gloves Durable?
While this does come back to the material in some capacity, you always want to make sure that you invest in a pair of gloves which are designed to be used again and again. Typically, heavy bag gloves and sparring gloves are the ones which are designed with the most credible level of strength and durability.
It does, though, come down to the kind of brand that you use, so don't expect every boxing glove to be as durable as is claimed.
What about The Weight?
You want to have a boxing glove that weighs the right amount, so we recommend looking for something that ranges in the range you are most comfortable with. The lightest gloves that you can buy tend to be around 8oz, while the heaviest should be weighing in at around 20oz. However, you should take some time to consider that closely, as the weight will determine how well you can actually punch, so choose carefully depending on your arm strength at this current time.
Keep the above factors in mind, then, before investing any of your hard-earned into the recommended range of boxing bag gloves that we have listed below.
Buying The Best Punch Bag Mitts Online in 2021
Thinking about making an investment in some punch bag gloves, then? Great idea!
Boxing is a wonderful way to get yourself into great physical shape and ensure that you never need to worry about your ability to control yourself in an altercation. It is important to have discipline and being able to box gives you great discipline. Combine the skills correctly, and you can make sure you always feel confident in yourself and who you are. What, though, are a pair of boxing bag gloves worth owning?
To help you choose, we've broken down a useful list of the options we recommend below.
1. Adidas Hybrid 50
If you want to enjoy a spot of quality boxing, then you want to do so with the right protection. These stylish gold-themed boxing gloves are a fine pick for any gentleman looking to suit-up properly for a boxing match. Well-priced and easy to wear, these come with a nice blend of imitation leather and mesh finish. Weighing just 8oz, too, they make a great pick for anyone who wants to get a nice, lightweight pair of gloves.
They come with a multiple padding layer that can absorb the shock of landing a blow with minimal fuss, and it comes with a great ergonomic shape to help encase your hand and provide that protection. You should be able to avoid common issues like thumb staves and mishits with these gloves, avoiding needless injury to yourself as you go about learning how to become a better boxer.
Suitable for beginners but also good for those in the intermediate to advanced range looking for lighter weighted boxing gloves. Overall, a tremendous pick that you should definitely add to your list of boxing bag gloves to consider buying when you are ready to buy.
2. EMRAH Training and Sparring Gloves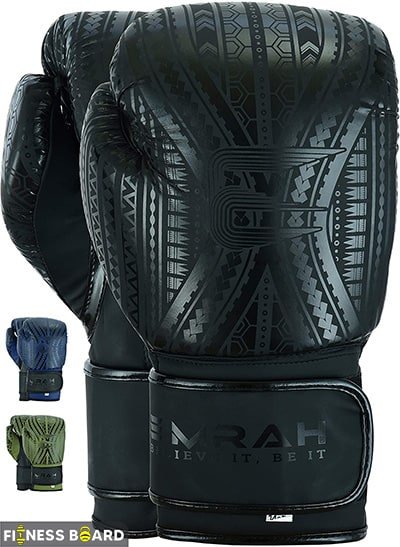 EMRAH is a well-respected name in the boxing industry, and these 10oz gloves do the company plenty of justice. They feel tremendous in the hand, and give you all of the help that you need to throw punches with precision. The full-leather finish is impressive, too, as is the fact it comes with a quality leather enclosure for full comfort as you box.
These are great for sparring, training, and for hitting the box with. The slight extra weighting makes them a good alternative to heavy bag gloves whilst still allowing you to throw with plenty of power behind every strike. The intelligent design team behind has also included a moulding that helps to absorb shock, avoiding knuckle rawness even after a good few rounds worth of hammering on the bag or sparring.
This is made using a patent pending double duro hide that adds to the longevity, too. EMBRAH products are rated for their ability to last for a long time; you could pick these up and still be using them with confidence many years down the track.
Overall, these gloves are very high up on our list of recommendations for good reason.
3. GoMax Leather Boxing Bag Gloves
If the main aim for you here is to find proper value for money, then you should absolutely look at these boxing bag gloves. They come with a pretty exceptional finish, with excellent overall durability. The use of these gloves, available from 6oz to 16oz, allows you to choose the size and the style that you find most comfortable to throw down with. Great sparring gloves, and ideal for a variety of punching sports outside of just boxing, too.
For those who want a solid workout companion that allows for total confidence in your punch without feeling weighed down, start here. This gives you all of the help that you need to keep busy, to throw stronger punches, and to retain your precision. The heavier the size, just remember that it can have an impact on how well you can punch. It can slow you down, so perhaps look at some of the lighter rates of these leather boxing gloves?
We recommend them for anyone who is trying to find a pair of quality, reliable training gloves that can give them the power they need to keep on swinging without losing focus or accuracy per swing.
4. Valour Strike Boxing Bag Gloves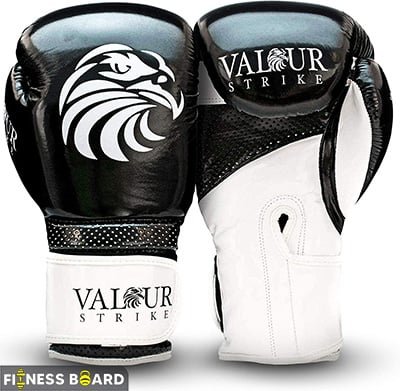 It would be fair to say that Valour are a growing name in the boxing mitts industry. They have become well respected for making a good quality of faux leather gloves, sold at excellent prices so you never need to feel like you are spending too much. These gloves in particular are popular because they come with a very sturdy V-impact foam that can take away much of the discomfort from landing a blow incorrectly.
It can also limit the chance of hurting yourself when throwing. The quality PU leather used, too, is not only durable but comfortable around the knuckles. This can absorb much of the physical tension that comes from throwing your punches, ensuring that you don't need to worry about your hands being damaged due to excess use. Also, keep in mind that these are the ideal choice for any beginner; these can easily fit on the hands of any teenager or adult, male or female.
They are a good choice for those who are on the lookout for a lighter pair of gloves, offering 8oz of extra quality boxing bag protection to ensure every training session comes without a drawback.
5. Reebok Gel Boxing Gloves
Give your hands the protection that they need as you box with the help of these gel boxing gloves. Designed with a 5mm gel for the shock absorption factor, these 10oz gloves can take plenty of punishment. This helps you to make sure you can keep swinging and throwing without worrying about your hands becoming too uncomfortable. The extra cushioning around the knuckles helps to ensure that physical discomfort is going to be minimal as you box.
The injection foam padding also helps to form a more ergonomic fit around the knuckles, ensuring that you can get added comfort and a more accurate punch. Gloves need to fit properly, and these faux leather gloves certainly do fit well on the hands – every part of the glove feels like a natural extension of your hand as opposed to some excessively heavy extra weight.
On top of that, though, these wrap around the wrist for that added extra level of support ensuring that each punch can feel very much thrown from the right place. Avoid your hands feeling needlessly heavy with a pair of boxing gloves designed to make punching more practical, not more difficult.
6. Adidas Speed 50
If you are trying to find boxing bag mitts for kids, then this is the place to start. Adidas are famed for quality boxing gloves, and these gloves offer you a great place for any kid to learn from. With the right padding around the key parts of the hand, they can get used to solid punching motion and technique without staving their thumbs or hurting themselves. These gloves do offer that extra round of physical protection that, without being used, could become problematic for any boxer.
Weighing just 4oz, these are perfect for any youngster who is trying to build up their own boxing confidence. Encasing young hands to protect their bones and their joints from being harmed is very important. That is why these gloves are such a fine choice; they are designed to be able to give out punishment whilst protecting the hand from the risk of being hurt during the process.
It comes with a 7.5cm-wide wrap-around strap, too, that should allow for quick and easy put-on of the gloves. On top of that, the PU leather that is used to helps to give a nice, soft finish to the punch without any of the damage dealt.
7. RDX 10oz Training and Sparring Gloves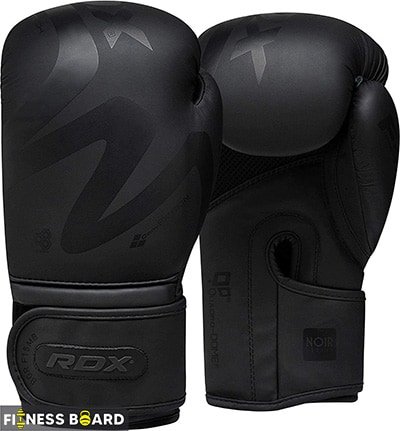 If you are looking for a way to improve your physical capacity, then having a pair of proper 10oz gloves can make a whole lot of sense. These can be just what you are looking for if you are on the lookout for a proper pair of full leather, matte black, classic boxing gloves. Make training much easier with gloves that pack a proper punch, and can give your hands the extra protection that they need without becoming uncomfortable.
The added touch of durability around the wrist can be a big thing, but it can also give you a pair of quality, full leather gloves that are designed to give that proper boxing feel with every punch. These are the kind of gloves that you could use for various practices, but they make the ideal heavy bag gloves if you want something that can provide an extra weighting and strength to every blow that you throw.
If you want to make sure you have a quality pair of gloves that are designed with added comfort and protection, this is a great place to begin. EVA padding and X-FOAM absorption, too, make it easy to get a whole lot longer out of each session.
8. EVO Maya Leather Boxing Gloves
Need full leather boxing gloves that give you a proper sense of protection? Then buy these gel-protected boxing gloves. They make an excellent choice of product for anyone who is looking for an improved boxing experience. The inclusion of 10oz thickness also ensures that you get gloves that can give you a whole lot of extra strength and thrust behind every punch that you throw. These are the ideal choice for anyone who wants to also do some MMA, too, thanks to the fact that you get some great 3m hand wraps included in the deal.
If your intention is to make sure you can train with total confidence then you need something that can keep your hands from fatiguing. The addition of little mesh interior and venting holes allows for your hands to breathe, so that even in the midst of a combination you aren't feeling your hands clamming up and thus limiting what you can do with your punches.
We have a wide range of picks for you to choose from in this list, but this is a sweet deal for those who like an all-purpose training package.
9. ALPHA FORCE 3.0 Boxing Bag Gloves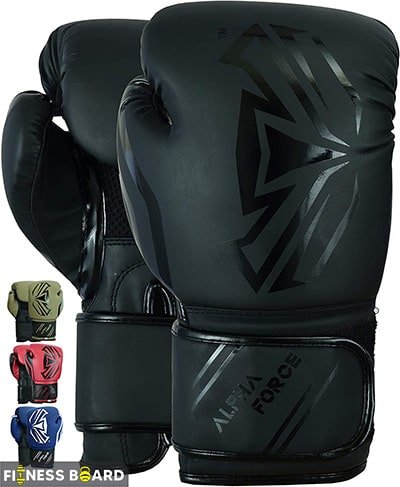 When you want to make sure your hands are properly covered for a bag session, you need some heavy bag gloves. These 10oz leather bag gloves make a good choice for anyone who wants to improve their training regime and get more out of every session. These come with a nice wrap-around hook-and-loop finish that makes them very tight to the hand, albeit without cutting off circulation or limiting hand movement.
You also get a nice inner hand lining that helps to avoid moisture from building-up, allowing your hands to still feel comfortable long into the session. At the same time, the use of the Alpha Force V-72T7 sponge comfort foam helps to make sure that your punches are absorbed on your end without hurting your knuckles. So long as you have suited-up properly and your hands are in the gloves as intended, this offers a very comfortable casing to absorb damage and keep your hands from being put under pressure.
These are great for those who need a bit of extra knuckle padding whilst making sure they don't hold anything back in terms of the power of the punch.
10. Sparta Boxing Bag Gloves and Pads
If you intend to get better at boxing, then you need to make sure that you work as hard as you can on your overall physical conditioning. This means getting used to delivering long rally sessions of punches, as well as being able to hit numerous targets one after the other. This is why this package from Sparta is one of the best on the market. Designed so that you can take plenty of punishment in the pads whilst someone else throws at you, or vice versa, this is a tremendous 2-man training system.
It comes with great air flow around the hand, and it also allows you to get a pair of quality boxing bag punching mitts that can feel great to wear throughout the entirety of a session. Give your hands the extra help they need to breathe comfortable as you get used to punching with the help of these high density, foam protected boxing bag gloves.
The comfortable Velcro wraparound enclosure keeps them on nice and tight, while the 10oz weighting ensures they feel great to wear for most people who go to take on their first bag-and-hand training session.
11. Farabi Small Boxing Gloves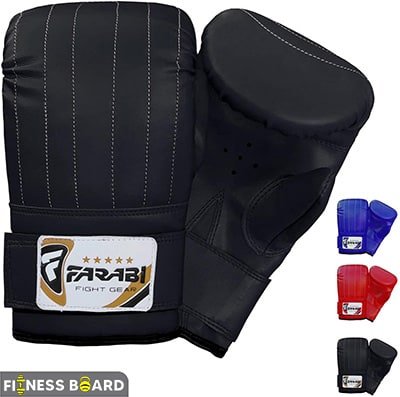 Of course, not everyone wants to shell out the big bucks on a pair of boxing gloves and that makes total sense. With that in mind, these affordable synthetic leather boxing gloves might be one of the most recommended options on this list. They feel fine to work with, they come with a very impressive overall structure, and they tend to be great for landing blows whilst keeping your hands nice and steady.
The little holes on the interior allow for better air flow around the hand, whilst the X-leather used allows for you to get a nice, smooth punching movement. It is a great choice for those who are looking for a bag-friendly boxing glove that looks good, avoids being too bulky, and gives your hands all the form help needed.
So, if you find it hard to keep your hands comfortable in a pair of boxing gloves you should try out these options. They feel comfortable, they look great, and they come with a very impressive overall build structure. In fact, for the highly cheap price you pay, they might be the best value boxing gloves on our list! Definitely ones for you to consider closely.
Ready to Get Your Boxing Gloves?
Then use the above list to give you some ideas about where to begin your shopping trip. Boxing bag gloves are often hard to buy due to the sheer number of options on the market. By taking a look at the options we have recommended above, though, you should have no problem whatsoever in getting the style right. So, are you ready to get your own boxing gloves? Then now is the time to buy!