6 Best Inflatable Punch Bag in UK for 2022
When it comes to learning how to box, it helps to start on the softest possible surface. While many start out their boxing with basic training in a gym or even with an adult family member, it helps to start off small. That is why, for many, using an inflatable punch bag makes so much sense. Soft and great for those with hands not yet used to throwing down, an inflatable bag can be great for a multi-sport training regime. However, with so many options on the market, what should you be looking out for when it comes to buying an inflatable boxing bag?
Particularly if you are on the lookout for an inflatable punch bag for kids, you might not be sure where to look. Often, these inflatable bags are most suited to either teenagers or adults who are new to boxing and thus lack physical power, or for youngsters who want to start getting to grips with boxing on a friction-free, painless boxing bag. In this article, then, we are going to break down:
What an inflatable punching bag is, and why they might be useful for you.
The things to look out for when buying an inflatable punch bag.
The six best inflatable punch bags on the market that you should consider.
By pairing up all of the above information, you can then make a more informed choice. We look to give you a good range of ideas, too, so that you know that if one option isn't right for you, another most-certainly will be!
What is an Inflatable Punch Bag?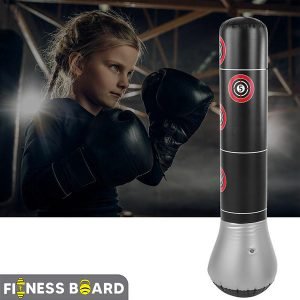 So, as you might have guessed by the name, an inflatable punching bag is one that is filled with air. Many bags today are filled with a material to give them more durability and more power when you connect. Many adults and teenagers want a boxing bag that can feel more akin to a body when you land the blow. You want it to move a little when you hit it, yes, but you also want the punch to reflect the intensity of hitting a human body. That is why many use water-filled or sand-filled boxing bags instead.
However, for those who are new to boxing (or those who are children), laying into a 'real' punch bag is a one-way street to sore hands. You might want to introduce someone to boxing a bit easier and that is why using an inflatable punch bag is much more recommended to begin with. Since they are just filled-up with air, they give off a much 'bouncier' feel with every punch. Crucially, they aren't likely to leave your hands feeling rough and sore after a session. Why, though, might you wish to use an inflatable punch bag?
Easy to Set Up
The main reason for most people to choose such a product is they know that it can be nice and easy to set-up in the first place. Instead of having to stand and fill up the thing with sand or water, you can just fill it up with air. Most of the time, this is done using an air pump and then closing over a little latch on the bag to keep the air trapped in.
This allows for you to box away comfortably, knowing the bag is easy to set-up when needed.
Easier to Store
By the same token, you can find that an inflatable punch bag for kids is a great choice as it can be stored away easily. Your kid(s) might not have time to use it every day, but it might take up a fair amount of room at home. As such, the fact this is inflated with just air means that you can quickly blow it back down and then store it away without taking up quite so much room.
For those trying to get their kid(s) boxing at home but lack lots of free space, inflatables are a wise investment.
Simple to Re-Position
Found that your boxing bag is maybe a touch too close to the door? Not suited to the space that you have for moving around and having a 'real' sparring session? Then that is fine. With an inflatable boxing bag, you can simply pick it up and move it around as needed. Any adult should be able to lift up a fully inflated punch bag and move it around to find the right place for it.
This means that if you find you are a touch short on space, you might wish to move it around.
Less Physical Impact
Another nice touch of this kind of bag is that they tend to be pretty good for hitting with your hands without feeling it. Since you are basically punching a synthetic material inflated with air, it should allow for a much more comfortable training experience.
Your hands should generally feel far less 'raw' than they would if you were fitting a normal boxing experience. Boxing is a hard thing to get right but it can be made much easier if you allow your hands to get more rest, which is made easier with less impactful material to train on.
Bounces Back Into Position
So long as you buy a good quality boxing bag, it should easily pop right back up into the right position as you box. With over bags, they can get stuck or are unable to retain a consistent flow. With just about any inflatable bag, it should bounce right back into the original position that you had placed it. We recommend that for anyone who wants to help improve the positioning that you take when boxing.
With these bags, it tends to bounce right back into the place you would have expected.
Stays Strong for Longer
With punch bags which are filled with water and/or sand, they can become a bit flat quickly. If you keep pumping this back up before and after every use, though, you should have no problem in making sure that this can stay stronger for longer.
This is a big part of getting good value for money when buying a boxing bag. If you buy something that cannot stay strong, then you have probably not spent your money very wisely. That is why buying a boxing bag that can stay stronger for longer – such as inflatables – is a wise move.
Cheaper to Buy
From a pure cost perspective, most inflatable punch bags are going to cost you a fair bit less to buy. You should keep that in mind, as many people are not aware of that benefit. If you look at any of the six inflatable punch bags, we have suggested bellow, you will notice that they tend to be among the most affordable on the market at this moment in time.
Not only are they cheaper to buy, but they are also less likely to become an expensive repair job should they ever become damaged during storage.
Great for All Ages
Unlike other punch bags, an inflatable punch bag can be of use to anyone. Other bags can be too tough and hard for a youngster to use, but an adult could easily still train on an inflatable punch bag. For those who might worry they are too strong, using inflatable boxing bags for a bit of speed training and working on improving the pace of your combinations is a very good idea.
So, why not give it a go yourself and see if this can be as fun as you think it looks from the images?
What to Look Out for When Buying an Inflatable Punch Bag?
If you decide that investing in such a punch bag might be a good idea for you, then we have some suggestions for things to look out for as you go ahead and make your purchase. Typically, the following things matter most when making your purchase:
The Price
First off, start by paying close attention to the price that you are going to be paying. Everyone wants to get a good deal, so you should take a look at the average price of an inflatable punch bag and then set a clear budget. We recommend that you expect to pay something in the region of £15-30 for a good quality inflatable punching bag.
Remember that these are often quite small-scale models, so they do tend to be quite affordable. This is something to keep in mind, as many people will look to avoid a model purely because it is well-priced. Given what is involved in an inflatable boxing bag, you should not have to pay a premium cost if you would like to bring one in to your home. So, always factor in the cost as much as anything else.
The Size
You always want to make sure that any inflatable boxing bag you look at is one that you can actually fit into your home. This means spending some time looking into the material that is used in the development of the product (more on that below) because the material informs the quality and level of the resistance that can be provided.
The size of a boxing bag always matters as you need room to move around it as you land punch after punch. Remember, too, that these tend to bounce a fair chunk, so you want something that has room to go up and down and then bounce back up without hitting anything on the way up/down.
Keep that in mind, and you should find it a bit easier to buy a good quality inflatable boxing bag that you can actually work with in the space available.
The Strength
Another important factor to consider is the strength of the inflatable punch bag. This often has something to do with the make, but it also intends to matter regarding how much air capacity that it can take. Some will be able to take more air than others, so keep that in mind as you go about your shopping. The more time that you can spend looking into how strong a model is, the more likely it is to pay off for you.
Strength is everything when buying a boxing bag, so make sure that you buy something made to last. The more punches that it can take, the better. Each bag we have recommended below is known for being quite sturdy, but you should do some independent viewing of each bag to see if it might suit the kind of physical output you are capable of producing.
The Material
Never discount the importance of your boxing bag being made from a strong, durable kind of material. You want something that is either real leather or a PVC material as this can be durable, weatherproof, and durable. It should also be designed to be easy to rise up and down as you continue to pump in more and more air into the bag itself.
The more than you can do to focus on that side of things, the more likely it is that you can come up with a bag that is not going to be in the rubbish bin in a short period of time. These are good for making sure you can keep on landing hits and blows whilst knowing the material is not going to pierce nor is it going to start allowing the air to escape out through the seams in the material.
Ease of Assembly
Lastly, make sure that you pay some particular focus towards how easy or challenging this is going to be to assemble. Many people do not realise just how important it is to have a boxing bag that is easy to assemble, so keep that in mind when making your decision.
The ease of assembly is important, too, if you wish to blow-up or bring down the bag for any purpose. If you want something that is easy to assemble, then you would be well-advised to look at any of the six major boxing bags that we have recommended for you below.
Each is a classic, high quality boxing bag that can take plenty of physical impact without losing quality. So, be sure to take a look and see if you can pick-up a high quality boxing bag that is going to be capable of retaining easy assembly in terms of getting it filled-up or filled-down.
The Best Inflatable Punch Bags on The Market Today
Want to buy a boxing bag? Then take a look at any of these six high-quality options to ensure you make an investment that you can be happy with moving forward in future.
1. Himifuture Inflatable Punch Bag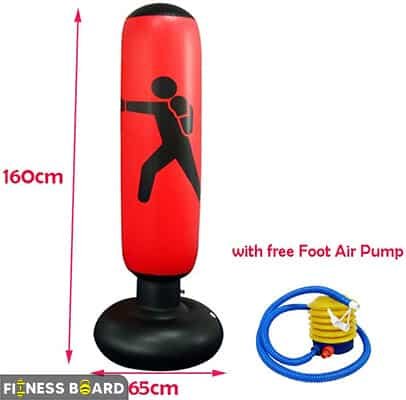 As one of the bestselling bags on the market today, we highly recommend that you take a closer look at the Himifuture brand for good quality, consistent boxing assistance. This is a good standard of pedestal boxing bag, standing strong on its own platform. It is easily filled up with air from the bottom of the bag; just open up the bottom of the bag and add in the air that you need.
You can also add in sand and/or water into the bottom of the hole, making sure that the pedestal is going to stay solid and avoid the bag from falling over as you start throwing combinations.
It's a reliable free-standing option that is designed to give you a full 160cm in height when put up properly. While not really suitable for taller boxers, younger boxers and especially those looking for an inflatable punch bag for kids will find good value here.
The price is an affordable starting point, and it should make sure that you get a good value return on your investment. It's a solid, durable, and easy to use boxing bag that comes with a free foot air pump for preparing accordingly.
2. Himifuture Inflatable Punch Bag for Kids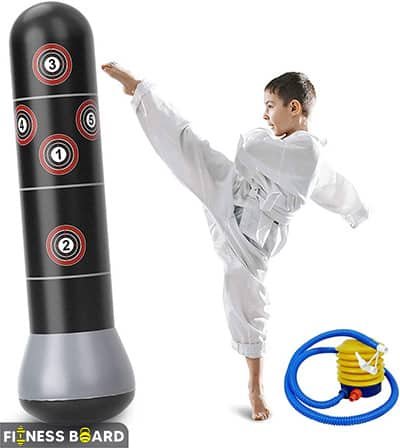 Similar to the above, this other model from Himifuture is made specifically for kids. At around 150cm in height when pumped up, this is great for kids who need to work on combination variance and in landing a good variety of body and head blows. It comes with numbers all over the bag so you can then simply call out a number and have the youngster hit the area that you have called out.
A great choice for any young boxer, this is designed to give you a simple, easy to control system that has space for water and for air so that you can keep it extra balanced for stronger fighters. It's great for exercise and for improving their physical endurance, but also great for any child who wants to work on combination precision, building target combinations, and hitting with accuracy on every punch thrown.
A soft, comfortable punch bag that can take plenty of punishment from young hands. Great for those who need something that can be set-up and then taken back down in the space of a few moments, offering an absolutely wonderful on-demand training solution for young fighters.
3. Oylee Dinosaur Inflatable Boxing Bag
If your aim is to find something that is for a young child to get them interested in boxing, pick up this comical T-rex boxing bag from Oylee. It has the kind of funny design that is sure to attract a young boxer to using it, while it also comes with all of the protection needed to ensure they never need to risk hurting themselves.
This is a totally free-standing inflatable punching bag that can take no shortage of punishment. It is extremely easy to use, with water and sand added into the base for extra balance and then air pumped in using the providing the tools. This is a great choice for those who want to get something that is easy to hit, easy to move around, and great for working around even in otherwise tight and tough situations.
This is made using a high quality PVC material, too, so you would need to go pretty overboard to damage the structure of the box. For a high quality kids inflatable punch bag, be sure to take a look at this top quality solution that makes boxing training and improving your skills a little easier.
4. Petyoung 47" Inflatable Punch Bag
Trying to give your kids the chance to work on their combinations with ease? Then pick up this adorable, instantly recognisable inflatable punch bag for kids. This is designed for exercise, for physical improvement, and for building confidence in any young fighter. A must-try solution for any parent intent on giving their kid the help they need to really understand and appreciate combat sports.
Such a thing can be tough work to begin with, which is why we highly recommend that you look at using this 47" inflatable punch bag. Tall enough for any youngster to use but also durable enough that it can stay in place whilst you throw your best at it. Overall, an excellent choice for anyone trying to improve their physical condition and find a good little starting point for any youngster who is new to boxing.
The fact that this is durable enough to stay strong whilst also taking plenty of physical punishment thanks to the durable material makes this a great starting place for building confidence in a young boxer. Durable, high-quality PVC ensures this can take no shortage of hits without losing its quality or consistency in bounce over time.
5. WingFly Inflatable Boxing Bag
Invest in a boxing bag that can take the hits that you give out, and it can make the whole process feel more enjoyable. This particular model from WingFly is a top quality PVC boxing bag that is easy to fill-up and start using for any purpose that you have in mind. Not only that, but it is a great choice for those trying to improve the speed of punching they have, as this should easily bounce back into place with a few well-timed punches.
On top of that, you will find that this particular inflatable boxing bag can easily spring back into shape even after your most powerful punch. Just make sure you fill it properly where intended, and this can give you a full 160cm in height to practice your combinations on and grow confidence as a volume boxer.
This comes with a wear-resistant PVC exterior that is eco-friendly, suitable for using indoors and outdoors, and likely to take any kind of punishment that you could reasonably give out. An all-in-all top quality choice that should quickly minimise any challenge you have when it comes to finding a punch bag that can handle punishment.
6. BOOMGROO Punch Bag
If your aim is to find a punch bag with some added charm to it, pick up this model from BOOMGROO. It has become very popular as it is easy to use, simple to set-up, and gives you a very unique model to lay into. Easy to set-up and operate, you just need to add a small quantity of water/sand into the bottom for durability, and then fill up the rest with some extra air for that properly inflated feel.
It can be tough to make things work out as you had hoped, which is why having a hitting bag like this is useful. It offers a good enough opportunity to fight with freedom, and it is easy enough to move around and keep hitting. Just watch out for the horns on the side!
Get used to working with something like this, though, and you can make it a whole lot easier to work on your physical form and conditioning. Great for a young boxer and for adults who want to improve their conditioning and combination control. Made using high quality PVC, this 160cm boxing bag makes a great place to start for anyone trying to make their impact felt in the ring.
Ready to Make Your Purchase of an Inflatable Boxing Bag?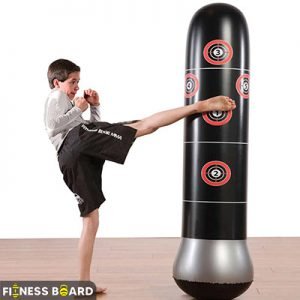 Then be sure to take a closer look at all of the ideas we have suggested above. If you are new to the art of boxing, then you might find it a bit tougher to choose than you would have first expected. To help you speed up the process and get the best bang for your buck, though, we highly recommend that you look at getting an inflatable punch bag from the list above.
New models are arriving all the time, though, as many more people look to buy a bag that is inflated. Given the benefits we raised above and the things to really pay attention to, you should find it a bit easier to come up with a boxing bag that truly suits your needs.
However, just be sure to take a look at all of the bags closely. From the size you have available to the kind of budget that you have for buying a boxing bag, it really is important that you pay close attention to each product before making a purchase.
Stick with our ideas for an inflatable punch bag, though, and you'll make the perfect choice!