10 Best Punching Dummy Bags in UK for 2022
Training in any martial art requires time, effort, and discipline in abundance.
You are expected to show a real quality and passion for the exercise involved. You should take it seriously, putting in as much effort as you possibly can into everything you do. With that in mind, you need to buy a punching dummy. Instead of just using a good old standard cylinder punch bag, this offers something far more authentic and lifelike. The result is a much more fun, gratifying boxing experience that encourages you to improve.
Not only will you get used to hitting a much more human-like shape, but you will remember to vary things up. A normal punch bag can create habits like failing to go from body to head and vice versa. It can create monotonous, dull boxing that really is not the kind of output you want to provide. With that in mind, then, why not invest in a human punch bag instead?
If you are serious about buying such a product, then reach our guide to making such an investment below. However, if you want to just see recommended products, then check out our section titled 'The best human punch bags on the market in 2022' for our most hotly recommended products.
Also, be sure to check out our FAQ section so that you can easily locate more details about what you should be looking out for when making this wise investment.
If you want to get into more reliable training sessions, then, a dummy punch bag is a great investment!
Like any other purchase, the secret comes from making a wise choice on what you buy.
What is a Punching Dummy?
You no doubt have in the past seen a punching bag – large, often cylinder-shaped objects. They are hung from a stand or from a rope/chain via the ceiling. They might even come on a stand that is stuck to the floor and/or weighted down. However, as you might know, punching bags can be a negative training object after a while. Why?
Because they can make you get used to fighting something with a uniform shape. By contrast, fighting a bob boxing dummy makes sure you are hitting something with a humanised body. Therefore, the body will move around, weave into place, and actually offer a torso and head to hit. This allows for much better movement from hitting a standard boxing bag.
Instead of just having one shape to aim at, you get used to physically moving around and moving from body to head and so forth. That kind of movement and planning is utterly essential to your long-term confidence and self-belief as a fighter. It also makes your sparring much more meaningful as you fight a human-like body, not a generic shape.
Why Should I Use a Boxing Dummy?
As mentioned above, such a product offers a much easier boxing experience overall. It is a more complete experience and offers something more in-line with sparring sessions. Some of the benefits you get by using a human dummy punching bag as opposed to a generic boxing bag include:
You get a much more natural feel for fighting something that is shaped like a human.
The need to move around, bob and weave becomes clear in ways normal bags cannot teach.
You get used to feeling the difference in hitting a rib cage versus hitting a nose or temple.
Punching becomes more accurate as you get used to hitting shapes, not cylinders.
The way that the dummy punch bag reacts and moves to your hits is far more lifelike.
These bags are designed to last for many more years compared to a normal boxing bag.
As you can see, there is a huge benefit that stems from investing your time into using a punching dummy. This is very, very useful for anyone trying to take their sparring experience into a more lifelike, teachable level.
What Matters When Buying a Punch Dummy?
Before you go ahead and make your big investment, though, hold on a quick moment!
While you could go ahead and buy a boxing bag in confidence already, you might want to know a little bit more about what you are buying. Here, then, are five main things to look out for when it comes to buying that perfect human dummy punching bag. What are the five most important factors to look into before committing any money in your investment?
What is The Height?
Height always matters, so make sure you buy something that is going to suit the height you are boxing at. Typically, a child should be happy with a boxing dummy of around 4ft in size. Taller kids to teens can find a 4-5ft model is right. Taller teens and adults, though, are likely to find a 5.5-6ft model to be the ideal height for them.
You want something you can look roughly in the eye, give, or take a few inches. The height, though, is something that matters if you want consistent, enjoyable sparring.
What is The Width?
Width is often something we think about after the fact, and this can become an expensive mistake. Instead, make sure there is more than enough space for you to move around the punch bag. Remember, a boxing dummy should be something you can strafe around with relative ease – it should give you room to it from all angles and shapes.
Therefore, don't buy something that is so wide that you cannot work around it. The more space you have to work around the model, the better it is going to be for making sure your training is enjoyable and engaging.
What about The Materials?
When you go to buy a good quality boxing bag, you want something that is made from good and sturdy material. We typically recommend something like vinyl or some form of leather. Avoid anything that is made of anything overly solid, such as full plastic – these hurt to hit and tend to be quite brittle by comparison.
The materials are a big factor to take into your thinking as it will determine the longevity. Also, be sure the material of the base/stand, if applicable, is durable and suitable to your conditions.
Does The Price Matter?
They say that you get what you pay for in this life, and that is especially fair when buying a product like this. You want to buy something that can take plenty of physical impact. You also want to buy a boxing bag that is going to be durable and long-lasting for the money you pay. Buy something overly cheap and you will get less time and less quality back in return.
Typically, the price will matter – don't expect to get a superb deal on a human dummy punching bag without having to make some concessions.
Does The Shape Matter?
Lastly, make sure you look into the shape. So long as it has a torso and head area you are in business. The best models, though, provide a refined torso and head area that can make it feel far more lifelike to hand punches as you go through the workout session.
Typically, though, shape matters because it helps you to get a much better handle on what you are hitting. The head area especially should be defined and have facial features. This makes it much easier to get a "feel" on the best places to hit during your sparring.
The Best Human Punch Bags on The Market in 2022
So, if you want to go ahead and make a wise investment, you need to know what you are looking for. A boxing man dummy should be strong, sturdy, easy to work with, and affordable. It should be suited to the kind of height you are, and it should be easy for you to work with when it comes to moving around, setting up, and/or transporting.
With that in mind, you might be interested in making a change to the way that you look at a punch dummy. With a dummy punching bag, you get something that really helps to make the whole experience more, well, fun. The main thing you probably face when buying a bag like this is the indecision – well, instead of losing valuable hours searching around in vain, take a look at what we believe are ten of the finest punching bag dummies on the market today.
What, then, should you be looking to invest your heard-earned time and money into?
What kind of options exist for a human dummy punching bag that you know can take the punishment intended?
1. BodyRip Free Standing Punch Bag
To start off our selection, we highly recommend you take a look at this punching dummy from BodyRip. It is a popular choice if you are looking for a punching dummy that can reach around 5.25-5.5ft in height. Though be warned that if you are taller than this it might not be the ideal choice for you – the height needs to be easy enough for you to work out on.
If you want a punching dummy that is designed to take a fair chunk of punishment during workouts, this works well thanks to the heavy duty design. The tough construction uses a heavy duty PU leather material that ensures it can take plenty of hits. Add in the 5cm-thick EPE foam that can absorb shock, too, and you can hit this dummy without your hands needlessly feeling the strain during the workouts. Great value!
| PROS | CONS |
| --- | --- |
| Available in numerous sizes. | Only goes to 5.5ft in height. |
| Excellent build quality and design. | |
| Easy to maintain. | |
2. BodyRip Opponent Bag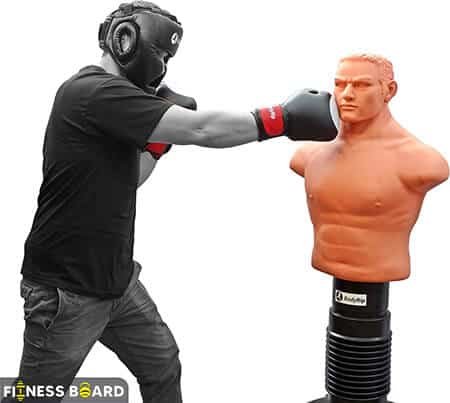 Want to find a punching dummy boxing bag that you could leave in one place? Then take a look at this BodyRip opponent bag. The design is strong and sturdy, using a life-like human body shape on the torso and head for lifelike boxing experiences. The flesh-like design creates a realistic experience for hitting the body, ensuring that hits feel realistic and that the body moves as it should while you land blow after blow.
It uses a dense foam material on the interior to ensure that it can absorb the hits. The only real negative is that at around 150kg, this is quite a tough object to move once it has been securely put into its place. For that reason, you might want to make sure you are 100% happy with the placement of the bag before you start using it. The weight alone makes this a very hard object to move once filled; you would need to empty the stand to move it again.
Generally, though, this is a tough-as-nails solution that is designed to take plenty of punishment from a physical standpoint. It can be heightened to around 180cm, too, which is a good training height for most. If you prefer something with extra particular height, though, you might wish to shop around for something a touch taller than this model overall.
The heavy duty and lifelike nature of the material, though, ensures you get a pretty solid deal all-around. This costs a pretty penny, but it should last for many years to come thanks to the excellent nature of the materials used throughout. Strength, durability, and consistency all make sure you get a pretty neat deal with this standing punching dummy.
| PROS | CONS |
| --- | --- |
| Strong, durable, designed to last. | Weight makes transport tough. |
| Weighs around 110kg; solid. | |
| Realistic, life-like response to hits. | |
3. Mytra Fusion Punching Dummy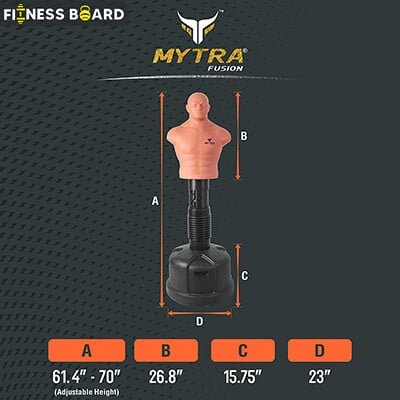 Like the above punching dummy, this option from Mytra – the Fusion – has one downside in that it can be very hard to move once it is filled up. This can take as much as 270lbs of sand or water, and this means that it retains sublime stability even from a real heavyweight haymaker. However, the downside is that moving it either requires emptying the bottom or moving it as a group. This can become tiresome if you need to keep moving the dummy around, so try and find a position that you are 100% happy with before you commit to doing anything else.
The quality of the design, though, ensures this easy-to-assemble dummy is very good for those just starting out. The high quality plastisol is made even better with an interior urethane foaming that helps to keep the body stronger for longer. This can take plenty of impact, as it is designed for professional sparring and training. As such, you know this is designed to take a lot of pain – even more than you might get from a traditional punching bag.
You could be assembling this nice and quickly, too, as the instructions provided allow for a piece-of-cake assembly. Add in the fact that it is great for improving your boxing precision thanks to the clear target on the torso and head, and this offers a more lifelike boxing training experience.
It's great for getting used to hitting combinations on parts of the body that you can actually feel and notice. Unlike a standard cylinder punch bag, this allows for maximum accuracy with minimum effort, really ensuring you can enjoy punching with clarity. A great pick-up for those who want a proper, professionally designed training dummy.
| PROS | CONS |
| --- | --- |
| Double-XR composition adds durability. | Hard to move once filled. |
| Train all day without injuring yourself. | |
| Great for self-defence training. | |
4. BLAST XL Punching Dummy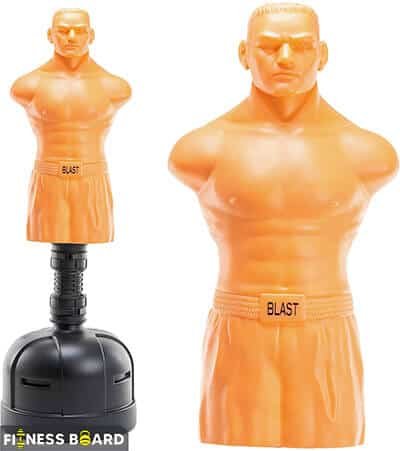 If budget is not an issue, then this model from BLAST might be worth taking a look at. This XL boxing dummy is designed for MMA usage, but boxers can get a tremendous training experience using this. The coated base that comes with the model is designed to take either sand or water, adding the durability levels that you would have hoped for when buying a dummy. On top of that, the authentic facial features allows for you to feel a realistic hit when you land a blow on the part of the body.
Especially useful for building body-to-head combinations, this provides a strong, durable starting place for just about any boxer looking to improve their skills. The realistic, powerful design of the body means that it can take a lot of physical contact, while it also provides enough of a shock absorption solution to help you avoid feeling too uncomfortable after a long sparring session.
A good choice for anyone trying to develop and improve their timing as well as become more relaxed when it comes to landing body-to-head punching combinations. Another nice benefit is that you are getting a material on the body and head that feels realistic to hit, making it much easier to understand how it should feel when you land a strong blow on the body of any particular part of the body.
This works well as it can take a lot of physical damage without sagging or losing form, making it more durable than most options. While you do need to pay a fair price for this model, it offers a punching dummy that is sure to stay in perfect training conditions for longer.
| PROS | CONS |
| --- | --- |
| Moves and bobs with realism. | Among the most expensive options. |
| Useful for mixed martial arts. | |
| Base takes either sand or water. | |
5. Emperor Kids Punching Dummy
Helping to get a kid involved in boxing? Then give them a punching dummy that feels like a real body. This is useful for everything in martial arts from judo to Jiu Jitsu, offering something you can really put the effort into. This can take a fair pounding, and each dummy offers a robust, secure, and overall fun training experience.
One thing to note here, though, is that this particular dummy can take an almighty amount of pressure – once filled. This does not come filled, so you need to fill it with a substance like cloths or sand. Follow the instructions given, though, and that negative soon becomes a non-issue.
The main thing to note about this particular dummy is that it can take a lot of physical damage, so kids should really be able to give it 100% without hurting the dummy or damaging stitching etc.
It can take up to 80lbs in weight, though, and is designed with an EMX canvas material that is designed for longevity and endurance. It's also great for children who need a bit of help in getting used in fighting a full-sized human body. Many punch bags create an unrealistic fighting environment; a model like this is great as a punching bag that can just take plenty of punishment.
It's great for hitting the bag and body with plenty of various hits that you cannot use on a normal punching bag, including uppercuts. For any young boxer looking for a human dummy punching bag, this offers a great pick. It's a solid, reliable solution that feels absolutely brilliant to work with.
Once you get it filled-up, this offers a long-term sparring companion at home.
| PROS | CONS |
| --- | --- |
| The ideal human dummy punching bag. | Does not come filled. |
| Takes the form of a full-bodied human. | |
| Soft, safe materials for training with. | |
6. Hawk Sports Kids Punch Dummy Boxing Bag
Very similar to the above model, this dummy boxing bag offers a fine starting place for just about any youngster. If the aim is to buy the kids a high quality punching dummy, this can work. Easily filled up with any kind of cotton filling you want, this offers a comfortable, secure, and safe punching training ally for the kids. It's got the feel of a real body, so it can feel pretty good to hit for youngsters who are only used to hitting a punching bag.
You can easily try out more varied and ambitious combinations with this kind of boxing bag, too, ensuring that it can take plenty of physical hits without any risks. It also allows for things like body blows, combinations, and even uppercuts – the kind of punches that you simply cannot throw with more traditional punching bags. By contrast, this offers a really easy solution for the kids to enjoy landing hits into.
Simply fill it up with any kind of cotton material you want, such as old clothes, cloths, or towels. This can easily take the hits of a child, while the material is designed to ensure that the material never chaffs or hurts the hands. This offers a padded punching aide that can give any youngster confidence in their ability to hit a body, move around their opponent, and work on their boxing fundamentals.
The benefit of a full-body training dummy like this is that you can get used to working with the full height of an opponent that should offer similar reactions when a hit is landed. Authentic training is the secret to creating an enjoyable boxing experience, and something that we highly recommend you look to try out moving forward.
| PROS | CONS |
| --- | --- |
| Great for all martials arts training. | Needs to be filled. |
| Keep training varied and involved. | |
7. MAXSTRENGTH Bob Dummy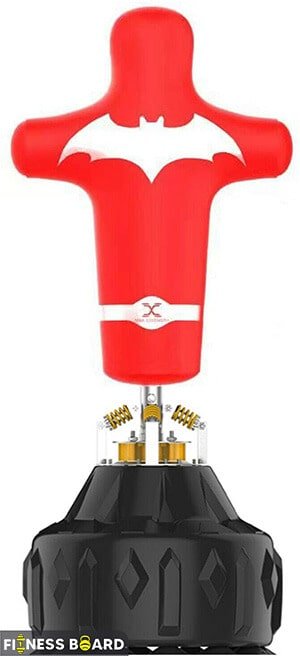 While the design might be a touch basic, this MAXSTRENGTH dummy offers a punching dummy that feels great to hit. The lifelike shape of the torso, arms, and head area allows for any boxer fighting up to 6ft" opponents to enjoy a much more satisfying experience. The inclusion of a solid suction cup base helps to keep this in place even with your strongest shot, while the strength of the material makes this useful for learning how to grapple properly in a boxing match.
The 6ft size is good enough for most boxers up to even taller heights like 6'3 to 6'4", making sure you can find something you can easily spar with. The impressive height allows for easier boxing, but the simple assembly and disassembly means you can easily set this up as and where you need. Another boon is the quality condition of the stand itself, with the human dummy bobbing and weaving with your hits accurately and authentically.
This allows for a fun and engaging boxing experience. The strength of the bag should be able to take just about any hit landed, too, so you don't have to worry about the bag splitting or snapping on you anytime soon. This should give you plenty of confidence building as you get used to projecting combinations, changing things up, and generally getting used to hitting proper boxing-like combinations.
Another nice touch is the 100% money back guarantee if you are not happy. While this does cost a bit and it lacks in design unicity, it definitely makes a good choice thanks to that price promise. It's also designed for both pro and amateur use, so anyone can benefit from trying it out.
| PROS | CONS |
| --- | --- |
| Stands at an excellent 6ft. | Only comes in two colours. |
| Great for grappling training. | |
| Suction cup base is secure, strong. | |
8. Century BOB Adjustable Punching Dummy
While money might not matter to you, if you are looking for a cut-price boxing dummy this is not the one for you. This lifelike body takes on the style that you would want from a real-life boxing dummy, offering lifelike design on the torso, arms, and head area. It can take a huge amount of impact thanks to the incredible vinyl material that is designed to last for the long-term. At the same time, this is a high cost investment to make, especially when you factor in the potential delivery costs.
Still, if you want a pro quality option for both genders then you should absolutely take a look at this particular model. It's got a realistic boon for training enjoyment because the strength of the torso. This can absorb your punches ensuring that you can give it 100% without worrying about ripping the vinyl or knocking over the stand.
Speaking of the stand, this can easily be strengthened to give even more balance. Now, you can be sure that this is not going to tip over because you hit it too hard. This Century model is well-respected by professionals and gymgoers because it gives such a lifelike feeling when you land a punch.
Another big bonus is the fact that this punching dummy offers such a lifelike face to hit. This means things like the shape of the face and how that face actually feels to hit can be pretty outstanding. Do that for long enough, and you should feel absolutely comfortable throughout.
Comfort matters a great deal as a boxer, and this is designed for your training to be as pain-free and stress-free as it possibly can be. Now, training can be prolonged thanks to the punishment this model can soak up.
| PROS | CONS |
| --- | --- |
| Lightweight, easy to move around. | Costly, expensive delivery. |
| Height adjustable from 60-78". | |
| Designed with sturdy, strong vinyl. | |
9. DAAN Grappling Dummy
While this grappling dummy can take some effort to fill-up, it is worth it for the quality of the actual experience. Standing at around 70" in height, this offers an enjoyable sparring partner that you can get used to wrestling with in the most specific of ways. It will change in weight depending on how much you can stuff in there – as ever, try and be careful when filling up the model.
Although the punching dummy is designed with a particularly high quality artificial leather, it is by no means invincible. As such you should avoid being too forceful as you might cause more damage to the product than you would have first assumed was possible. So long as you are careful when filling, though, this model can easily become a good training dummy for most boxers looking for a 70" or so partner.
It is a great choice in particular if you intend to do more than just boxing. This is great for grappling moves, for wrestling with, and even for things like judo and kickboxing. The model can easily bend at the knees and other areas, so it offers enough flexibility without you having to worry about it bursting at the seams or not being able to take the kind of punishment you are capable of dishing out.
With that in mind, you might want to spend a bit more time seeing what this grappling dummy can take in terms of physical impact. It's a good choice for those who want to try and push their training to a new level, using a dummy that bends naturally.
| PROS | CONS |
| --- | --- |
| Designed with durable, artificial leather. | Some find it can be hard to fill. |
| Great for wrestling and MMA, also. | |
| Stands at 70" in height. | |
10. Bestzo Grappling Dummy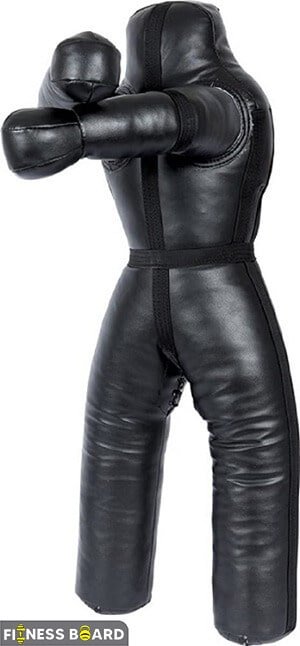 Got a kid at home who is eager to learn the ropes to boxing or another martial art? Then take a look at this punching dummy. At 4ft in size, this can be useful for most kids – though teens and adults beyond average height might find this a touch too small to work with on a regular basis.
It's great for grappling, for boxing, and for training with. Easily filled up with textile cuttings or whatever you wish, this can be filled to a strong weight to ensure it always feels comfortable and thick when delivering combination work. This can be filed up to around 55kg so it should be strong enough to take a fair number of powerful punches without being damaged or being bowled over.
It's also great for the fact that it is so flexible and mobile. You can move around this pretty easily, as it should be capable of being grappled, moved around, and hit whilst providing a natural reaction. If you worry about using a product that might not be flexible enough and could tear, you don't have to worry about that here.
The only real major downside here is that this particular looks pretty rough and ready. If you can get over the DIY aesthetic, though, it should more than be suitable for boxing training and sparring. It can also be used for diversifying training, helping your child to get used to a more varied kind of martial arts.
Thanks to high quality YKK zipping, you can easily get the entire body closed over with filing put in at the correct places. Simplicity, then, is the main benefit of investing in this easy to fill, easy to hit punching dummy!
| PROS | CONS |
| --- | --- |
| Great for boxing, MMA, and wrestling. | Only stands at 4ft in size. |
| Easy to fill up with own material. | |
| Great for any youngster. | |
Frequently Asked Questions
Got any queries about these products that you cannot find an answer to? Then you might find that our FAQs should provide you with a good starting place.
What material should I look out for in a punching dummy?
We recommend you look for something made from either a PU leather, real leather, or a vinyl substance. Other options might include foam, but these tend to be more for grappling dummies like those recommended above.

What is the recommended height for a punching dummy?
There is no real height that is right – you want something that is roughly going to be within the height of the user. So, if you are training kids, you want something in the 4-5ft range. For adults, something in the 5-6ft+ range should be recommended.

Should I fill the base of a human punch bag?
Since most come on stands, we recommend that you fill them with the materials recommended. Some want you to use water or sand. Otherwise, meanwhile, want you to use cloth materials. As ever, follow the given instructions.

How long should a dummy punch bag last?
Again, it depends on the build. Typically, though, you want something in the region of a few years out of a model – it depends on how long you use it for on a regular basis, though, so factor that in where possible.

Does a human punch bag require me to wear gloves?
Yes, we always recommend you wear boxing gloves when sparring or training. This removes the risk of needless injury and could avoid you from hurting your hands during a sparring session with the bag.

Should I buy a dummy punching bag online or offline?
Most of the time, you can garner all of the details you need to make a purchase with confidence simply by browsing online.
Getting The Best Value for your Money
Before you go and do anything else, we highly recommend you look closely at all of the details suggested in this guide. At the same time, you should definitely take the top ten products suggested above into mind; this could really help you to get an even better deal overall. These are highly recommended products that have good reviews, excellent reputations, and minimal issues.
The important thing to note, though, is that getting good value for money from a boxing dummy means buying something right for you. The materials, the setup, the space needed, the cost? These all come down to what you are willing and able to work with. Therefore, you should be willing to spend a bit of time investigating each of the potential options.
Life is made much easier for a young boxer, or any boxer, really, when you invest in the right tools. If you have decided that a dummy punch bag is what you are looking for, then this is absolutely something you should invest in.
Take a look at each of our suggestions and buying a brand new punching dummy should be a far less challenging process than you first assumed. Good luck, and happy hitting!