Reflex Bag vs Double End Bag: What Should You Train With?
If you intend to train as a boxer, it is vital that you get used to working with the right products. given the various ways you can trust your physical form as a boxer, you might want to focus on your ability to quickly react to an opponent's movements. To do that, you can pick up a reflex bag. The reflex bag is a great pick for training any boxer to be more reactive with their movements and thus more likely to do the damage in the ring. However, you might also find a double ended bag on your shopping search.
Which is the right choice for you? Should you go for a cobra bag or double end bag?
Let us take a look, and work out which of the different types of punching bags would be the right choice for you personally.
The Reflex Bag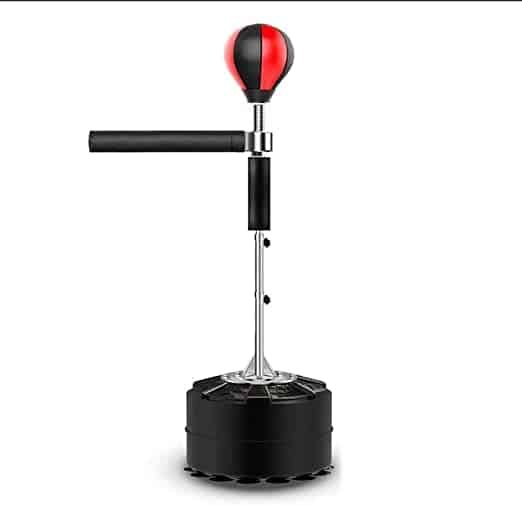 Should you want to look at comparing a double end vs reflex bag, you should take a look at the former first. Some know the reflex bag as the cobra bag, so keep that in mind as you look at punch bags to buy. The reflex bag is mainly aimed at those who are new to boxing, and who need something that is very easy to set-up, to take down, and to move around.
The main aim of the reflex bag is to give you a chance to start working on your ability to react with the movements of the opponent. You should be able to hit the bag and then watch it rotate around on the reflex spring/stick that it is on. Your job is to learn where the bag goes, what kind of movements it takes, and then follow in with a killer punch.
You should use a reflex bag if you feel like you need a bit more accuracy in your hits. Many boxers can throw down, but they find it hard to follow and read the movement of their opponent. If you can master the idea of following in with the movement of your opponent, though, you can become a much better boxer.
However, it should be noted that using a reflex bag means that you are often quite limited to what you can throw. You are mostly limited to head-height hooks and jabs. You cannot throw uppercuts or throw in body punches, as there is simply not enough room to hit.
As the name implies, though, a boxing reflex bag makes you much more likely to actually react to the movement of an opponent. This is a vital skill in boxing, making owning a reflex bag highly recommended.
The Double End Bag
When you compare the double end vs reflex bag, you might also wish to look at the double ended option. Double ended bags today are regularly used for boxers of a more advanced skill level. They are easily hung from the ceiling or the wall, and allow for you to throw more variable punches than you would get with the above.
They are great for making sure you can get used to throwing more varied punches. Train just on a reflex bag and you might as well forget that body punches are a thing!
With a double ended bag, though, you can get used to hitting a lot of punches to different parts of the bag. They are usually larger so you can change the position of the bag with ease, and you can practice more advanced head-body punching combinations. You can even throw in uppercuts.
Much like a reflex bag, though, the main aim here is to ensure you can throw your punches faster in reaction to the movement of the opponent. The double-ended nature of the strap that holds the bag in place means it does not move around as much as the above, though.
However, total beginners should arguably move on to the double end bag later on in their training routine. The way a double bag moves versus a reflex bag means that you need a more refined technique to properly use the double ended bag. Once you feel like you are regularly hitting a reflex bag, though, you could easily move to a double end bag for a more varied reflex-themed training regime.
Making The Right Choice
So, which is right for you? The cobra bag or double end bag? The truth is that both could be great for boosting your training results. For beginners, though, the former is probably the best choice due to being easier to get to grips with overall. For more advanced boxers, though, the double end bag offers something a little bit different.
While there is no right or wrong answer when comparing the reflex bag vs double end bag, there are times to use one vs the other. We recommend you look closely at the options, as there will be a time when a boxer could benefit from using both types as opposed to just one type.
You might also wish to look into the speed bag vs double end bag. While similar, speed bags are different again to the other two mentioned above. When you compare the speed bag, you now have three options for a punch bag that can make you faster, more agile, and more likely to land your punches with consistency.
Frequently Asked Questions
Is the double end bag worth it?
It most certainly can be, presuming you want to train in the way that it allows. Be sure to look over the description above again, and work out if using this kind of bag would be the right choice for you.

Does a reflex bag help with timing?
Yes, just about any boxer should notice a change in their boxing form by using a reflex bag. This will generally make your punches more accurate, and it will make it easier to move with the opponent's movements.

Do you use gloves on a speed bag?
You can, but you do not need to. Most reflex bags are small enough and light enough that they could be used bareknuckle. For those who have any upcoming fights or are in the younger generation of boxers, though, it might be best to wear gloves.