What is The Best Boxing Reflex Ball to Buy in UK for 2022?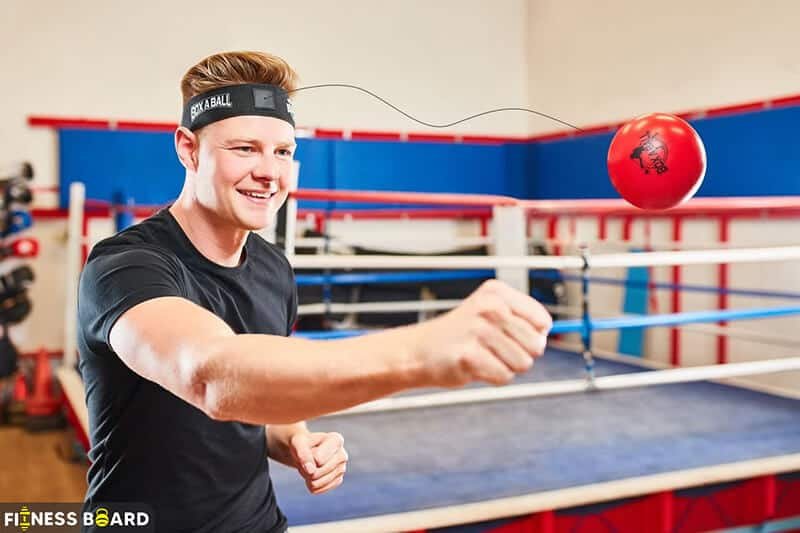 Training, sparring, and working on your technique. Sparring with others. Training with dummies, punch bags, and boxing pads. As a boxer these training tools all play a key role in your development as a pugilist. However, you have to also look to improve something else – your reflexes and ability to follow the movements of your opponents.
That is a big part of being a boxer today, and to do that you need to use a specific form of training. The solution that most would recommend is a boxing reflex ball. When used in the correct manner, a reflex ball can be all that you are looking for when it comes to improving hand-to-eye co-ordination, punching accuracy, punching pace, and reflex times. However, for many, the use of such a product often is limited to one or two tiny sessions per week.
If you are serious about making boxing a career, though, you need to get used to training with tools like a reflex ball for boxing. Why?
Because if you get used to simply hitting a punch bag or a static target, you never get used to consequence and reaction. When you land a good punch on an opponent, it should cause them to move in reaction to the punch. If you want to buy a quality boxing reflex ball, then read on.
Before we get to the products, though (you can skip to the section titled 'What are the best boxing reflex balls to buy online?' if you wish to just see recommendations), let's look at the benefits of using such a product during your sparring and training sessions.
What are The Main Benefits of Using a Boxing Reflex Ball?
If you have determined that the use of a boxing training ball might make a lot of sense for you when training, then you should definitely take a closer look at the benefits below. What, then, are some of the main reasons why you might wish to invest in this product?
Get Better Hand-to-Eye Co-Ordination
The first and most important reason to invest in such a product is the improvement to your hand-to-eye co-ordination. This can go a long way to improving how you land punches, how you react to the movement of the ball (or opponent), and how your body then lines up its reaction.
At the moment, you might find yourself simply swinging in hope more than expectation. With a boxing reflex ball, you get used to moving with the opponent and making sure that your punches are reactive to where they will be, not where they were – this is essential to professional boxing.
Land More Punches with Ease
A big problem for many boxers is being unable to properly land a punch with consistency. You might land a few in a row, then miss a few in a row. Well, when you get used to this ball bouncing around in various directions after a punch, you start to learn where to aim hits – this can only improve the accuracy of each punch you throw. This improves your punching accuracy, delivering more consistent results.
Stop Flinching
A common error for many younger boxers especially is the need to flinch in reaction. When you start to realise that you have no need to flinch, you can become a much better fighter almost immediately. This helps you to stop tensing up and clenching/flinching when the ball swings towards you. Over time, this can have a huge benefit on the way that you fight – and should immediately improve your ability to stay focused on the immediate target.
Improve Stamina
Your stamina will naturally improve a great deal if you happen to get used to fighting with a boxing reflex ball. You get used to having to throw lots of punches, ensuring your arms don't get as tired as they do when you get into a combination. This is great for improving physical strength, but it can also play a big role in boosting your staying power. If you find yourself running out of gas mid-session, you need to improve your cardio – this can do just that.
Balance your Footwork
Another nice touch that you get from working with a boxing reflex ball is that you start to improve your footwork. You start moving around on your toes more, instead of staying flat footed. Since this kind of training forces you to have to lean in, move around, and basically pounce at the right moment, this can have a huge benefit to you in terms of your overall comfort.
Work on New Combinations
When using a punch bag, it is easy to follow into a monotonous form of boxing. This can help you to avoid that problem by giving you a range of new combinations that includes jabs, hooks, uppercuts, and everything else you might need.
This can have a big impact on how you fight and tends to make sure you can bring in new punches that won't work on a punch bag but could be very useful in an actual fight. For that reason, you might wish to try out a boxing reflex ball if you tend to lack combination variety.
Get Rid of Excess Weight
If you were to take in a 10-20 minute session of using a boxing reflex ball, and you gave it your all, you could burn off plenty of calories. You will find the experience fun, gratifying, and tiring. Use this in conjunction with other cardio exercises and boxing exercises like skipping, and you can start to burn off that excess weight.
This is a purely high intensity workout, so you will find yourself really working hard to land each punch and you will be throwing far more punches per minute than you would with a punch bag. This has a natural impact on your calories, helping you to burn off that excess weight at the same time as having fun!
What are The Best Boxing Reflex Balls to Buy Online?
If you are looking to buy a boxing reflex ball, then you need to know that you are buying something worthwhile. So, we have taken the time to look closely at each of these high-quality boxing reflex training balls. Use these to your advantage, and you can make your life so much easier when it comes to training.
With so many options on the market, we know that it can be quite daunting to try and find something worthwhile. This, though, should help you to quickly find something that is ideal for training with.
1. TEKXYZ Boxing Reflex Ball
To begin with, we highly recommend that you take a look at this boxing reflex ball as a starting place. this design from TEKXYZ is a good starting place as it can be used by all skill levels thanks to the numerous balls provided. The only real negative we have found is that the headband fit can be a touch uncomfortable. So long as you can get the material to fit your head, though, this offers a great high-intensity workout.
Most who use this find it is most useful for solo training, but it can also be great if you are trying to run competitions. For example, how many hits can each participant land without missing?
The main benefit to this setup is that it gives you various balls to work with, ensuring you can move from the black to the red ball when your skill level reaches that high point. A good overall choice, and one you definitely should consider.
The high calorie burning approach is a big benefit, while the dual difficulty allows you to progress and improve in-line with your skill level.
2. OOTO Reflex Training Ball
Another good choice for most would be this particular boxing reflex ball. It works well because it can be so easily attached to both adult and kid heads without much issue. The headband, though, is a touch basic in comparison to some of the other ball reflex sets which are listed on this particular list.
Overall, though? It offers a solid starting place – and for a very fair price at the same time. The ball itself is a good choice because it is easy to hit and gives a good, natural rebound and resistance. The downside? The ball is one-size only; you don't get the chance to improve your difficulty level and skill level after a certain point.
For most beginners, though, this offers a great boxing reflex band to help you improve eye co-ordination, fitness, and general stamina. A good choice that you should definitely look at closely if you want to get a good quality band. The lack of difficulty changes is a downer, but it does offer a solid enough starting place for most people who want something simple and effective.
3. YMX Boxing Reflex Set
In our opinion, this product from YMX might be the best boxing reflex headband on the market today. The quality is outstanding, as is the general structure of the design. The headbands given are both adjustable and flexible, allowing them to easily stretch out to exactly the kind of shape you would want to fit your head without any discomfort whatsoever.
A big bonus that you also get with this particular reflex set is that it can provide you with four balls to hit. This gives you various difficulty levels, meaning that you can easily move up through the levels to find the ball that is best for you. Since you get both a lot of balls and two headbands, this makes a very wise investment. It's easy to wear, comfortable to work with, and should give you basically everything you need to get started in your reflex training.
The materials are sturdy, the balls are of an excellent standard, and the fact you can change and improve your skills as time goes on is a huge boon in the main. So, why not give it a try yourself? It is our favourite product out of the fifteen listed.
4. Boxaball Training Set
If you are happy to work with a boxing reflex ball that is a bit longer, you might want to really take a closer look at this training set from boxaball. It's a fine pick because it weighs just 0.15lbs, making sure it can easily move around and react to your punches.
The longer length of the wire also means the ball is always in a position where you need to put full force and action into the punch. This is great for improving your general reaction times, as well as ensuring you can react to its movements more naturally.
It's a great choice for any boxer who wants to start really working on their game and their boxing form. The quality is very impressive, and this can help you to easily increase agility, reflexes, and your ability to stay focused on the moving target. For most younger boxers, something like this can be very appealing.
The only downside is that you only get the one ball, so you cannot 'level up' and improve further. Still, it makes a good choice overall and one well worth considering.
5. Dermasy Training Ball /w Headband
The only real negative we have found with this super-cheap boxing reflex ball is the headband. If you can handle the headband feeling a little too tight and sticky after a strong session of training, then this is fine.
If you want something with a headband that is luxurious and comfortable, though, you might wish to look at other options. The main benefit to this reflex band, though, is that it comes with two options in terms of difficulty.
The difficulty allows you to improve your skill level over time, ensuring you can genuinely become a better boxer throughout the process. Another nice boost is the fact that each ball offers a different kind of challenge; one will force you to get used to hitting back fast, while the other forces you to have really follow it with your eyes to ensure you aren't just swinging at fresh air.
Overall, though, you should find that this set provides you with all of the assistance you need to really improve – just don't let the headband become a distraction!
6. YMX Boxing Reflex Ball
For the price that you would pay for this reflex ball, looking over the somewhat inconsistent rebounding of the ball should be easy. What you get in return is a high quality boxing reflex ball that is easily moved with a punch. You also get two balls, each one offering a different difficulty level. Get used to hitting one and move on to the harder model, and you should definitely enjoy the experience more.
For an educational tool, this does a pretty awesome job of making sure you can enjoy the boxing experience as much as you would have hoped for. It's a good overfall choice that should improve hand-to-eye co-ordination and make sure that you need to stay on your feet. Since it forces you to move with the ball, you will find this offers a high intensity workout.
And while the balls rebounding inconsistency can be annoying, it is more than good enough for general reflex training sessions. For the excellent cost, this offers a good choice that should absolutely help to improve your skills as a boxer.
7. Desh Reflex Ball
If your main aim is to buy something that feels easy to work with, then you will like this reflex ball by desh. It's a good overall choice, with four skill levels to work towards.
This means that you can easily see improvements in your game over a period of time, maximising your quality and your confidence as a boxer without too much issue. Another good benefit of the extra skill levels is you can get much more out of the challenge.
Not only will this help you to improve reaction times and agility, but it will keep you focused and more accurate with your hits. On top of that, this option is suitable for the whole family; mom, dad, and kids can all have lots of fun. The fact you get four balls as well as two headbands is a nice touch, allowing everyone to take part in the fun together.
However, we have to say that we found the headbands to be quite uncomfortable after more than a short period of time sparring and training.
While it might be lacking in some of the features and style you expect, in terms of comfort, this offers a great sparring solution for everyone in your home.
8. KWOW Boxing Reflex Ball
If you want something that is nice and easy to use as well as beginner-friendly, start here. This is a good choice as it is made with durable materials without becoming uncomfortable. The durability of the headband is a nice touch, meaning you don't have to worry about it ripping, tearing, or flaying needlessly. It's great for those who are new to boxing and need help in focusing on their target and following a moving target around the room.
That's why you might want to get this – though, we have to say, the wire could do with being longer. The length of the wire will limit those with long reach and range to get a full extension during their hits.
Generally, though, this offers a pretty solid option that you should have no problems in working with. It offers a good enough starting place for most young boxers and should ensure you can build confidence quickly.
The other major downside is that it only comes with one ball; master this, though, and you could step up to a more advanced boxing reflex ball.
9. Alliance Athletic Reflex Ball
If you are already a decent enough boxer and want something that can improve your stamina, this is worth a look. Weighing only 100g, this is a lightweight option that provides a lifelike rebounding impact from the ball when punched. Though it only does give you one skill level, so keep that in mind – with this ball, you won't be able to scale up the skill levels like you can with some of the other products listed on here.
However, the quality of this comes from the inclusion of safety glasses. Many newbies to using a boxing reflex ball find they hurt their face and eyes with the ball swinging back into their eyeline and hurting them. This is something you want to avoid if you can, and a big reason why a reflex ball like this – with glasses included – should be considered.
For those who want to get into a really high intensity session, too, those safety goggles help you to go at full throttle without having to feel concerned whatsoever. Definitely worth considering.
10. HCFGS Reflex Ball
If you can overlook the fact that this boxing reflex ball comes with a pretty uncomfortable headband, this is a good starting place. Hard to fit into place for the most part, the headband is an irritant until you can find the ideal landing spot. This is something to really focus on, as the headband is going to be worth for 20+ minutes at a time – therefore, you want it to feel pretty comfortable!
This set does come with the useful addition of a secondary training ball, though, so you can change the skill level as time goes on. This is quite a cheap product, too, so you can get good value out of this even if you only use it for a few short sessions.
The headband straps into place, and once you find that right sweet spot it can remain in place albeit sometimes being quite uncomfortable. However, the wire length and the addition of some really high quality reflex balls makes this good for high intensity workouts. Definitely a solution that you should think about picking up if you are new to boxing.
11. Champs MMA Reflex Ball
If you are already getting good at boxing and want a singular skill level to focus on, start here. This comfortable headband can give you a good length of wire to focus on hitting, ensuring that you are never short on length. For those with particularly long reach, this can be a huge benefit. However, the fact this only comes with one skill level can mean that beginners might find it a bit challenging to work with as their first purchase.
It's a good choice in general, though, offering a solution that is great for advanced boxers. There is also a beginner edition, but we recommend that you stick to the Advanced option; other beginner options listed in this guide offer a better starting place. However, the inclusion of a training video helps you to quickly see how you should be using this product so that you can get used to the training experience quickly.
If you want to try and improve how you box and how accurate your reflexes are, this is a great place to start with. The addition of a 360-degree rotatable buckle is a nice touch, too!
12. Revo Reflex Set
If price is no issue, then this reflex set from Revo is great. Aimed at both kids and adults, this gives you a comfortable, durable headband with great length on the wire. This allows for a more enjoyable boxing experience, while the addition of an easy to follow training manual is a nice touch. The little carry bag they include, too, is a good choice – this allows you to easily bring this with you wherever you happen to be heading to.
For that reason, you might want to take a closer look at this reflex set as a good choice for beginners and professionals alike. The addition of two balls gives you a pretty useful little starting place to work with, ensuring you can move up the skill levels as you continue to train with this particular product.
Another nice boost is the fact that the triple-layered headband stays in place even when you get into a fast, rapid flurry. A great place to turn to if you are happy to spend a little extra and want consistent results.
13. McFun Boxing Reflex Set
If you don't mind a headband that has to be adjusted from time to time, then this is a good starting place. Arriving with a pair of quality reflex balls that allow you to adjust your skill level as needed, you can use this from beginner to advanced training without any issues or loss of form.
Overall, this comes with a suitable solution that gives you training for men, women, and children alike. It's fun for the whole family, and all for under £10!
The quality is a big jump given the price, and the only real downside is that the headband can need adjustment during session. Once you get into the flow, though, this offers a good choice that even the professionals could work with if they so choose. That's why you should definitely consider trying out this particular brand – it's good for both the beginner and the budding professional.
Reflex training is a big part of your education, and this set offers everything you need in one, easy to carry little bag you can work with whenever you wish.
14. Victoper Reflex & Reaction Ball
If your main aim is to get a three-skill boxing reflex ball, start here. This gives you three balls to switch from, with each one offering you something very comfortable to work with in general. The quality is impressive, the design consistent, and the length of wire ensuring that even those with extra-long reach can easily land a blow on the ball. The three difficulty levels also help you to keep on moving up the skill levels, improving with every session that you take on.
The main benefit of this, though, comes from the fact that it can be easily used for hand-to-eye co-ordination as well as improving reaction speeds. Unlike other options on the market, this does not discriminate against those with extra-long reach; in fact, you should find this ideal if you tend to be a boxer who can hit their opponent from afar.
It's a good choice for those with longer reach, with the only real downside being that it tends to be a touch on the basic side when it comes to the headband. That aside, though, it looks excellent.
15. SYOSIN Reflex Ball
Though this reflex ball for boxing only comes with one simple skill level, it should offer a good place for beginners and intermediates. A big reason why this is so popular stems from the fact that it feels so good to wear around the head – the comfortable material is much better than many of the other headbands on the market. This helps you to avoid sweat build-up whilst ensuring that your reflex ball can sit in place as you go through your sparring sessions.
A good choice in general, this is ideal for both adults and kids. The main downside is the lack of a secondary higher skill level to work with, but that should not put you off considering this as a worthwhile investment.
Overall, it makes a smart choice if you have long length. The fact this headband is so comfortable means you could wear this for longer than other headbands without feeling any discomfort or having to needlessly adjust. Take a look today, and you can see why this fitness solution is a wise investment overall.