14 Best Kids Punch Bag in UK for 2022
Whether you run a boxing gym and want to get more local youth involved or you are a parent with boxing-eager children, facilities matter. While some might get all dewy-eyed about the concept of training with rough equipment, it is not a requirement.
In fact, if you want to get the most out of any young boxer, you need to buy the best equipment you can. This means investing in a proper kids punch bag.
However, the market is loaded with options and with information regarding each boxing bag out there today. With that in mind, we recommend that you take a look at the most affordable kids punching bags on the market today. To save you time, we have collated a list of reliable, effective, and high-value options.
Just remember, though, that money talks in the equipment industry. Buying one of the lighter, inflatable options is less likely to deliver for an aspiring young amateur ready to take the next step up.
Instead, we have looked to provide a broad range of boxing bags and balls for children to learn from. Some will be more suited to an intermediate young boxer, while others will be great for a young boxer putting together their first combinations.
You should therefore take a look at each option and think about what might work best for you. There is no 'right' answer in terms of a universal solution; every equipment need is different.
However, this should help you whether you are trying to fill out a gym with suitable junior punch bags, or you want to buy one for a child, or children, at home.
So, what are some of the best punch bags for juniors out there today?
The Best Kids Punch Bag Options in 2022
Many options are on the market today for a buyer, which can make your choice seem a little confusing. To help give everyone of all sizes and budgets a helping hand, here is a catch-all range of available, worthwhile UK boxing bags for kids!
1. BodyRip Standing Boxing Pedestal
To start off, we recommend looking at this excellent choice for a youngster: the BodyRip free standing boxing pedestal. Though fairly expensive, it is money well and truly well-spent; a 5.25ft boxing pedestal that you can work to your hearts content. The quality of the pedestal comes in how well it rebounds from even the hardest of hits.
It can also take a fair amount of punishment, making it a great choice for a child to get used to throwing varied and diverse combinations. It is a wonderful choice thanks to the EPE foam that is providing added shock absorption, with 5cm of extra foam to help absorb blows. This helps to avoid pain and hurt in the knuckles for just about any child.
However, it requires enough form and technique to ensure that a child has to work hard to make it move with them. That is why we recommend you look to give this a go for any youngster who is trying to improve their early form. For a young child to a teenager, this offers a good enough option for anyone who is around the 5ft height and above.
Expensive, but definitely an early contender for one of the best value long-term purchases you could make.
2. Viper Junior Punch Bag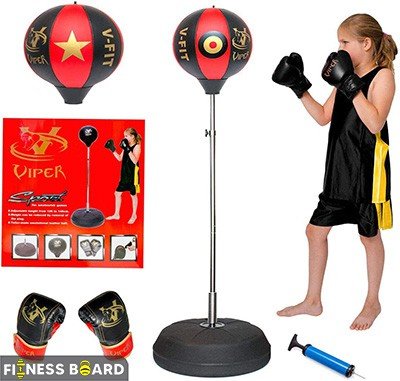 Helping a young boxer take those crucial first steps into the sport means giving them something that helps to build confidence. What better way to do so, though, than by using a junior punch bag from Viper? This is a very easy to use option. The fact it does not rely upon power but instead speed and combinations mean that your young children can start to see big gains in their form.
Use this to encourage movement, to give them a desire to keep on working hard, and to keep on adding new strings to their bow. Instead of having a large bag that they simply need to force backwards with a haymaker to feel good, this requires good use of combinations to get the bounce and satisfaction wanted.
That is why it is highly recommended that you look to this children's punch bag from Viper. With a height of just 4ft, too, this could be the ideal choice to help most youngsters in the family get their first taste of a properly worked boxing combination.
3. Aoneky Leather Punch Bag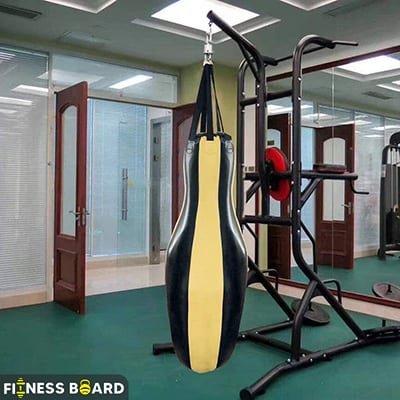 If you intend to buy a proper leather punch bag, then this model from Aoneky might be worth investing in. The quality of this makes it great for all combat sports, not just boxing sparring. It is a heavy bag, though, so it is not exactly meant for young children. We would recommend this for a young boxer who is intent on improving and focusing on their boxing to really work hard with this bag.
It is a heavy punch bag that can take a lot of punishment, but it is also a great quality hanging bag. It should retain a good position even with a hefty combination, and it should also be more than durable enough for long-term usage.
However, the sturdy nature of the bag means that it is not recommended for young knuckles. Instead, keep this for a teenage or soon-to-be-teenage boxer to work on, giving them a taste of what it is like to work with a full leather bag.
A 7ft bag in total (5ft bag, 2ft raise), though, this is the right height for most younger boxers. It is also easy to fill up so that you can then move it around and set it up as needed. An excellent choice for most young boxers.
4. Aceshin Freestanding Boxing Bag
More aimed at teenagers and young adults, this is a solid junior boxing bag for those who are slight or new to the sport later in their teenage years. The design of this Aceshin model means that it can easily rebound back to you blow after blow, making it great for practicing fast combinations. This is move commonly recommended for those who need to work on their head combinations, as there is no body to speak of.
However, this does allow the pole to rebound perfectly into place so that you can continue to throw punch after punch, hit after hit, without the slightest issue. An excellent choice that should really make it easier for you to keep seeing progress in hand movement.
For a young boxer, helping them to build on foundation skills is a big part of their growth as a young fighter. Do so with the help of these boxing bags, and you can see a pretty big improvement rapidly.
Most children who train with the help of a boxing bag like this should see some rapid growth in their hand-to-eye co-ordination, their punching speed, and the accuracy of their combinations. A great option for helping a young intermediate throw down better than ever.
5. FUXIN Hanging Punch Bag
For those looking for a junior punch bag that could easily be used into adulthood, this is a brilliant place to start. While it is also one of the more expensive options, the pear-shaped nature of this punch bag makes it brilliant for chaining together different combinations. The shape allows for greater control on things like punch speed and also improving hand-to-eye co-ordination thanks to the way that you can match its movements.
This is great for improving muscle strength in the arms, as well as the fact that this is made using a high quality leather. This adds anti-shock protection that can help a youngster to avoid feeling fatigued too fast. It also means that they could be using this bag for years to come, as the quality material is built to last for a long time to come.
While it might not be the ideal choice for a youngsters first boxing bag, this is a punch bag for juniors worth considering. The excellent rebounding accuracy and the overall quality of the construction makes this well worth hanging up. If hung-up outside, simply ensure it is covered thoroughly (including chain) should it start raining.
6. LEOHOME Inflatable Punch Bag
When you are searching for a solid starting place for many youngsters, this LEOHOME option could be a good option. This inflatable punch bag can reach a height of 5.2ft, which should be ample for most youngsters. While a teenager might soon outgrow that kind of size, it might still be useful for a taller teenager to help them get used to fighting an opponent of a smaller stature than themselves.
With this in mind, we recommend that you look to get a LEOHOME punch bag that can be set-up as needed. While it does not provide you with a super-sturdy solution, in that being too strong or aggressive could lead to damage, it is an affordable option for those short on space and budget.
Also, the fact that it can be so easily set-up and stored away makes this great for an on-demand and/or impromptu boxing training session. It can take a fair amount of damage, the freestanding nature means that it can be set up easily, and it gives a child a wonderful and easy introduction to combat.
Soft to land blows on, too, it is definitely recommended on the comfort factor alone.
7. Kids Training Headband Reflex Ball
Not every boxing bag has to take up a huge amount of room, as demonstrated by this kids training reflex ball. This is easily adapted to any head size, in truth, so adults in the family could also use this. For all the benefits that come from a full-sized body bag, being able to get used to throwing fast and loose flurries at a smaller target can be great.
And although the target is far too small to represent anything a boxer would ever face; it proves an excellent way to boost hand-to-eye co-ordination for most young boxers. They will soon find that they can land more consistent blows, find their rhythm easier, and also get used to targets bobbing and weaving.
Best of all? With a reflex ball, they don't need to have anyone partnering them or watching over them. As such, they can get used to working out and throwing combinations in a way that gives them self-belief and confidence. For a young fighter, a reflex ball can make a brilliant companion to a boxing bag.
And for a youngster who has never boxed before? This can be a great, size-friendly solution to help them see if they enjoy the feeling or not.
8. RDX Kids Punch Bag
Hand any child this little 2ft punch bag and they can start working on their body and head blows very quickly. This is a simple to set up option that looks good, feels great, and provides you with an excellent starting place without any issue.
The quality of the bag ensures that it can take plenty of beatings over the years, making it a great choice for any youngster to use long past their adolescent years. It can take a maximum weight of 12kg in total, so you can use the rustproof chains with the maximum weight without having to worry about it being pulled down or otherwise disrupted.
The quality combination builds that a child can get used to forming with the help of a bag like this can be very impressive indeed. So, too, can the fact that this is able to take such a significant number of blows in terms of physicality.
The zip-top design also allows easy access to help keep adding in more pulp and more material to help keep this as durable as is needed. A great starting point for any young boxer trying to find their own form and technique from a young age.
9. RDX Junior Boxing Set
RDX are known for their excellent distribution of quality products, and this particular package is no different. Pick this up and you would be buying a boxing set that is very easy to use indeed.
It comes with everything you need to set it all up from the moment that it arrives. It also provides you with a pair of kids boxing gloves and a full 2ft bag to start working on from the moment that it arrives.
The hanging straps also ensure that you don't have to worry about making a structural mess when hanging this up. So long as it is attached to a secure location, this should stay in place without causing any issues.
The fact that it is such a size ensures that any younger boxer grow confident with every punch thrown and every change to their technique. The RDX name is now pretty much synonymous with quality boxing attire for kids.
With this investment, you can see why; it has the durability to withstand ample pressure but provides a young boxer with enough realistic feedback from their hits to feel good. A great purchase that could help turn a young boxer into a much more refined combatant.
10. Oypla Kids Freestanding Boxing Ball
If you would rather invest in a boxing ball, though, you can do so with this option from Oypla. It has become a great choice for most young athletes looking to improve their game and give themselves an improved boxing style. Capable of standing at anything from 80-110cm, too, this is great for those who are looking for an adjustable boxing ball they can manipulate to their own particular choice.
There are few things more useful for a young boxer than being able to box quickly. Power and strength can be built upon for a young boxer as they fill out into their frame; for a younger person, who would be suited to using this kind of model, you want to work on technique and delivery.
Using this kind of ball, you can ensure they improve the flow and the style of their combinations. At the same time, you also get to see a really impressive extra level of confidence growing in a child thanks to the fact this delivers such a satisfying response with every hit.
Throw in the included pump and gloves, and this makes an excellent, easy to put together DIY boxing ball that makes a great on-demand training tool.
11. ULTRA FITNESS Kids Boxing Set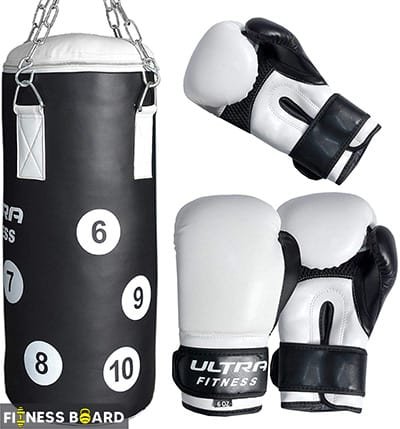 Give a young child all the help they need to start making immediate improvements with this set from ULTRA FITNESS. It comes with everything they need to start working out immediately; an easy to hang punching bag with ample stuffing to avoid knuckle pain; quality boxing gloves that help to improve accuracy and minimise strain, too; a chain that should keep the boxing bag hanging from the ceiling or stand for as long as needed.
This is a good starting place for most boxers who are on the lookout for something a little different to what they might normally go for. A boxing bag can be hard to find in the style you might expect, but this particular offers a well-priced all-in-one solution.
Simply attach the punching bag to the right kind of stand and you could use this for years to come. It offers a good option for any youngster starting out from the ages of 6-7 to a teenager in the age range of around 14-15.
Overall, a great investment if you want to really encourage a young boxer to come out of his or her shell and start really working on their game.
12. Inflatable Kids Punch Bag
For the youngest members of the family, finding them an outlet that they can use is very difficult. Even some of the smaller junior punch bags can be a little too rough for a youngster. With that in mind, we recommend that you look at this 47" inflatable punch bag for kids. It's part of the Petyoung brand and is a very popular starting place for many young combatants.
The jazzy and colourful design is sure to get any kid enjoying the rhythm; you don't even need to sell it to them as boxing. It could be seen as a game of sorts, landing blows via punches and kicks to send the toy bobbing around back and forth. Before you know it, a young child can find themselves really enjoying the art of being able to get fit and improve their agility with the help of boxing!
Such tools are great for any youngster in the family who wants to help build self-esteem and improve their physical style with the help of a friendly, endearing little boxing bag. If you don't want them to feel intimidated or put off by their first interaction with a punch bag, use this colourful companion to your advantage!
13. Bozo Kids Bob Bag
While this is likely to be more of a novelty for most people after a short period of time, it does work as a great starting place. Got a young child who has natural boxing talent but needs an outlet to help them get it out there? Then buy this clown-shaped boxing bob bag instead!
The kids can hit it with their combinations and get their fear out and confidence up all at once. They might not even realise that they are building up some kind of boxing knowledge in the short time it takes them to start whaling on the clown themselves.
While a young boxer would likely find this to be out of their requirements, it could be a wonderful introduction. A perfect 'pinata' of sorts for a youngster who might steel be feeling their interest in boxing develop from the earliest starting point.
14. Lions 5.5ft Free Standing Junior Punch Bag
Lions has become a very well-respected name within the boxing industry, and with good reason. This particular punch bag has become a great pick if you are looking for something that can take a lot of punishment. The height of 5.5ft makes this a more suitable choice for any teenager or junior who is taller than their average peer.
Designed to take a lot of punishment without taking up much room, this is a great choice for those who are limited in the space they have to play with regarding their boxing. Keep that in mind, and you can soon see why this particular punch bag is a great long-term investment.
Though a teenager might struggle to make an impact at first, this comes with more than enough cushioning to help them make rapid gains without hurting themselves. And given this would be suitable to most medium-height adults as well as teenagers, this could be a long-term training companion for any young boxer you are trying to encourage.
It is great for various forms of martial arts training, but it is a wonderful adversary for any junior boxer trying to hone their technique and find perfection in their form and technique.
Making The Right Choice on a Junior Punch Bag
Of course, there is no 'right' or 'wrong' answer as we mentioned before. What there is, though, is answer suited to you personally. You have your own tastes, needs, and also budgets. Therefore, at least one of the options above should make a practical solution for you to go out and buy.
With each of the above options, you can easily pick-up a kids punch bag that works for you. While finding the 'perfect' option can take much soul searching, the above can easily solve your needs. Whether it is getting a youngster involved in boxing for the first time, or helping an improving youngster grow, you now have options.
It is your decision what option you believe will work best for you. However, we recommend that you ask yourself the following questions:
How much space am I able to commit to having a junior punch bag around?
Can I perhaps buy a bag that could last my child through younger years into teenage years?
For teens, can I buy a bag more suited to an adult so that more of us can benefit?
Should I get my child using the 'real thing', or something smaller and inflatable to start?
What are the weaknesses that I am noticing in my child(ren)? Reflexes? Power? Combinations?
How can my budget make sure that I get the best option that I can afford for my needs?
Ask the above questions, and you should find it much easier to pick from the excellent selection above. Now, it is down to you to pick the ideal junior boxing bag for your needs. We have given you some great options to look at; now, you need to land the first blow and make a purchase!