10 Best Quality Boxing Pads in UK for 2022
Training as a boxer can require a lot of different tools, and it can often mean making investments that are outright risks. For example, let us say that you intended to buy some boxing pads. You know yourself how useful a pad can be to train with, especially in sparring. However, with so many options to look into for suitable boxing pads, you might not be 100% sure what would make a wise investment for you today.
Luckily for you, our guide provides you with all the information you need about buying boxing pads!
We have put together a simple, effective guide that can help you to:
Understand what boxing pads are for.
Appreciate the benefits of using boxing pads.
Learn the things to look out for when buying boxing pads.
Pick out the best offers and deals for boxing sparring pads online.
Of course, if you would rather just find out what products to buy then check out our section titled 'Buying the best boxing pads for 2022 and beyond' below. If you wish to know a bit more about what you are buying, though, be sure to read through the rest of the guide beforehand.
With the information we have supplied to you below, it should be much easier for you to come up with effective plans for training in the future. Pair that up with the products we have suggested below, and it really has never been easier to buy good quality boxing goods.
If you want to avoid wasting valuable sums of money on poor training gear, start here!
What are Boxing Pads?
Boxing pads, then, are a training product used in boxing gyms and at home by boxers all the time. So long as you have someone to put on the pads, it offers a mobile punching bag of sorts. The little gloves are worn by another boxer, or your trainer. They then move around the ring/training area with you, moving the pads around the area like a real boxer would. Your job is then to land swift, strong, and accurate punches on the pads with consistency.
The main reason to think about using boxing pads is they offer a greater challenge than you might have first expected. Many of us expect boxing to be easy because we focus all of our training on a standalone punch bag. The negative with this, though, is that you never get used to the fact that your opponents in the ring won't just stand still.
Far from it, actually! They will duck and dive and move around. This means that if you are used to hitting a punch bag, you might not be ready for sparring with a live foe. The use of boxing pads, then, can be a solid solution.

What do I Use Boxing Pads for?
As mentioned above, most turn to using boxing pads and gloves when they want more challenging training. Sure, laying into a boxing bag all day can be fun…but does it really make you a better boxer?
It can, but you need variety in your training and coaching. That is why we highly recommend that you think about using a boxing pad instead. This can give you a much easier target to work with for improvement. Instead of being able to just stand in one spot and hit the bag all evening long, boxing pads for you to get better. They demand you improve and become more effective in the way that you fight.
They force you to move around the ring, reacting to the position and placement of the pads. You need to get used to hitting a smaller target, too, which can be great for improving your ability to catch out your opponent. So, if you are wondering why you should be using boxing pads, the answer is simple: it will make you a better boxer.
Given how prevalent they are in boxing gyms and sparring session, boxing pads should not be ignored.
The Benefits of Using Boxing Pads in Training
Of course, you might be wondering what kind of benefits one can receive by training with boxing pads. To help you understand the benefits of changing up training to this degree, some of the benefits include, but are not limited to:
Improve your Physical Core
A good reason to start using boxing pads is that they force you to use your upper body a lot more. They force you to lean in to land shots, to throw punches from unique angles, and to make you work your body.
With that in mind, your core becomes stronger and generally more used to moving on the hop. This means that If you suffer from abdominal strains due to turning too quickly that you could find a lot of help from using boxing pads.
They do a great job of making sure you stand strong and turn quickly when the situation demands it.
Improve Hand Speed
Another big bonus is that if you are used to fighting on a punch bag your combinations and punch style can become monotonous and predictable. With pads, predictability means swinging at fresh air. That is why so many people love to work with boxing pads: they force you to be faster with decision making in the ring.
You will need to be far more alert to what your foe is doing, something that boxing pads force you to understand.
Boost Punching Power
While it might sound odd to think hitting a smaller, weaker target might make you stronger…but it does!
Why? Because when we punch on a bag, we can become lazy and punch using our arms. The power of a punch, though, stems from how your legs and your core allow the punch to flow. Boxing is great for making sure you understand how upper and lower bodies work in harmony with one another.
If you wish to develop a stronger, better core, boxing pads force you to get used to throwing from angles and locations that require a boost from the legs.
Get Moving on your Feet
A common mistake for many newbie boxers is not moving enough on your feet. If you lack the means of moving around the ring with confidence and charisma, you will lose the ability to control the fight. Boxing pads force you to move on your feet, stick with your opponent, and become a more aggressive boxer overall.
By getting used to moving around and being more agile, your game will improve.
Widen Defensive Knowledge
Boxing pads are not just for making you a more dangerous puncher, though. They are also commonly used for people who need to be more agile and evasive. The small pad forces you to start moving the hips, shoulders, and body in unison together. It improves reaction time, forces you to evade counter-attacks, and means you start to become far more confident in fighting a faster opponent.
Training on a bag cannot do this for you.
What Matters When Buying a Set of Boxing Pads?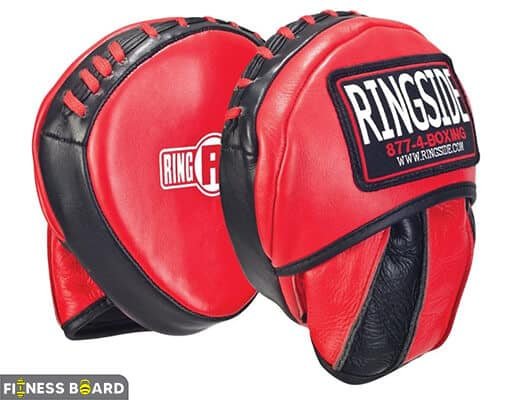 Before you go ahead and make a purchase, though, we highly recommend you think about the following factors when buying a boxing pad set:
Does it Come with Gloves?
The first thing to think about is whether or not these are standalone boxing pads or part of a set. We typically prefer sets as they work together in tandem, but you should only look to buy sets if you lack gloves already.
Are They Made from Real Leather?
While most of the more expensive boxing pads are real leather, affordable options are often synthetic leather. That might sound bad, but many synthetic products are more than durable enough for the price you pay.
Determine if you need something at the highest standard or if you just want to use these as a training tool at home. This should determine that material you are happy with, and the price you'll pay.
What About Sizing?
Sizing is imperative when buying pads for boxing. We recommend you really invest some time checking out what size of hands you have so that you can be sure that you are buying quality boxing pads that fit your hands easily.
There is no benefit to boxing with pads that do not fit the hand exactly as they should. Put as much emphasis as you can into the sizing of the pads, as they determine the quality.
Can They Be Strapped-Up?
While most pads come with an adjustable strapping around the wrist, others are simply a one-size slip-on option. You need to determine if you want something that only fits one pair of hands or can be adjusted in terms of tightness and fit for anyone who needs it.
Typically, one-size-fits-all pads are not going to fit every hand safely. If that is the case, it might be better to buy pads that come with Velcro strapping, instead.
What About Breathability?
Lastly, make sure you consider the importance of ensuring that your hands can breathe within the pads. You don't want pads that feel awful to work with because they get slippery due to the high amount of sweat present.
Instead, you want something that allows as much air around the fingers and hands as is possible. Keep that in mind, as many people buying boxing pads do not realise how important it is to have sweat-free palms.
Buying The Best Boxing Pads for 2022 and Beyond
So, now we are at the stage where you might feel comfortable going ahead to buy some boxing pads. However, with quite a few options on the web today, making sure you get something worth the money can be tough. Sure, every product description makes the item out to be a 10/10 purchase. But what can you trust when it comes to buying quality boxing pads?
In a bid to make your life a little easier, here are some recommended options we have inspected for you. While not every product is going to be just right for you, we are sure that you will at least find a good set of boxing pads and/or boxing gloves through the items on sale below.
What, then, are some of the best boxing pads on the online market today?
1. Lions Curved Focus Pads Hook & Jabs Gloves Punch Bag Mitts
If your main aim is to buy a pair of cheap boxing pads that aren't going to be too cheap to use, then look at this effort from Lions. These curved focus pads are a good starting place as they offer a breathable, well-ventilated option that should fit on most hands. Though some might find them to be a touch tighter than expected, most hands should fit into the size that you buy comfortably.
The comfortable, durable nature of these pads ensures that they aren't going to be ripping or snapping on you anytime soon, either. This is very useful to know, as many boxing pads can split after one haymaker too many!
This allows for you to keep on using these safe in the knowledge they aren't going to split on you in the middle of a training session. If you are used to mixing up your training, too, you might even wish to use these for things like MMA training; they are designed to be versatile enough to be useful to more than just boxers.
The product is claimed to be 'professional quality', but you can definitely buy a higher standard – albeit for a higher price. For the price you pay, though, these do make a pretty nifty deal that you can benefit from. The PU foam is comfortable, the gloves are designed to allow for ample breathability when in use, and this means your hands aren't going to feel too clammy after a sparring session.
Overall? They make a fine way to start off this list, giving you a cheap but cheerful option that is worth considering if your budget isn't stretching.
| PROS | CONS |
| --- | --- |
| Curve adds extra comfort in training. | Might not be suited to all hand sizes. |
| Breathable material improves longevity. | |
| Available in a wide range of colours. | |
2. AQF Focus Pads Rex Leather, Hook and Jab Mitts
If you are happy to spend a little more than you would on the above offer, though, you might wish to look at these AQF boxing pads. These are strong and sturdy, with a very impressive padding to allow both puncher and padder to take the impact without any soreness or stress. The synthetic leather is designed with industrial grade stitching, too, so it shouldn't be splitting or breaking on you anytime soon.
Another thing to note about these boxing pads is that they can take a lot of punishment. The only downside is that due to the prevalence of white in the design you can easily see scuff and dirt marks. With darker pads, you don't see the signs of wear and tear with such ease. However, this is just an aesthetic negative; in terms of actual function, these should stay well suitable for usage long-term.
They also provide an air ventilation channel to allow for air to get around the hands. Now, you don't have to worry about your hands being stuck to the pads after a rough sparring session. The stitching avoids bursting, while the ventilation allows for much better airflow – that really is a pretty fair deal, wouldn't you say?
Overall, the quality of these pads allows for you to enjoy using something a bit more robust than the above option. They are a good choice that should, aesthetics aside, be safe for long-term usage. The premium stitching paired with the lightweight nature means that you can enjoy using these as your sparring tool of choice for a while yet.
The lightweight nature also ensures you can take them to/from training without weighing yourself down, too.
| PROS | CONS |
| --- | --- |
| Made with durable synthetic leather. | Can become somewhat easily scuffed. |
| Lightweight, easy to travel with. | |
| Hook-and-loop offers extra security. | |
3. RDX Boxing Pads Curved Focus Mitts
While RDX are a well-respected name in the boxing industry, their curved focus mitts above are a great starting place. While you will pay a bit more than you would have expected for boxing pads, perhaps, the quality is there for all to see. The fact they are made with genuine Maya Hide leather should be a good sign that these aren't dummy objects; they are strong, solid, well-designed boxing gloves safe for usage.
For that reason, you should definitely think about trying a pair of these curved mitts out. The curve helps to further absorb damage, while the high quality material helps to ensure they aren't scuffing, snapping, or slicing anytime soon. The adjustable strap allows for better control, too, meaning you can leave the gloves as tight or as loose as you might happen to prefer.
Add in the fact that these gloves are designed for longevity with the ventilation avoiding moisture wicking, and they make a wise purchase indeed. While not everyone is going to find them the perfect choice, so long as you don't mind paying a little these would really make a good choice for most boxers.
These are not only boxing pads, either; you could easily use them for other martial arts and MMA training in general. They offer a great target for you to work with and are large enough that boxers big and small can hone their accuracy when training on these pads.
Given the extra padding, too, they make a fine choice if your puncher tends to be paired up with a padder who perhaps lacks the same physical power. For a pair of properly well-made curved pads, consider this model yourself.
| PROS | CONS |
| --- | --- |
| Adjustable strap for added comfort. | More expensive than some alternatives. |
| Maya Hide leather ensures longevity. | |
| Designed for taking heavy hits. | |
4. RDX Boxing Pads Focus Mitts
Got a pair of mitts that could pick up a basketball in full? Then you might need boxing pads that are a touch on the larger side. Well, these are some of the largest boxing focus mitts we have seen on the market. Paired up with top quality Maya Hide leather for longevity, these also come with a breathable material on the back-end to help avoid the padders hands from sweating up too much.
These make a good choice generally if you are on the lookout for a brand of high quality mitts made from genuine leather. The leather helps to add durability, minimising the risk of things like splits, snaps, and snares. Quality stitching paired up with excellence in the leather layout allows for your hands to absorb ample shock when wearing these. So long as you have big enough hands to fill the pad, these work well!
While these are only a pair of pads, not boxing gloves and pads, you do get a pretty solid deal for the money spent. We do recommend, though, that you look to find someone who needs to improve accuracy to spar with. The presence of the target right in the middle of the pad itself allows for boxers who need to improve punching accuracy to thrive.
Overall, they make a good option albeit a touch more expensive than you might have first expected to spend. If you don't mind paying a little bit, though, you should definitely add these to your list of considered boxing mitts and pads. They feel good, they allow ventilation around the hands, and the material used allows for you to use these for a long time to come.
| PROS | CONS |
| --- | --- |
| Comes with easily visible target to hit. | Typically aimed at larger hands. |
| Comfortable, breathable glove material. | |
| Padding allows for easy shock absorption. | |
5. Cozyswan Punch Mitts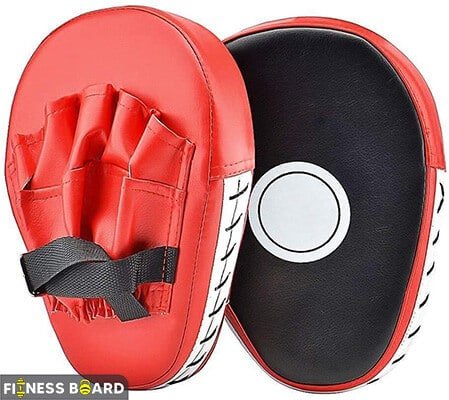 Should your aim be to buy something a bit more average and fits-all, though, be sure to look at this option from Cozyswan. These are a good choice because they feel so good to hit, albeit some feel they could be even more padded. For the average boxer, though, especially younger boxers and amateurs, this should offer enough cushion for both puncher and padder to help absorb up that somewhat thinner style.
These are a high quality choice as they feel so good to work with, they tend to be designed to help you easily target the right areas, and the comfortable strapping means the gloves stay in place. The worst thing you can do when buying boxing pas is to buy something that simply slides around the place due to an ill-fitting style. These pads, though, should fit on the vast majority of typical hand sizes.
With that in mind, then, these should make a pretty sensible option if you are looking to keep spending down a touch. They make a good overall choice that should feel solid enough to hit, soaking up the pressure of most punches. Just remember that these are not the super-padded options available above, so you might want to slow down a little on the intensity!
In general, though, these would make a pretty sensible choice for most people who are keen on getting into boxing. They make a solid at-home training companion, and the synthetic leather is designed to take some hefty punishment. Add in the fact that the bright and colourful design makes them hard to miss, and any boxer can benefit from working out with these durable PU leather focus mitts.
| PROS | CONS |
| --- | --- |
| High contrast design improves accuracy. | A little thinner than alternatives. |
| Great quality of PU leather used. | |
| Should fit most average hand sizes. | |
6. Lions Boxing Set Focus Pads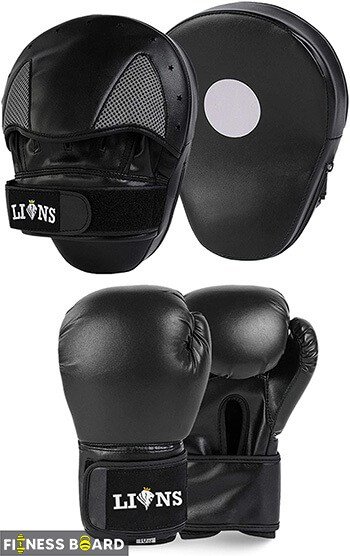 Some prefer to use curved boxing pads, and if that is the case you might prefer this option from Lions instead. The curve feels good to work with once you get used to it, but some give up before accepting the benefit of a curve. Curved boxing pads can be an oddity to you at first, but they do generally feel pretty good in absorbing shock and spreading out the impact of the punch.
The main thing we like about this offer, though, is that you get both boxing gloves and pads. This means that you don't have to go hunting for a pair of compatible gloves to use during sparring. Not only that, but you will find that the pads do a pretty spectacular job of making sure you can absorb the strength of the gloves provided. Buy another pair of gloves, and you might get something too soft/hard for the pads bought.
These are a good overall quality, and could be used for sparring, training, and general workouts for those in boxing, MMA, and other martial arts. The curved focus pads that you get make a wise investment purely because they can take such an intense hit. Compared to straighter pads that can bend and otherwise get damaged, these curved pads are built to take a flush hit right in the middle without creasing.
Overall, this does leave you with a good starting place for a pair of high-end curved focus pads that look good, feel great, and spread out the shock of the landed punch. For the price you pay, this is an easy way to get boxing pads and gloves for an excellent deal.
| PROS | CONS |
| --- | --- |
| Breathable material thanks to meshing. | Curve can feel a little odd at first. |
| Standard fit should work in most cases. | |
| Available in numerous colour schemes. | |
7. RDX Boxing Pads and Gloves Set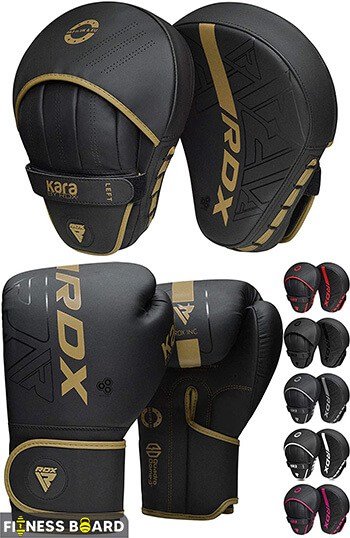 If budget is no issue and you don't mind buying quality boxing pads and gloves at once, this model from RDX is a good starting place. These feel really good to work with on the basis they come with a PU-mould that can really soften the blow. Now, you can throw as hard as you want on the boxing pads without worrying about going a little too hard.
The high quality of the design and stitching ensures that both pads and gloves should stay in their present condition for a long time, too. The 8oz size might not be suitable to all boxers, but this should be a good enough starting place for those who are perhaps down the weight classes and/or is new to the concept of boxing.
Another nice benefit is the inclusion of the hook-and-loop enclosure. This ensures that these stay in the right place for you when sparring. Instead of watching gloves and pads bob around needlessly, this allows for you to get pads that you know are going to stay in position even on smaller, thinner wrists. The inside palm ball that you get also allows for improved grip and maximises how much shock can be absorbed per hit.
This also helps to avoid hands from tiring out ahead of time. The use of Maya Hide leather, lastly, is a huge boon for both the quality and the longevity of the product. Compare these to some of the cheaper models, and you can more or less instantly see why these boxing pads and gloves are so good.
Quality is everything when buying boxing sets, and while you will pay a lot of money for this set you get enough quality back to ensure it is a worthwhile purchase.
| PROS | CONS |
| --- | --- |
| Designed with quality Maya Hide leather. | Among the most expensive buys. |
| PU-mould offers extra bounce. | |
| Comes with boxing pads and gloves. | |
8. Sparta Boxing Pads & Gloves
If these boxing gloves and pads from Sparta came with just a touch more flexibility, they would arguably be the best overall choice. Well-priced and affordable for the quality of the product, complete with excellent foam padding, you can get plenty of value for your money from these boxing pads and gloves. They feel good, they absorb the shock well, and the padding helps to ensure maximum aggression without having to worry about the other person.
The range of colours provided for both gloves and pads also allows for you to easily pick something that matches the colour scheme you like most. Aesthetics aren't the most important thing, but when buying boxing sets like this you do want something that matches up. Since Sparta sell this duo package, you get to choose something that blends together.
However, this is about safety as much as style. These gloves provide you with an interesting thumb attachment to avoid thumb staving and other damage. Meanwhile, the Velcro closure helps to ensure that the wrist is well-supported and that both gloves and pads stay in place during sparring.
If you enjoy boxing, then you want to find something that makes it easy for you to box with total confidence. That is why, if you want to make your purchase, you need a combination pair that goes together. Though the sizing can be slightly imperfect to say the least, they make it up for it with great, comfortable designs that improve comfort during sparring.
The improved protection they provide give you all of the help you need to enjoy a simpler, easier boxing experience.
| PROS | CONS |
| --- | --- |
| Comfortable, easy to control fit. | Sizing can be hard to get perfect. |
| Foam padding absorbs shock well. | |
| Provides both boxing gloves and pads. | |
9. EVO Fitness Curved Boxing MMA Focus Pads
If you are looking for a good price for an affordable pair of boxing pads, these EVO Fitness options do make a worthwhile checkout. However, the main issue that most people have with this particular product is that it lacks the same kind of moisture wicking and protection from sweat you get with other products. While cheap and generally comfortable, the downside is they tend to feel pretty rough on the hands after sweat builds up.
If you don't mind having to take pads off during the session to wipe your hands down, though, this is a good investment. The use of Maya Hide leather is a nice surprise, as is the extra padding layers. This means that you can absorb a flush punch right into the palm of the hand much easier than you might have first expected. The design and the strength of pads is improved further with a natural curve that allows for the shock of the hit being landed to be spread out across multiple parts of the hand.
The build quality is one major plus, with the only real downside being the lack of sweat management. If you can look over that, though, these make some solid gloves that you could easily work with on a daily basis. Get them wiped down and cleaned after each session, too, and you can avoid them from becoming unhygienic.
The padding and the use of real leather makes up for the fact that it lacks an inclusion for minimal sweat build-up in the hands. Overall, given the cheap price, you are getting a pretty solid deal if you were to invest in this particular product. Get used to taking them off to wipe down your hands, though!
| PROS | CONS |
| --- | --- |
| Made with quality Maya Hide leather. | Can become saturated with sweat. |
| Multiple layers of padding provided. | |
| Natural curve adds to absorption. | |
10. AQF Boxing Pads Hook and Jab Mitts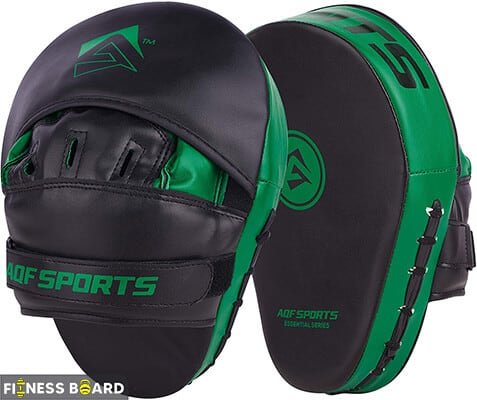 Got large hands? Then this option from AQF might be the best choice for you. Designed with an impressive synthetic leather, these should fit on your hands without any issue. The resilient stitching that is used helps to avoid splitting, snapping, or bursting, as well, which can go a long way to boosting longevity. Add in the tear-resistant synthetic leather, too, and you feel comfortable going at 100% on these without worrying about them snapping or splitting.
The main thing you might find with these, though, is that they only come in one size – Large. For that reason, you should carefully check the dimensions and see if they line up with how your own hands would work. The durable nature of the design and the tear resistance, though, ensures these make a good long-term choice.
The use of a 1" thick Eva guard sheet also helps sparring sessions with a power mismatch to avoid the puncher from harming the padder too much. Unlike some of the above options, too, these come with a very impressive design that should ensure they aren't going to split or snap anytime. Add in the improved breathability, too, and you can see why these might be a good investment. If you have large hands that have a habit for sweating up, then these 320g options should give you a solid, durable alternative.
Avoid the moisture build-up that can ruin other products and make sure that they fit onto your hands with the improved fit around the hands. So long as you have paws big enough to fill these gloves, they should make a solid addition to your day-to-day boxing training equipment.
| PROS | CONS |
| --- | --- |
| Good quality air slits for breathability. | Only come in one size. |
| Thick, durable, strong padding. | |
| Comes in various colour schemes. | |
What Boxing Pads Will you Buy?
Armed with knowledge and products to pick from, the challenge for you now is choosing the right pick.
Will you go with the boxing pads and gloves sets? Or will you stick to something high-end and professional?
Is this to help someone young get into boxing, or to help a budding amateur work towards stepping up into the professional arena?
The decision you make now is all about making sure you are happy with the final product you buy. Take a look at each recommendation above, and evaluate each one based on price, fit, and style.
Then, you can make a better choice regarding what boxing pads are most suited to you as a fighter. We have tried to give you as much detail as we can about each product, but the selection and usage of boxing pads is often a subjective, personal choice.
Don't let us make the choice for you – look at all ten options and determine which fits the boxes you want to tick off.
Lastly, remember to have as much fun as you can when it comes to boxing. Sparring is a blessing and having some quality boxing pads can make sparring even more fun. Have fun, let loose, and use boxing pads to your advantage – the difference they can make to training is huge.