10 Best Boxing Head Guard in UK for 2022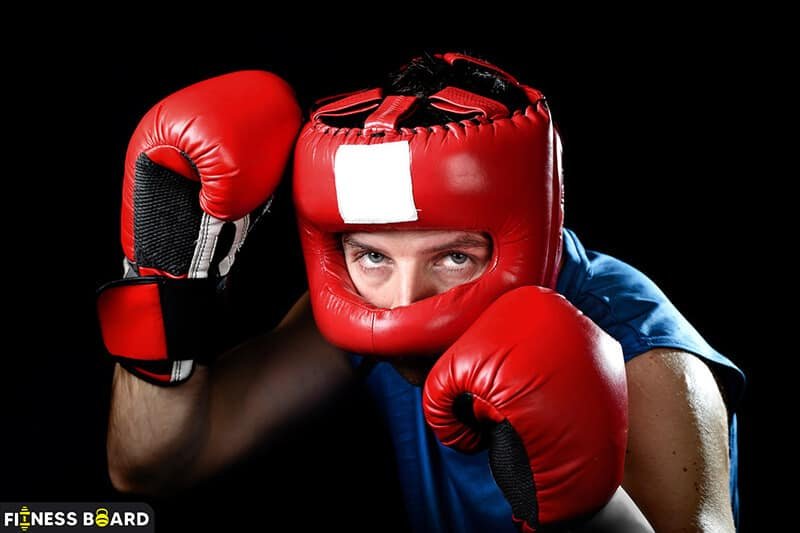 When it comes to boxing on a regular basis, you can find that your sparring sessions can begin to get a little rough. As you begin to grow in terms of skill and stature as a boxer, you start to take more risks when you box. You start to try things that normally you would not have attempted. This gives you confidence and belief – but it also make you take risks that you should avoid. For example, during sparring, do you wear a boxing head guard?
If not, or if you have stopped, then you might want to think about changing that. While some purists might not like the idea of being protected during training as it's not like a real fight, you need to look after your body. It's the same reason why we take the same precautions during a sparring session as we do in a live fight with regards to protecting your hands. And if your hands can be hurt in simple sparring, you can be pretty sure that your head can, too!
So, with that in mind, we have put together a list of useful ideas for buying the best boxing headgear. If you want to go ahead and make a purchase, then head on down to the section called 'Buying the best boxing headgear in 2022' – there, you will find ten quality products which will absolutely be worth your time exploring and investigating.
However, if you want to know a bit more about wearing and then using a boxing head protection, you might want to read the pre-amble beforehand.
What is Boxing Head Gear?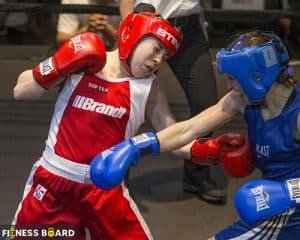 Put simply, boxing head gear has become an essential part of long-term protection during boxing. In the past, we used to see amateur athletes competing at the Olympic Games with the help of protective head gear. Today, though? Most people simply use the protection during practice and sparring sessions. Professional bouts will not use a head cover, so you have to keep that in mind – this is not something that is used at every level of boxing.
Boxing head gear, though, is a protective solution that is used to help give your head a bit of extra cover and casing from potential damage. It has become a major part of the industry and plays a pretty big role in helping boxers to avoid long-term injury and thus ensure they can recover properly as time goes on. It can also have a lot of benefits – but there are some interesting things to think about that might make you change your use of a boxing head gear.
In this article, we are going to break down the pros and the cons of wearing such a product. However, should you even wear protective gear during training?
Should You Spar With Boxing Headgear On?
The first question that many boxers will ask is 'Should I wear a boxing headset when I am in training or sparring?' and frankly the answer can be quite hard to find a definitive yes or no solution to. So, should you spar with or without the use of headgear? Really, it comes down to the intensity.
If you are going for some light sparring where both participants are taking it easy and basically getting warmed up, it is likely you will be fine without head protection. Most of the time, these lighter sessions are just to get you limbered up and to loosen muscles ahead of a more serious sparring or training session.
However, if you are going to be going for a 'fight conditions' session, where you are actively treating it with competitive zeal, you absolutely need to give yourself some kind of protection. However, the protection is not for the reasons that you would first assume.
For example, many think that headgear gives you protection against things like brain injuries – this is not the case. What headgear does do, though, is it can help to minimise the risk of things like injuries, cuts, and bruises. If you have an actual match coming up, you don't want to be turning up to it with black eyes!
If you wear headgear, then you will be able to avoid the opening up of injuries. That is useful because in a proper fight your opponent will look to open up and widen every cut and bump, they can see. If you spar too hard without protection, you can rock up to the big day with a face that is ripe for opening up!
At the same time, it avoids damage that might make you look rough in your day-to-day life.
The Pros of Wearing Proper Headgear
So, the first thing you might want to work out is what the actual pros and cons of wearing a boxing headgear set would be. With that in mind, here are what we believe are some of the most important benefits.
Avoid Cuts and Bruises
As mentioned above, the main benefit that you will get is that you can avoid the opening up and worsening of cuts and bruises. Whether it's so you don't walk into your office job looking like you've come out of Fight Club, or you want to avoid opening up a potential wound ahead of a competitive bout, you might want to just avoid getting beaten up and cut.
That's a perfectly normal viewpoint, and it's highly recommended that you wear boxing headgear in a bid to avoid those bruises and bumps from becoming visible elsewhere.
Avoid Accidental Head Clashes
Another boon is that by wearing headgear, both you and your sparring partner can avoid the most painful part of boxing – accidental head clashes. These are often among the sorest points of contact, as two heads clashing can be extremely painful and it can also lead to issues for the rest of the session.
By wearing some protective gear, though, you soon make sure that your head is going to avoid clashing with the opponent. Then, you can both avoid that ringing sensation in the ears and make sure you can keep on sparring without limits.
Confidence When Boxing
Most who wear boxing headgear will soon find that they tend to become pretty positive and confident when wearing the gear. The extra protection allows you to be a touch more ambitious during sparring. You will try combinations that you might be scared to do without cover, and you will generally try and a be a bit more open-minded.
When you are used to fighting in high stakes and without protection, you can close yourself off from trying new moves and techniques. By wearing some head gear, though, you gain the confidence to be a bit more "out there" with your moves.
Lose The Fear
The main benefit, though, is for young boxers and newbies to the sport. You likely still wince and worry about contact when someone throws a punch at you, right? If so, you are not alone. Many boxers do this, and it takes a lot of time for them to get used to the idea of being punched hard.
However, by wearing boxing headgear, you soon realise that you are able to take a punch and that you can push through. OK, you won't have that protection all the time, but it's great for beating that mental block.
The Cons of Wearing Boxing Headgear Cover
Of course, not everything about wearing a head set for boxing is going to be sunshine and lollypops. There are some drawbacks which are worth considering, and these tend to include some (or all) of the following issues.
Losing Intensity
One of the main drawbacks of getting used to wearing head cover in boxing, though, is that it can make you forget about your guard. You start to grow used to the extra shielding – and then get a fright when you fight without a headgear cover on for the first time in a while.
Fighting with a cover on can make you grow lazy with moving the head as much as anything else, and this can make it harder for you to make the changes that you need to. Intensity is everything in sparring; don't let your extra protection blind you from that.
No Concussion Guard
Many boxers start to think they can basically throw down and do what they like as soon as they don a head guard. However, as we mentioned before, you don't get protection from brain injuries or potential concussions by wearing a boxing head guard. What you do is the ability to take a stronger hit than normal, which can actually increase your likelihood of suffering from a concussion.
This cannot stop you from getting knocked out flat on the canvas, so don't expect that – losing your respect for a knockout blow is not a good thing.
Limited Visibility
One thing to note about wearing a head guard, too, is that it can get in the way of you actually seeing what you are doing. While many boxers find they aren't intrusive enough to hurt their game, it's another potential distraction during sparring.
You might also find that it can make you more likely to be hit as you cannot accurately read your opponent. While everything has a 'drying in' process, we recommend that you don't persevere with a headgear option if it is going to make your visibility so limited you get hit more, not less.
Longer Stoppages
Another thing to note is that stoppages happen more due to the fact that you are less able to follow the flow of the fight naturally. This can lead to more knockdowns, more stoppages, and generally a lesser 'feel' during the fight. You should look to do all that you can to avoid that kind of feeling, so sometimes it might be better to spar without a headset on.
However, if you find that you tend to be getting stopped more, not less, then you might wish to start thinking about removing your helmet.
Buying The Best Boxing Headgear in 2022
So, if you are serious about becoming a boxer, you need to be ready to buy a pretty high quality piece of training kit. This means everything should be made with a proper investment – yes, even your boxing headgear. Even if you only wear it on the rare occasion or you buy it for other boxers to use during their own sparring, you want to make sure you buy a good quality make and model.
What, then, are some of the options out there today that you should consider making an investment in?
1. RDX Boxing Head Gear
If your first aim when buying boxing headgear is to get total protection around the eyes and the cheeks, start here. While the main gripe with this headgear is its main strength – the tightness of the fit – it does provide you with a wonderful starting place. The stylish matte black finish is very impressive, as is the overall structural quality of the build. This would take a lot of effort to burst or do damage to!
The matte black finish looks good, but it is those thick and secure layers of protection that make the difference. This can take all manner of physical impact with the shock absorption provided by the absorbent padding. This allows for you to avoid cuts and bruises, whilst giving you a lot of protection around the eye and the cheek areas. This, then, offers a brilliant place for you to start when it comes to building up a collection of high quality headgear options.
Whether for yourself or for your gym, you will find these make a good investment. So long as you find someone who can handle the relative tightness of the fit, you should really have no problem at all in enjoying a high quality headgear item that fits into place like a glove. Try it out for yourself, and you will soon see why this RDX model is very popular.
The padding is more than thick enough to meet your needs, while the overall tightness of the fit – which can be too tight for some – can be very comfortable indeed. So, why not take a look at this as the ideal place to begin when it comes to looking at and evaluating head gear on sale?
| PROS | CONS |
| --- | --- |
| Stylish matte black finish. | Can be a tight fit. |
| Thick, secure, absorbent padding. | |
| Developed by trusted experts. | |
2. RQF Boxing Headguard
While it can be surprisingly tough to buy this particular headguard in the size that fits you best, this does make a great addition to any headguard collection you build up. This particular model, once you find the size that fits you best, can be the perfect starting place for anyone getting involved in a bit of boxing. This is a unisex brand, too, so you can be happy to know that size permitting, this should fit both male and female students perfectly.
The 3-layer padding is a big improvement, with the use of leather padding on the inside even more impressive (and rare). This creates a secure, shock absorbent solution that also avoids too much excess spread of things like sweat as your sparring session begins to build to a finish.
Overall, the quality of this headguard is very easy to spot – it is something that provides you with a great way to minimise facial impacts. Especially if you have a big fight coming up, this particular model does a great job of avoiding long-term cuts and abrasions forming on your face during sparring sessions.
Generally, it would make a great investment as it can minimise the impact on your skin. Not only that, but you can find that it does a fine job of reducing the physical intensity of a punch – even someone who could knock you off your feet will be unlikely to leave you feeling any cuts, bumps, or bruises so long as you have this attached properly.
Proper attachment is where most people go wrong, but these boxing headguards can give you all of the support you need to ensure you can soak up even the strongest of hits.
| PROS | CONS |
| --- | --- |
| Extremely thick and strong material. | Sizing can be confusing. |
| Inner leather for protection. | |
| Covers the whole head. | |
3. Adidas Speed Sparring Guard
One of the most important parts that comes from buying a sparring guard is making sure that you can take the physical impact without any issues regarding swelling or scarring on the face area. that is why we highly recommend that you look to make an intelligent choice and pick up some sparring guards that, while lightweight, are made from materials that properly protect your face from the risk of physical damage. This can minimise the force of a punch, but it can also do a lot to help reduce the impact in terms of knockback.
Though quite lightweight, these are made using CE-approved materials that can absorb the shock of a punch with consummate ease. On top of that, the chin strap and the back of the head closure section allows for total and complete comfort as you go through your average working day. The final added bonus is that these give you total ear protection, too; other guards simply offer some protection around the ears as opposed to total and complete protection.
So, if you are looking for a way to cut down on the physical impact on your head then you should absolutely look to buy a sparring guard like this. It can avoid things like bumps and bruises forming and it will go a long way to ensuring that you are not going to start suffering from welts and cuts during a tough sparring session.
Sizing is very good here, too; though the interior padding can often feel a little uncomfortable, it should be more than good enough for most people who are looking for a touch of extra lightweight padding. This absorbs the shock without being too heavy – the ideal combination for you.
| PROS | CONS |
| --- | --- |
| CE-approved materials. | Interior padding can be uncomfortable. |
| Extra protection around cheeks. | |
| Comes in specific sizes. | |
4. XN8 Boxing Head Gear
Trying to find professional standard boxing gear that you could include in your gym? Then you might wish to look here in the first place. These are high quality boxing headgear sets that give you numerous layers of absorption to make sure that you can take plenty of hits without any issue.
The strong and sturdy leather can easily absorb the hits that you take, making sure that things like cuts and bruises are unable to form on the upper layers of your skin. This can avoid any openings that an opponent could then try to exploit in a future right.
At the same time, though, you might wish to look very closely at this particular brand because they are a good build quality. They are useful for a professional looking, aesthetically stylish purpose that never gets in the way of being able to see what is happening at any point during the right.
With that in mind, then, you might look and see this particular kind of boxing gear as the ideal starting place moving forward. It's not perfect, but it isn't far off it!
One thing to note about this particular model in terms of negatives is that the sizing can be quite awkward. We would recommend that you look to measure your head properly before making the purchase, as the sizes can be quite difficult to eye-gauge.
At the same time, it can also be quite hard to get fastened up and put onto the head properly. Once you get used to these little quirks, though, the positives far outweigh the negatives.
Generally, this is a good quality boxing headgear that allows for easier sparring without injury.
| PROS | CONS |
| --- | --- |
| Lamina Hide leather. | Sizing is not the best. |
| Numerous absorption layers. | Can be tough to tighten. |
| Looks professional. | |
5. RDX Kids Headguard
Buying a boxing headgear for a youngster? Then make sure you think about this RDX model. For the price that you pay, you get maximum head protection with minimum restriction. This does not get in the way of being able to be seen, and it also does not limit or inhibit the visibility of the boxer.
Therefore, it can be a great way to soak up punches and absorb physical contact without scarring, cutting, or bruising. With that in mind, you might want to look a bit closer at using this particular solution to help your child get used to boxing.
After all, for many kids the biggest fear is the actual fear of being punched in the first place. Once your kids realise that they are not made of glass, though, they will soon become a whole lot less resistant to taking part. By having something there to avoid them from being harmed physically, though, you make it much more likely that your little one can avoid the risk of cuts, bruises, and other features that might make them not want to continue boxing.
By having proper sparring training tools like a boxing headgear, you make sure that your child can box with confidence. This also has the double benefit of making sure that your child can take an almighty bump to the head and not feel too uncomfortable throughout. It's a big reason why you should absolutely look to make changes to the accessories they have.
Something as simple as a little bit of boxing headgear can go a long way to making sure your child does not have to get their confidence rocked or their skin burst open before they start appreciating the value of boxing.
| PROS | CONS |
| --- | --- |
| Excellent quality of materials. | Fit can be somewhat awkward. |
| All-around head protection. | |
| Excellent value for your money. | |
6. 3X Junior Head Guard
If you are buying a boxing guard for a youngster, then you want to do everything that you can to ensure they can wear the guard without any uncertainty at all. This means investing in a boxing headguard that is going to stay in place and also absorb even the heaviest of hits. With this particular model, the HG3XW4, you get a high quality junior head guard that can take an almighty crack without any issue.
The non-slip material that is used on the inside means that the helmet, once in place, should stay there and not budget around with punches or movement. At the same time, it comes with a Liani leather exterior that can take plenty of hits without being scuffed or otherwise damaged. At the same time, this is a durable option that can absorb the hits and definitely avoid cutting and bruising – important for young faces!
You want to try and do all that you can to find a high quality head guard that actively protects you from physical damage. And while like any other headgear this cannot stop a concussion, it is more than thick enough to soak up physical damage and avoid any cracking or damage of the face.
For that reason, many people today choose to work with this particular headguard. It is comfortable, and the sweat-absorbing lining avoids the head guard itself from being too damp during the end of your latest fighting experience. So, be sure to keep that in mind as you move forward, and you should be able to enjoy boxing like never before.
Keep this on the head of your child and they are almost certain to be able to fight without discomfort.
| PROS | CONS |
| --- | --- |
| Great quality of build design. | Sizes not very specific. |
| Non-slip material for balance. | |
| Great value for money. | |
7. 3X Kids Head Guard
While this particular boxing head guard is one of the best on the market, we have to be clear that wearing it can be quite challenging due to sizing. If you can find one that properly fits the head of your child(ren), though, you will have made a very positive purchase that works very well on your behalf. For those on the lookout for a headgear item that can offer the lasting protection that you need, this makes a very good choice overall.
The improved protection is available in numerous colours and designs, too, making it easy to get something that your child(ren) love. At the same time, though, just be aware that the sizing does mean you might need to do some trial and error to find the exact size. The thickness of the padding and the overall shock absorption, though, allows for your child to pretty much take all of the head guards bonus protections and benefit from them.
Easy to get on and off, this offers a secure way for a youngster to get boxing without having to worry about the consequences of sparring. Just so long as you remind your child(ren) that headgear is not worn in a competitive fight, this can be useful for helping a youngster to get used to boxing. The fear of being hit takes a lot of time to overcome for some; by having a head guard that can soak up much of the damage, you can quickly overcome those issues.
That's why if you are looking for a head guard that can do the job as intended for a child, this all-around protective solution is worth consideration.
| PROS | CONS |
| --- | --- |
| Available in numerous designs. | Sizing can be hard for specific kids. |
| Made from durable, protective gear. | |
| Good value for money. | |
8. RDX Sparring Guard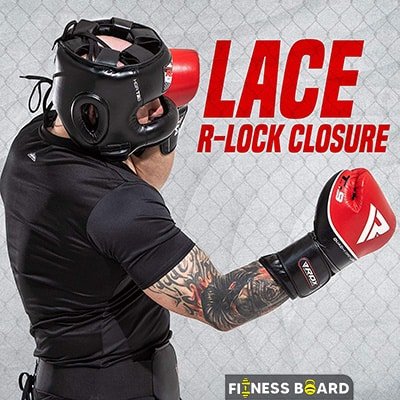 While this sparring guard immediately loses points for how awkward it can be to put on alone, having a second pair of hands makes this 'con' a non-issue. If you are trying to spar with someone else, simply have them dress the sparring guard for you. In return, you get a brilliant RDX sparring guard that is designed to last for many years to come. It also comes with an impressive, padded face bar that helps to protect all major areas of the face that are prone to being damaged during a sparring session.
However, while the hook-and-loop enclosure is sturdy, actually getting the lace-up system to work right can be awkward. Really, though, this is the primary negative that you get when using this particular model. It feels good because it fits the face, but it also can be time consuming to get tied up and attached. Once it is on, though, this boxing headguard offers lasting protection that can reduce physical impact and improve your day-to-day boxing experience.
If you find that you suffer a lot from easy cuts and bumps around the eyes and cheeks, this guard does a fine job of protecting you from that particular fate. It also can provide you with a pretty impressive tri-slab foam protection cover that helps to avoid the shock of a punch from being too much. By insulating you from the shock that can come from a well-connected haymaker, these offer a resistant, reliable guard.
Start off today, then, and look for a sparring guard that can make an immediate and positive impression. It's a little awkward to get on, but once tied-up you might struggle to take it off again due to the comfort!
| PROS | CONS |
| --- | --- |
| Made using Maya Hide leather. | Can be awkward to lace-up. |
| All-around head protection. | |
| Should fit with relative comfort. | |
9. RDX HGL T1W Head Guard
If you don't mind paying a bit more for your purchase, then you will get an absolutely brilliant deal with the help of the RDX HGL T1W head guard. It feels great, it can take a lot of hits, and it can give you a lot of extra confidence during your sparring session. Just remember that you are paying a high price here compared to many other options.
Also, some have found that the little piece of chin strapping can feel quite tight. You might want to try this out in person before ordering if possible, because getting the chin bar to sit without it pushing and graining on your jaw can become quite a challenge. Typically, though, for all-around cover you can find that this does a marvellous job of offering the protection that you need.
Add in that hook-and-loop style, and you get to really enjoy a totally different kind of sparring protection. Another nice bonus is that this can offer a nice bit of extra protection without really getting in the way of your visibility.
Others can find it hard to get the right kind of protection without losing visibility as they fight, but this does a pretty good job of avoiding that kind of issue. Typically, this feels good to wear as it fits well around the face and offers that added physical protection without really getting in the way of your ability to see what you are doing.
So, while that chin bin can become a bit cumbersome and annoying, you should find that the chin bar does a good enough job to help the whole thing stay in place assuming it fits your face accordingly.
| PROS | CONS |
| --- | --- |
| Suitable for other sports, too. | Chin bar can feel quite tight. |
| Excellent tri-layer absorption. | A little more expensive. |
| Made using cowhide leather. | |
10. 3X HG3XW3 Head Guard
When you go to buy a quality head guard, then, you will know just how tough it can be to buy the right model. That is why this particular head guard tends to be quite the vote winner. It's comfortable, easy to wear, and a good quality in terms of the build. Indeed, the only real gripe is that for some the foam padding inside can begin to make it feel a touch tight and compressed around the facial area.
Generally, though, this is a well-built boxing aide that is going to do a pretty sublime job of making sure your face isn't going to get damaged during your next sparring session. The padding can feel tough, sure, but at least you know that it is going to be giving your face the ability to ride punches without scrapes, scratches, cuts, and bruises forming.
Overall, this is a solid choice for those who want more or less total protection via 360-degree padding.
| PROS | CONS |
| --- | --- |
| Impressive, quality build style. | Foam can feel tight. |
| 360-degree padding. | |
| Easy hook-and-loop strapping. | |
Buying a Boxing Head Guard – Are You Ready?
Backed up with the information that we have provided above, you should now feel pretty confident about buying a boxing headgear. We hope that you can now understand A) why protection is important and B) what matters in your protection. Being a boxer means trying to make sure you have a career in the sport, not a simple 5-10 year run at it before injury takes its hold!
And that is why small but simple changes like wearing a boxing head guard could be the difference between boxing for a few years, or boxing for the rest of your adult life. Protect yourself. Reduce the risk of injury. Avoid likely long-term damage to your body and your physique. Make intelligent decisions which back you up and give you the right to keep improving.
Look after yourself – be a boxer that cares about your future as much as the present. Sparring without a head gear cover on might feel 'hard' or 'cool', but it can often lead to problems with your training regime. Consider everything we have mentioned and focus on making your future as a boxer even better.
Good luck!