Punch Bag Accessories in UK | Brackets, Straps, Hooks & More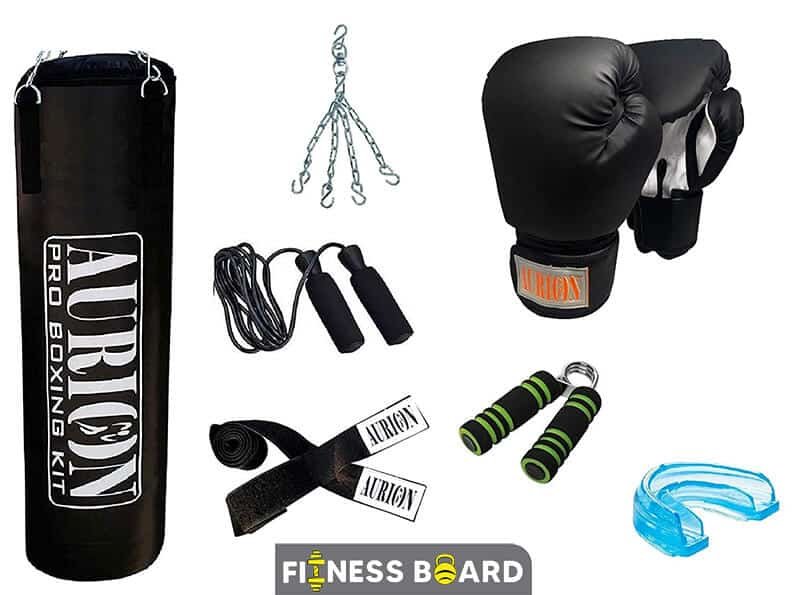 As an eager boxer, one thing you might run into quite a lot is indecision. When building up your own little home gym, it is surprisingly easy to get confused and uncertain about what to buy and what to leave behind. For example, have you ever looked at what you need to buy a punch bag? You need more than you think. That's why we recommend that you get used to looking into punch bag accessories, too!
An accessory like a punch bag can go a long, long way to making sure you can enjoy a much simpler, easier experience overall. Accessories such as punch bag hooks, punch bag brackets, and punch bag chains can be very useful. They can help you to get started as a boxer quicker, and they can also help you to make your bag configuration a little bit better.
If you are looking to make some investments today, then, we recommend that you take a look at our sections for Punch Bag Hooks, Punch Bag Chains and Punch Bag Brackets. To further help you, we also have included a small list of what we believe are suitable Punch Bag Accessories to help further improve your boxing experience at the end.
Take a look today, though, and you can soon see for yourself why punch bag accessories are such a huge part of the industry today. Instead of buying a bag and a bag alone, you need to invest in quite a few important items. In this guide, then, we are going to break down what we believe are five of the best options on the market for the most essential categories.
Not sure about anything? Then be sure to look at the product for yourself and determine just how suitable it is to your needs.
What are Punch Bag Accessories?
So, a punch bag accessory can be quite determined as an addition that makes your bag usable. For example, it could include one of the following:
Brackets. A punch bag bracket is the hanging device that you would use to get the punch bag itself hanging from a wall. Usually developed using high quality, robust, durable metal.
Hooks. Hooks are often ceiling-mounted little hooks that can be used to hang the bag from the ceiling via a metal hook or its straps. A useful way to help minimise space used on walls/ceilings.
Chains. Chains are great for making sure that your punch bag can hang down to a height that allows you to use it without any issues; a great, high-quality solution for height improvement.
Straps. Some prefer to increase the height of a punch bag by using straps instead. You simply attach the straps as needed and this can hang perfectly from the ceiling, adding more length.
Gloves. While not part of the bag per se, you do need to get sued to working with punch bag gloves. Put simply, you will do too much damage to your hands if you box without gloves regularly.
Choosing one of the above can be a hard thing to do, which is why we have broken down a little list of what we believe are the ideal options for each of the above sections. If you intend on buying quality punch bag accessories, then you want to look into something from this listing yourself. You will quickly, easily find out that this makes it much easier for you to build a happier, generally more cohesive strategy in terms of building up your own little personal boxing bag area.
Whether at home or in a gym, the above punch bag accessories can be very useful!
Punch Bag Hooks
Of course, as a boxer one thing you always want on your side is safety. Building a place of work that is safe and professional is always very important, especially when working out. If you want to make sure that you avoid the risk of physical injury, then it would make sense to buy some punch bag hooks.
These help to keep the bag hanging high and away from the floor. It also avoids you having to worry about the bag falling or toppling. What, though, are goo quality punch bag hooks to buy?
1. RDX Punch Bag Ceiling Hook
Easy to work with and a simple starting place for anyone looking to fit a new punch bag ceiling hook. This is a good little beginner system as it can be easy enough to start getting set up once you get used to the somewhat confusing instructions. The actual process is pretty easy; the instructions actually do a pretty good job of making it needlessly confusing!
With that in mind, you might wish to just take it slow as you work through the punch bag hook installation. This is, though, overall, a very good option. Capable of taking up to 100kgs in weight, this should be more than suitable for most people who are starting out with a punch bag installation at home.
At the same time, the use of powder coating also helps to avoid rusting over time, so you should be able to get plenty of years out of the system without having to worry about it breaking, rusting, or generally degrading. The general strength and conditioning of this is very important indeed, which is why we highly recommend you look to buy a ceiling hook from RDX particularly.
2. AQF Punch Bag Ceiling Hook
While this punch bag ceiling hook can feel a touch crammed in comparison to others, it's a very good starting place typically. This lacks size at just 10", so make sure that your bag is going to be happy and suitable to such a small-sized fitting. If it is, then you should definitely look to use this punch bag hook as an option. In terms of durability, it more than makes up for the rather dainty size of the ceiling hook itself.
This should be more than capable of taking the weight of most conventional punch bags. The durability also ensures that it isn't going to wear away anytime soon, with a powder coating also helping to avoid things like rust damage and overall wear and tear. Generally, this would make a wise investment as it's an affordably priced solution that works well, capable of taking up to 100kgs in weight.
While it might not be the largest or the most aesthetically impressive, it would be fair to say that this does a fine job of delivering what you need: a solid, stable place to hang a punch bag from without issue.
3. AQF Iron Ceiling Hook
If your main aim is to come up with a high quality iron ceiling hook that you know is going to stay in place, this model from AQF is well worth considering. It works well because it is generally so strong and durable, and it also works well because it can take such a large amount of physical impact.
Typically, if your aim is to buy a ceiling hook that stays in place, this would make a wise investment. it can be installed onto wooden beams, outdoors sections, and even indoor ceilings so long as it's screwed and plugged in correctly. The powder coating helps to keep it looking fresher for longer, while the capability of up to 100kgs in weight should be more than enough for most people who are fitting up a new punch bag.
The set comes with everything that you need to install it, and installation really is a simple process if you follow along with the instructions. The only negative? It's such a good hook that it can be hard to actually find in-stock!
4. 18-Gauge Punch Bag Ceiling Hook
Standard issue hooks like this make a great choice if you are short for solutions and want something all-purpose. At just 5" in size it is definitely one of the smaller hooks on the list. Meanwhile, the fact that it comes with just 70kg weight capacity means that it definitely is among the weakest of the ones listed here. So long as you stay within their size and weight requirements, though, this ceiling hook should stay in place and do the job that you have asked for without any issues whatsoever.
Typically, this works well because it's the kind of ceiling hook that simply attaches without any difficulty or stress. The installation is simple, with the small size of the hook itself making sure you should have no problem getting it all attached and put together in no time. In terms of quickness and simplicity, this is a vote winner. While it lacks size and it might only be able to take up to 70kgs, for beginners and those looking for bags more aimed at teens and kids, this is definitely an investment that you could be happy making.
5. R2F Punch Bag Ceiling Hook
Despite being a quality piece of craftsmanship, the one thing that you would say lets down this R2F set is the instructions. Despite giving you a bracket and chains to make sure you can set it all up on a ceiling hook with ease, the instructions can seem quite daunting. It does not have to be as hard as it makes out, though; so long as you take the time to attach everything as shown, you will be left with a very strong and durable hook and chain selection.
The main problem you might have when it comes to using a ceiling hook is coming up with a solution for the height. The chain brings the bag down by some, but these are not especially long chains. If your main aim is to make sure you have ample space for boxing, then you might want to look to get something that can lower the bag down a touch more from the ceiling.
Generally, though, this makes a very good investment that makes getting your punch bag up on a ceiling hook via chains a simpler process.
Punch Bag Chains
An important part of using a punch bag is making sure that you can balance the bag properly. To do that, you might need to invest in some punch bag chains. To help you make the investment turn out wisely, here is a list of some useful punch bag chains that we believe can do the job that you need.
Just make sure that you look at the weight limit before you buy; you need to make sure that the punch bag accessories that you buy are going to be compatible with the bag you own.
1. COMINGFIT Boxing Chain
While you might want boxing chains that can take a higher weight value, for lighter bags these make a great investment. Boxing chains like this are easy to move and simple to keep in good, consistent condition. You just need to be willing to put in a bit more time and effort with the installation to ensure that this can take all 70kg maximum weight. If you are using a heavier bag than 70kg, though, don't risk it; buy alternatives.
For lighter bags and those who are looking for just the chains, this would make a pretty smart investment for you. Generally, they are easy to use, simple to fit, and are going to give you exactly what you are looking for in terms of structural strength. So, why not try it out for yourself?
For simplicity and affordability, these do a rather fine job of giving you a good return on the investment that you have made. On top of that, the impressive nature of this boxing chain solution means that you should have something sturdy enough to use even in professional venues for bags that weigh under 70kg.
2. Besthouse Anti-Rust Steel Chain
If you don't mind paying a bit more when it comes to your punch bag accessories, then you will adore this anti-rust steel chain solution. It's a good choice for numerous reasons, not least the fact that it can take such a large quantity of weight at any given time. For that reason, you might want to get this chain because while you pay a bit more, you get peace of mind.
The excellent build condition means that this goes into the ceiling with ease, and the heavy duty nature means that it can take as much as 362kg in weight – a huge jump from alternatives. It can also be put into wooden sets if needed, simply using the wood-specific fittings provided. In short, this more or less removes all of the challenge that you might be used to dealing with when it comes to getting a steel chain.
Since this gives you everything in the one investment, it's a good pick because you can easily get the bag fitted and attached to this. Add in the impressive 360-degree rotation, and this will be roughly as good as you will get for an all-in-one hook and chain purchase.
3. 18-Gauge Boxing Bag Ceiling Chain
If simplicity is what you are looking for in a boxing bag ceiling chain, then this is a very good place to start. While it does nothing to thrill you, it should attach to any and all generic and/or universal ceiling hooks and brackets with relative ease. This should allow for you to quickly and easily get the whole thing put together without any time being wasted.
On top of that, the impressive build condition means that you can get many years out of this for the price that you pay. What it lacks for in aesthetics and style, this more than makes up for by giving you an impressive overall package. It's cheap, it's effective, and it does a spectacular job of making sure that your ceiling chains actually do the job intended.
For an easy way to know that your punch bag is properly attached to the ceiling without having to shell out, start here. It's a simple, all-purpose solution that should make life easier for you. So, for an affordable package, start here.
4. Islero Fitness Ceiling Chain
While it might look rather basic, this fitness ceiling chain combination gives you something very useful to work with. In general, this bracket and chain combination should work with most bags that you are looking to get up on the wall. The powder coated finish allows for protection from rust as well as from general wear and tear. On top of that, it is a strong enough bag to ensure that it can be held in good position regardless of where you hang the bag.
So long as you put the bracket on a secure location, this should be more than capable of holding its own position and staying in place without issue. At the same time, the high quality heavy duty steel is tested for improved strength and endurance over time. So, while it might lack a little in aesthetic style, it does a good job of making up for that with impressive build quality, longevity, and overall value for money.
While you might not be wowed by the overall package, it does everything that you would have hoped for – it will keep your bag up on the wall without any issue. Is that not worth paying for?
5. BeneLabel Stainless Steel Ceiling Chain
Similar to the all-in-one package from Besthouse, this costs more but gives you everything in the one neat little package. It does a fine job of giving you a high quality ceiling chain that should have no problem at all in hanging the bag without issue. Add in the impressive 360-degree swivel and 360kg weight capacity, and this really does give you everything that you would need to get started without a single minute lost.
On top of that, the highly impressive nature of the stainless steel structure allows for this to take plenty of physical punishment without dropping off or losing quality whatsoever. The overall design structure allows for a high quality, anti-rust punch bag accessory that should last you for a long time to come. A punch bag chain should always be made to last, and this is designed to give you the chain, the carabiners, and the swivel-mounted hook to ensure that everything works as intended.
Sometimes, you get a good deal for the money you pay; while expensive, this solves your need for any other major boxing bag accessories.
Punch Bag Brackets
If you would prefer to have your boxing bag up on a wall, though, your main option would be to use punch bag brackets. This simple but effective list of brackets will break down what we believe are some of the best brackets on the web today. You can then make an investment knowing that you are buying a trusted, high quality bracket that is suited to you.
Every boxer has their own needs, but we have tried to select brackets that could solve as many boxers' problems as is possible. So, what are some of the best punch bag brackets out there today?
1. JX FITNESS Punch Bag Bracket
If your aim is to buy a fitness aide that can double as a boxing bag bracket, start here. In terms of value for money, quality of build conditioning, and the overall versatility, you would do very well to find something better than this on the market. As a punch bag accessory, it really does solve most of your needs. It can take a strong, sturdy bag up to 275lbs and it can easily take a lot of extra physical impact from your own workouts.
You could use this for a quick boxing session, some pull-ups, and other workouts that allows for you to become a more robust physical specimen. Typically, this is also great for minimising the amount of space wasted at home. Now you can keep they place a bit tidier and generally less challenging to keep in good condition. However, if you are serious about getting a punch bag bracket as part of your long-term fitness regime, then you know where to start.
Typically, this is a good investment for those who want to do more all-around fitness and get into better physical condition both now and in the long-term.
2. Kovo Punch Bag Bracket
Buying a punch bag for the kids or for teens? Then you might want to keep something lighter hanging up. This means getting something like a 40kg punch bag that can take a lot of extra punishment from lighter hands. While a heavyweight might feel like they could send a 40kg bag sprawling with one combination, lighter fighters are unlikely to feel quite as aggressive or as powerful.
With that in mind, you might wish to take a look at getting one of these punch bag bracket options that isn't quite going to bend and buckle with the same ease. This is a good quality bracket that can take a lighter bag without any issue. With everything included for installation, too, it is one of the easier punch bag accessories to get installed and ready to use.
While it might lack some quality in terms of weight management, it's great for those who are going for a smaller boxing bag. Generally, this makes a good starting place as it's a strong, sturdy, and simple enough solution for you to work with.
3. AQF Heavy Bracket
While you likely want a punch bag bracket that you can scale up with, for the price you pay here you get a good punch bag bracket for up to 60kgs in weight. While 60kgs is quite easy to move beyond if you go for a heavy bag, for most people who are just starting out this should feel more than large enough for your own personal needs. In general, we would recommend that you look to try and find a punch bag bracket that you can build upon. If your intent is for younger athletes, though, 60kgs is more than enough.
And with that in mind, this bracket would also be more than enough with that train of thought in mind. It's a high quality choice, complete with impressive wall fixings, a D-shackle, and also printed assembly instruction for easy setup. It's a sturdy, reliable option that really only lets itself down on the fact that it can hold such a limited amount of weight when up on the wall.
If you want something durable and effective, though, this is definitely a place for you to start.
4. 16-Gauge Punch Bag Bracket
If this 16-gauge punch bag bracket could take weight exceeding 60kg, it would be a must-buy for most. However, unless you are using a pretty light punch bag, it is quite likely that you are going to break the 60kg limit. If you are setting up a gym for kids or a gym for the kids at home, then you might wish to go for something like this. The excellent build quality ensures that it can last for so much longer.
The D-hook addition also allows for all of the necessary wall fixings that you could need. On top of that, it can also be used for things like reflex and speed balls, as it can be kept to a height that would allow for you to easily reach those higher bags. Generally, though, this is more than suitable for anyone who isn't looking to get into heavy bag boxing.
If you are keeping your bags to a more minimal size, then you should definitely consider this an option.
5. Aoneky Wall Mounted Punch Bag Bracket
If your main aim when buying a punch bag bracket is to get something very strong and durable, this is a fine beginning point. One thing to note about this particular punch bag bracket is the fact that it can take up to 100kg in weight. Given most people keep their punch bag under the 100kg limit, that should be more than large enough for you to work with on any given day or period.
The heavier nature of this allows for heavier boxers to work with a bracket that allows for their stronger bags to hang without issue. Although you definitely pay a bit more for this and it is lacking a little in the aesthetics department, this is a very good buy in general. You will pay more, and you will not get anything too grandiose, but it does the job that you want to a very high standard indeed.
What it lacks for in general style it makes up for in consistency, strength, and reliability. So, why not make the investment and see for yourself why so many people tend to go for something like this Aoneky construction?
Other Punch Bag Accessories
Of course, there are some other punch bag accessories that we have not already spoke on. One such solution that we want to look into are punch bag hangers, springs, and punch bag gloves. You need hangers and springs to further elongate a bag and bring it closer to your intended height. At the same time, you need accessories which are more than suitable for your personal needs in terms of boxing comfort – including quality gloves.
So, where do you start? Here are some hangers, springs, and boxing gloves that we highly recommend you look to try and use.
1. Aoneky Punch Bag Hanger
If you would rather make sure that your bag is hanging properly, then the inclusion of some boxing bag straps can be a very wise idea indeed. We recommend that you look to do so today, then, by picking up some other punch bag accessories like this.
These should fit with all punching bags, helping you to expand their height and also to add another layer of versatility around how you get the bag strapped up and ready to use on a hook and/or bracket.
2. Meister Heavy Bag Spring
While not suited for use with very punch bag out there, you will find that this heavy bag spring is a good alternative punch bag accessory. The industrial strength nature allows for you to get more consistency from the spring.
At the same time, though, it is also designed for commercial and professional use in mind. A good overall solution that you should find helps to make the bag more resistant to wear and tear, keeping the bag in better condition for longer and thus saving you money.
4. Aoneky Punch Bag Spring
If you don't mind paying a little bit more, then this would make a great investment for you. This spring should be able to take plenty of movement, and it should be very useful for anyone who wants to make sure they don't damage or impact negatively on their bag spring.
With something like this, you can easily keep the bag nice and strong with every hit. The spring helps to make sure that it can easily stand strong during sparring sessions.
5. EVO Boxing Gloves
Another good boxing bag accessory would be to invest in some new boxing bag gloves. Many people forget about the importance of doing this, and it can lead to lesser quality in the way that you actually box. With that in mind, these cheap yet cheerful boxing gloves from EVO would make a very wise investment indeed.
They provide a good standard of breathability so that your hands always feel good. The only downside is that the Velcro has a nasty habit of coming loose.
6. Farabi Boxing Gloves
Consistency is everything as a boxer, which is why these little boxing gloves make a fine addition. They are made using a synthetic leather combination that isn't spectacular but does a good enough job to keep your hands feeling good as you box.
Generally, they work well because they offer some lightweight protection with the use of X-Mould technology helping to keep your hands in a proper boxing position as you throw down. A good, useful solution that can be just what you are looking for moving forward.
7. RDX Boxing Gloves
If you don't mind paying a little bit more than you normally would for gloves, these make a great investment. strong and sturdy, these are available in a good range of sizes. They also come with numerous ways to absorb shock, take in the impact of your punch, and ensure that you can keep your hands and knuckles in the right position for a proper boxing punch.
A good way to make sure your hands don't get injured when sparring with your chosen punch bag moving forward.
What Next?
So, now you know what kind of punch bag accessories to consider buying in the near future. Such an investment is a wise idea, as it can give you a great return on the money that you have spent on products to help make your boxing experience generally more enjoyable.
While by no means perfect, the investment that you intend to make on a punch bag means buying the add-on accessories is worthwhile. Take a look at our suggestions listed above, and you can ensure that you can mix-and-match your way to a highly impressive at-home or at-gym boxing setup. Happy buying!