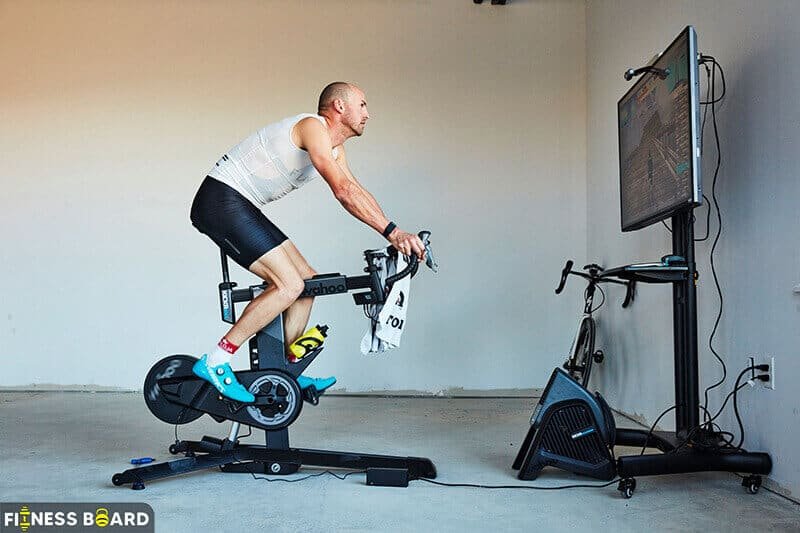 Exercise Bikes
22 Best Spin Bikes for Home in 2021 | Spinning for Success
When you want to get into the best shape you can, exercise becomes an essential part of your day-to-day routine. Sure, we are what we eat, but without exercise we cannot build a stronger, healthier body. Eat the right foods and you can avoid weight gain and living an unhealthy life. Without exercise, though, it would be nigh-impossible to tone up and create the body you desire. If you find yourself in that position, have you ever thought about buying a spin bike?
For an easy to enjoy exercise regime, spin bikes offer an absolutely tremendous place to get started. They quickly provide you with an easy way to get into good physical shape. Spinning bikes also tend to be great for those who live in urban areas with precious little nature to go and exercise in. If you find your place of residence makes outdoor exercise unattractive, a home spin bike could be just what you need.
Why? Because they give you an in-house exercise tool you can use to get into tip-top shape in no time. With the right approach to fitness, a spin bike can play a massive role in ensuring that you can build better physical conditioning. They offer an enjoyable, challenging route to progress that anyone can take part in. However, as you will know, there is difference between buying an average spin bike for home and buying something of a pristine standard. Where, then, should you begin your search?
Read on, and we'll help you to buy the ideal spine bike for home use and exercise!
Getting Started
We understand that you want to go and buy your new spin bike so you can get started. That is admirable, but you might be aware of one problem: there are so many spin bikes for sale on the market today!
Before you do anything else though, we recommend that you take a look through this guide. We are going to cover important questions like:
What is a spin bike, and why do I need one?
What matters when I buy a spin bike?
What are the best spin bikes to buy in 2021?
If you want to go ahead and buy a spin bike though, you can visit our 'What are the best spin bikes to buy in 2021?' section. This should give you all of the details that you need to make sure you can press on with your purchase in complete confidence.
However, if you want to know a bit more about what you are buying and why you should buy it, keep on reading. Our following sections will help you to understand the process so that you can then look at our recommendations armed with all of the knowledge you need to decide.
What is a Spin Bike, and Why do I need one?
Having a form of at-home exercise that can push you to do your very best is really important. Exercise needs you to stay motivated, and when we get bored in our exercise regimes it gets easy to stop. One of the joys of having a home spin bike is that it is pretty easy to stay entertained. Unlike other forms of exercise, spin bikes offer a simple, engaging, and somewhat addictive exercise loop that is very easy to take part in.
For that reason, having a spin bike can be great for forcing you to go beyond your typical limits. It can make you a more active person, and it can keep you consistently and actively engaged. What, though, are the main reasons for investing in such a product?
Why do you need a spin bike when you could probably "make do" with a simple bike that you could use outdoors, instead?
What are the primary benefits that you can get by investing in a home spinning bike for on-demand exercise?
Spin bikes are available all-year around
The first and arguably main reason to go ahead and buy a spin bike is the most convincing one: it is available all-year. If you live in the United Kingdom especially, you will be all too aware of how hard it can be to exercise. Poor climate, shoddy road conditions, and fractured pathways can make riding a bike outdoors difficult. It can be dangerous, dreary, and damp.
Instead of having to miss out on getting your cycling fix, though, spin bikes at home allow for you to work out at-night, or during frozen winters.
The price pays for itself
Even if you were to buy the most expensive spin bikes for sale on our list, the price would still be nothing compared to what you might pay with another product. For example, you might find that buying a normal mountain bike means you pay several hundred pounds for something you use two or three times a month, or even a year. By the same token, you could pay for a gym membership…. but how many tools will you use in the gym? How often do you go?
By contrast, a spin bike pays for itself as you can use it whenever you want from the comfort of your own home.
They push you to go harder
Most forms of exercise can be coasted with an obvious negative impact on the quality of the results. However, with spin bikes, you have nothing to worry about in that regard. These demand that you give 100%, which can obviously have a pretty major impact on the results that you see.
Instead of being able to just coast along, a spin bike will demand that you keep up the pace. This forces you to stay engaged and consistent.
Precious space is saved
Unlike other at-home exercise equipment, home spin bikes tend to be pretty easy to fit into just about any room. We have made clear on some of the products on our list for products which might be seen as larger than the norm.
However, the average spin bike for home usage should be easily fitted into a small amount of space. This means you don't have to worry about the minimal space you have becoming cramped and too tight for workouts. You can save space without having to cut back on the actual quality of your output.
You can work with others
Many spin bike classes exist online that you can use to workout with other people at the same time. These are great for motivating you, for making sure you stay honest, and to make sure you always have a kind of scheduled plan to stick towards.
The more you can do this, the more likely it is that you will stay focused on your long-term fitness goals and aims. With that in mind, you can find that a home spin bike forces you to get more engaged and social with regards to your day-to-day workouts.
What Matters When I Buy a Spin Bike?
When it comes to buying a spin bike, then, you have quite a lot of things to think about. Over time, such a decision, if rushed, can come back to haunt you. If you want to try and make a positive purchase, though, you should definitely look to buy a spin bike that fits a certain criterion.
While everyone is different, we highly recommend that you look to try and focus on the following factors when buying a spin bike. Focus on the following factors, and you can make your purchase easier.
Stability and Size
First off, make sure you take the time to look at the size of the bike. Any spin bike you are going to buy should be big enough to support you, but also small enough to fit into the space that you have. You should therefore look at the size dimensions and the maximum weight that the spin bike can take.
Also, look out for models with increased stability measures that can help retain balance when cycling.
Resistance Ratings
Another factor that you need to look into is resistance. Most models offer you a numerical selection, while others come with a dial that allows you to be a strict/loose as you like. The secret here is to look out for a resistance rating that is of a very high standard.
Resistance ratings matter a great deal because it helps you to push the skill level and the physical demands a bit higher than you could without resistance ratings.
Seating and Handlebars
Make sure you always read into the seating type and the handlebars. You want something that can be adjusted for comfort, especially on the seat. Also, be sure to look at a seat that is comfortable. Some seats are simply too thin and too tough which can make it hard for you to sit on the bike for any meaningful length of time.
The more cushioned the seating, the more likely it is that you will stay on the spin bike for longer!
Analysis and Tracking
Also, be sure to look out for any particular model that can offer some kind of analytics. Being able to see how far you have gone, average speed, calorie counting etc. can be very important to help keep an eye on the kind of progress you are making as you grow and develop as a rider.
The more analysis you have, the easier it is to know exactly what to look out for.
Weight
Lastly, make sure you look for something that is strong enough to support your weight whilst still being mobile. Some spin bikes are foldable and/or portable, while others will feel like moving a tonne of bricks. You need to spend a bit of time researching the options and then seeing what kind of options would suit you the most.
The challenge with wight is ensuring it is light enough to move, but sturdy enough to handle your weight. Get that right, and you can find it a bit easier to buy a spin bike!
What are The Best Spin Bikes to Buy in 2021?
So, if you are looking to make an investment into a new bike, you might wish to look into buying a spin bike. It makes sense – they are durable, impressive tools that make getting into the best shape possible that little bit easier. Like any other kind of fitness product, though, it pays to invest in a product that you know does the job you wanted. With that in mind, we recommend you take a look at the following spin bikes for sale.
Each of these offers something a little different, albeit some are quite similar. However, we recommend you take a look at each model and determine what you think would be the best fit. We have tried to keep the list balanced based on price, availability, features, and the level of skill needed to use the product. Either way, though, we are confident that you can find the ideal spin bike to buy in this list below.
Take a look at each product, and you can see for yourself just how varied the market it. Be sure to factor in all of the above details, though, as it could help you to make sure you make the correct call with regards to what spin bike to buy in 2021. Therefore, you should take the time to look closely at each of the offers below because what might be right for someone else might not be correct for you.
With so many products to choose from, you can find yourself paralysed with indecision. Our recommendation is to evaluate all 10+ products below and make a judgement call based on what product offers the best fit.
1. FuriousFitness LCD Spin Bike
Starting off our list with this LCD monitor spin bike from FuriousFitness, we recommend you take a closer look at this model. It has become a popular choice because it comes with all of the modern settings you need to get cycling with confidence. For one, you get an LCD monitor that makes it easy for you to track your progress on the current session. It also includes a phone holder so you can include some kind of media, or even sit on a phone call with a friend whilst you cycle to your hearts content.
The main benefit of this, though, is the ease of comfort. Other spin bikes can feel quite challenging to sit on for any more than 20-30 minutes; this looks to avoid that problem. Now you can sit comfortably and grip onto those quality handles whilst you cycle as fast as you like. Cycle through the various modes shown on the little monitor and you can see things like distance covered, heart rate, and calories burned. It's these little features that can make this a fine indoor exercise bike to try out.
The main gripe we have with this model is that it tends to take up a lot of room. Despite being well-priced, if you are trying to find a location with minimal space then this might not be suitable. Instead, we recommend you look for a smaller bike or one that can be more effectively put away when not in use.
For a flywheel workout bike, though, this does a great job of offering you a lot of value for money. It's a solid choice, presuming you can make the space for its presence.
2. JLL IC300 Pro Indoor Cycling Bike
If you intend to buy a top quality indoor cycling bike, then you might wish to take a look at this model from JLL. It's a well respected design that comes complete with a 7-function monitor so you can easily scroll through all of the fitness analysis that you could possibly need. At the same time, it comes with a heart rate sensor so you can easily make sure you are staying in a healthy level of conditioning.
Users enjoy the use of a 20KG flywheel that offers excellent performance. The inclusion of an adjustable seat also helps you to stay comfortable even as you start to ramp up the speed and the pace. Overall, this makes a solid all-around choice for a spin bike at home that does the job intended.
Users also find that the addition of a 12-month warranty is a nice touch, adding a bit of peace of mind to the equation. However, the fact it is among the most expensive and in-demand spin bikes for sale means that you might find it hard to get one in stock and delivered ASAP. If you don't mind waiting, though, this is definitely worthwhile.
3. WeRSports Aerobic Training Bike
The only negative with this training bike from WeRSports® is the fact that it can be so hard to find in stock. Many times, you will find yourself waiting for stock to come back in. If you can find it in stock, though, this is a very good product. It comes with adjustable seating and handlebars so you can easily find the position and the shape that feels most suitable and comfortable for you personally.
At the same time, the inclusion of a 6-function monitor offers ample control over fitness analysis. You can quickly and easily understand your current condition and what might need to change if you want to improve further. On top of that, the inclusion of a very comfortable set of pedals means you can avoid annoying foot cramps that are so common when it comes to hopping onto a training bike like this.
Overall, the investment that you make here is one that should pay off in the years to come. This does a fine job of making sure you can feel suitably comfortable as you go through your workout. The heavy duty frame is a good, durable design that should last for a long time to come.
If your primary aim when trying a training bike is ensuring that it has a strong and durable frame, this is a vote winner for that alone. The overall design is impressive, but the actual layout of the bike and its easy to use monitoring tools make it a good pick for just about any buyer.
For those who enjoy a higher intensity and pace in workouts, though, this has the structure and the durability to handle the intense pace you wish to hit.
4. Nero Sports Bluetooth Exercise Bike
If your main problem when using a spin bike is staying entertained then you will enjoy this particular model. It offers you all of the help that you need to enjoy the experience, using a 12KG spinning flywheel for the design. On top of that, the Bluetooth control means that you can easily analyse your performance from afar. Space is provided underneath the little function HUD to give you space for putting something like a tablet in for added entertainment and enjoyment.
Overall, though, this is a good model because it is designed to be durable and long-lasting. The little space for a water bottle is a nice touch, too, helping you to stay properly hydrated as you go through the gears. It's a good choice as the Bluetooth system allows for you to enjoy a 'race' online using ZSWIFT. This allows for you to add a bit more interaction as well as accountability into the experience, which can do wonders for your self-belif and your growth as an athlete.
The more work that you intend to do, the better the tools your need to be. Despite having somewhat awkward handlebars for those who lack long reach, this offers an exceptional starting place for most riders. You can get a really enjoyable, interactive riding experience whilst using the various studio cycles included to keep you motivated, interested, and engaged in the process as a whole.
So, why not give yourself the chance to try it out? Given the price is typically reduced and on sale, you can get a pretty solid deal here without much effort. It's a solid choice, offering a more interactive riding experience which can be better than simply staring at the wall.
5. FNOVA Exercise Bike
If we have to pick one bike on the list for those on a budget, this model from Fnova is a great starting place. The design is very impressive, leaving you with a bike that is easy to control and to use for training purposes. The design ensures that you are left with a durable, strong physical shape as well as a very impressive overall level of comfort. Despite being very tight, this bike offers you enough room and also enough padding around the posterior to ensure you can ride this for a long time without discomfort.
Another nice touch that comes from this particular exercise bike is the aluminium material. This is a big change from usual designs, and can add a different look, feel, and general style to this bike. It comes with all of the analysis tools you need, including pulse sensors, heart rate moniotrs, and LCD displays for quick analysis of your performance.
On top of that, the sound is vastly reduced compared to the vast majority of the exercise bikes out there on the market today. These bikes are supremely quiet, so if you find that the noise of a spin bike can be annoying then you might enjoy using this model instead. It's a good, reliable choice for that purpose that should quickly and easily improve the output. Without being distracted by the noise pollution, you can instead focus on giving 100% effort. This can help to boost and even normalise results, maximising your day-to-day efforts.
If you want to start taking part in a more satisfying exercise experience, then you should take a look at the Fnova exercise bike – if noise is a major issue for you when working out, this helps to alleviate that issue.
6. Naspaluro Home Cardio Workout Bike
If you are looking to buy a spin bike that gives you all of the tools needed to analyse performance, start here. Paired up with a heart monitor and an LCD monitor, this provides you with a much easier system for analysing performance. You will quickly find that you can enjoy the experience of working out at home when you can actively see the results. The easy to read LCD monitor and heart rate monitor make it easy to see how heavy you are going and if you could potentially push yourself a little bit further in future.
The best thing that you can do when it comes to trying out a cardio workout is to invest in an exercise bike that comes with infinite resistance, too. This helps you to ramp up the speed quickly and easily, and this bike provides you with no limit on how high the resistance rating can be. Now, you can push things to the absolute limit as you take yourself out of your comfort zone.
Another big benefit of this particular model, though, is that it comes with water bottle and phone holders. Now you can keep entertainment and hydration within reach, making it easier for you to ride on the bike for a bit longer than you might normally.
If you are looking for a good quality cardio workout solution, this bike offers you everything that you should be looking for. It's a comfortable, reliable option that does the exact job you need. It makes getting into shape easier thanks to a comfortable design, unlimited resistance, and easy analysis. If only it was in stock more often, you could benefit from this great value deal a little bit easier!
7. AJUMKER Indoor Exercise Bike
If you want to buy a spin bike that you know can take up to 330LBS of weight, then you should take a look at this model. Ideal for anyone from the beginner to the fitness freak, this helps you to start working towards your cardio and fitness goals. The adjustable handlebars and seating make it easy for you to find your ideal incline and position so that you can engage in HIIT exercise with ease.
This also comes with various fitness add-ons and analysis tools, including a heart rate function and an LCD monitor to use for analysis. Now you can easily see if you are beating last weeks times or not, and you can set yourself trackable goals to know 100% where you are in terms of your day-to-day performance. One thing to note about this spin bike is that it is battery powered unlike many of its contemporaries. Don't let that put you off, though; this is an excellent spin bike overall.
We highly recommend this model to anyone on the lookout for something that is well-built and durable. The high weight capacity pairs up with an impressive and adjustable design that gives you total control over where you sit. If you want to help create a more adjustable workout regime, then this bike gives you total control over these crucial aspects.
The only negative that we would raise up with this bike is that unlike other models you will be charged for delivery. Delivery prices can change, too, depending on where you are. Given the excellent starting price, though, you can overlook that additional charge compared to competitors.
8. UNISKY Trainer Bike
Looking to get a spin bike without the large setup? Then take a look at this trainer bike stand instead. This stand allows for you to clip in a standard cycling or mountain bike into the stand and use that. This is ideal for those who already own a good quality mountain bike and would instead like to keep using their own bike when the weather turns.
However, the fact this only comes with six resistance levels can make it a bit less impactful than an actual to-design spin bike. Given the cheap price and the easy movement/packing up of the product, though, this is a great aide to have. If you tend to find that you lack the space for a stationary spin bike, this means you can just put your normal bike into the training stand and use this instead.
Suitable for both indoor and outdoor use, you could set this up and have your own bike clipped into the position. The only negative, of course, is making sure that you have a bike that you can actually ride around in the first place. If you don't own a mountain bike, then buying a normal spin bike might be the better idea for the most part.
Typically, though, you will find that this offers you a good cost-saving solution when you want to avoid spending too much on your fitness tools. A bit of searching around can go a long way here, so if you want to try and find a compatible mountain/riding bike then you should do so. For those short on space or budget, though, this makes the ideal alternative to a full-setup spin bike.
9. WINNOW Advanced Fitness Bike
This bike offers you a fitness bike that is a bit different to the one above. For one, this cardio trainer comes with a magnetic resistance setup that gives you eight levels to work through. That should make it easy for you to find the skill level and the physical challenge that feels right to you in terms of your workout effort. At the same time, though, it can work the upper body, the waist, and the lower limbs with relative ease – this offers a full-body workout. It's also easy to put away, so if you are not using the bike for a couple of days it does not have to take quite the same amount of room as the other options.
However, one thing to note about this model is that while it is a great pick in general it does become uncomfortable. The seat is padded but it lacks the same kind of lasting comfort that you can get from other seats. That being said, most users of this will tend to spend a lot of time using the bike whilst standing or sitting up so you shouldn't notice the discomfort quite as prominently as you might on other models.
For a full body workout when using a spin bike, then, this makes a pretty good choice for you to work with. It's got all of the features you need to enjoy a productive spin bike session. At the same time, though, it allows for you to easily enjoy the resistance level that you feel most comfortable with.
Add in a durable structure and an easy to operate digital monitor, and this muted spin bike makes a fine investment.
10. GT.Team Exercise Bike
If your main factor when buying a spin bike is the performance, then this is a model worth paying for. Sure, the price can be off-putting to some people, but it does offer a great value purchase overall. It's a sturdy, wide-based bike that should never leave you feeling cramped or uncomfortable. It offers you all of the assistance you need, with a heavy duty 8KG flywheel design ensuring that you can get to the speed and resistance levels you are happiest with.
Weighing just 30kg, too, this is the kind of exercise bike that you could easily relocate and put somewhere else. Though not as portable as some of the models on our list, we recommend that you take a look at this product for something that is strong, sturdy, and generally quite secure. The impressive nature of the design is made even more prominent by the thick, comfortable seat. Unlike other options, the seat here properly supports your posterior, so you don't feel like you are cramping up mid-session.
It also works well for those who like to keep their fitness equipment in an aesthetic style. with various colours to pick from, you can easily choose a colour scheme that fits in with the rest of your goods. Add in the addition of a quality little LCD screen and a little spot to hold your water bottle, and this makes it easy to get set for a prolonged fitness session.
Really, it is all about making smart choices regarding how you work out – and this exercise bike makes lots of sense in that regard. It's a good all-around choice, just so long as you don't mind paying a premium in the region of £300. The cost is high, but the quality is worthwhile.
11. BTM Indoor Spin Bike
If your main aim when buying a spin bike is to get something comfortable for prolonged sessions, start here. This model comes with a belt drive system that allows for pretty impressive control overall. Add in the fact you have unlimited resistance options, and this spin bike makes a pretty obvious choice for just about anyone looking for something that is focused on delivering exactly what you expected.
The sturdy structure, and ease of movement, means that you can easily move this spin bike around to suit your own needs. The design comes with a simple resistance knob that you can turn up/down to fit your own personal preferences. This means you can make things as tough or as tight as you need to. On top of that, an ergonomic design with a U-shaped handlebar setup allows for adjustment and lasting comfort.
If you tend to prefer a longer lasting fitness session, this indoor spin bike offers a pretty reliable solution for that. Instead of feeling like you need to go for a high intensity session before discomfort sets in, this allows for a much easier set-up and design.
The sturdy design is backed up with a smart, easy to use design for keeping accessories such as your water bottle in close proximity. The use of a 13kg flywheel is a big bonus, too, and maximise stability during cycling. For those who like to analyse their workout, you can use the LCD display and heart rate monitor to easily read and understand what is going on with your recent performance.
For a more insightful and analytical workout, this spin bike offers you the tools you're searching for.
12. Dripex Pulse Sensor Spin Bike
If we had to pick one bike on this entire list to go for, it would be this model from Dripex. It should fit almost any purpose that you have in mind. With a maximum height of 190cm and a maximum weight of 330lbs, this should be suitable for almost anyone looking for a solid workout solution at home. It uses a heavy duty flywheel to help create the ideal spin bike conditions, while it uses a magnetic resistance system to help build the most comfortable experience overall.
One thing you will find with this spin bike is that it uses a belt drive system to help encourage rapid, high intensity performance. The little LCD screen is crisp, high-resolution, and easy to read even in the midst of an HIIT session. It works well for making sure you can also check your pulse so you can see just how hard you are actually in the process of working your body.
A significant off-putting factor for many users of a spin bike is the noise. Well, with this model, you have nothing to worry about regarding how noisy it is. As you pick up the pace, you shouldn't find the noise to be anything other than a quiet hum. Other bikes tend to be too noisy, but this helps to keep the noise pollution down. Now you can focus on your music, your TV show, or your phone call without having to worry about having to turn up the volume.
While it might not be the ideal choice for everyone given the high starting price, the cost is outweighed by the quality with this model. Definitely a spin bike that we would recommend you check out for something a little bit different.
13. Sunny Health & Fitness Indoor Spin Bike
Not bothered about analytics and tracking performance? Then take a look at this particular model. This bike comes without the addition of an LCD screen to track performance, but it makes up for it in other ways. Really, the main negative with this model is that it can be pretty hard to find in stock anywhere!
If you do find it in stock, you are buying an easily adjustable spin bike that you can fit to your own needs. It comes with a set of caged pedals so you can keep your feet comfortable and moving quickly, allowing you to pick up the pace without slipping and jarring your knees. The adjustable seat and resistance monitors also allow you to have total control over every factor of your workout, ensuring you always feel like you are in control of the experience.
The main thing that we like about this, though, is the 40lb flywheel. This gives you enough control and it should always allow for comfortable, stress-free rotations and spins. It also comes with some nice stabilisers on the bottom to stop the bike from needlessly spinning and jerking as you try and get to the next level of pace. It's got adjustable handlebars, but it also comes with a resistance solution to help you control just how hard/easy the workouts are going to be for you.
Typically, this is a good choice as it comes with an impressive structure, a simple design, and a slight frame. You should fit this into most areas, and it should also be easy for you to move around and adjust due to the lightweight nature of its construction.
If you are lacking a lot of space, this works as a reliable alternative to more space-eating bikes.
14. JLL IC400 Elite Exercise Bike
While this is among the costliest options on our list, it is a quality spin bike for you to consider for sure. We like this model because it comes with a range of modern features, including heart rate monitors and in-ride analytics. The stylish design should provide you with all of the opportunities that you need to enjoy at-home cycling. The 20kg flywheel is a nice touch, too, giving you total control over the quality of your riding experience. On top of that, the resistance adjustment means you can always find the difficult level that you find the most satisfying and rewarding.
The use of various monitor displays allows for easy analysis of the time done, the distance covered, the average speed, the calories burned, and your heart rate. Just note, though, that this is designed for people of a maximum weight of 150kg. If you are someone who is heavier than this, you will need to look for a bike that is designed for your own weight level.
The 3-piece crank, 9-vertical handlebar adjustment allows for you to easily adjust the entire setup to suit your own needs. Change the layout, the seating position, and anything else you might need to adjust with ease. This can add a far more satisfying experience, ensuring that seating never feels uncomfortable. The main benefit of this design, though, is having an exercise bike that can be set-up in terms of your own personal preference regarding seat position, speed, and resistance levels.
For total control over your spin bike workout, this bike offers an expensive yet rewarding solution.
15. Birtech Spin Indoor Bike
For those who are short on space or who are already in shape, this is a spin bike worth considering. The low weight limits, though, means that we would not recommend this minimalistic spin bike for anyone who is heavier in weight. If you are trying to find an at home exercise bike you can use to retain your current physical shape, this makes a very good choice.
It even comes with in-built resistance arm bands that you can use to help further work out your body. Now, you can focus on cycling fast with the legs whilst using your arms to help strengthen your upper body and your wingspan. That is a good choice for anyone who is trying to build up both physical strength and improve their cardiovascular capacity.
The smart design comes down to having numerous resistance levels and a clear, modern monitor to read. This gives you all of the information you need about your ride performance so that you can always adjust and adapt to fit the level of challenge that you feel most comfortable taking on at any time.
The user friendly design offers an impressive 8 levels of magnetic resistance to work through. Meanwhile, the bike model itself remains extremely easy to move around. This allows for you to quickly and easily get the bike moved around the room until you find the ideal workout spot. Now, if the sun is getting in your eyes, you can move this around with a minimum of fuss.
It's a good choice for anyone who wants a consistently easy to use spin bike. Just remember that the weight limits preclude this as a bike for first-timers in many cases.
16. 2WD Indoor Cycling Bike
If you don't mind having an indoor spin bike that more or less stays in place, take a look at this model. The only major downside is that it can be tough to move around due to the high weight of the model. However, two people could easily lift the bike around and find a different spot. For solo workouts, though, it might be too heavy. The model makes up for this, though, with a high quality setup and design.
One thing to note about this spin bike is that it comes with a belt-driven system that has a real-time workout display. This delivers consistent, pain-free performance whilst making sure you can easily read the stats. From how long you have been on to what you have covered in terms of distance, this is very useful. The LCD screen can provide you with useful data, including your calorie burning capacity and your pulse.
Overall, the one thing you will find with this bike is that it can be easily adjusted in just about every way you can think of. Really, the only major downside with this particular cycling bike is the fact that it can be so hard to move around once it has been set-up. The easy nature of adjusting the resistance is effective, and the road-like feeling it offers when cycling can add a touch of realism into every part of your experience.
The comfortable seat helps to make longer sessions a bit more comfortable, too; you shouldn't find yourself feeling quite so numb when you jump on this for a longer session. Overall, it makes a good choice for longer-term and more serious cardio workouts. Just make sure you find a good spot!
17. Beliwin Home Office Bike
If you don't tend to take your spin classes too seriously then you should find something that helps you to stay fit whilst you remain busy. For example, many people give up on cycling because they get bored during the session. Well, this allows for you to retain good posture and to keep working from home. With the addition of a little laptop tray in front of you instead of handlebars, you can cycle away whilst enjoying a bit of productive working from home.
Set the laptop up and you can start writing away to your hearts content, getting important work done. Instead of suffering from a sedentary lifestyle, this gives you a greater chance to enjoy a more comfortable overall experience. Adjust the seat height and use the little back-rest to make sure you never feel a moments discomfort during the session.
The magnetic resistance factor comes with eight levels to choose from, so you can still make this a tough workout if you so choose. However, you shouldn't look to use this for an HIIT workout – it simply is not designed for that kind of intensity.
In general, though, you should find that this is ideal for anyone with a home office. Instead of losing circulation in your feet from sitting down all day, this allows you to stay frisky and mobile with consummate ease. It's got the setup you need to ensure you always have a little mobile workstation to utilise.
Now, you can make sure you are staying on top of your work requirements whilst ensuring you never need to miss out on that vital workout time you often avoid after a long, hard day at work.
18. FIT4HOME Spin Bike
If you intend to buy a spin bike but worry about finding the right kind of space, then this model is definitely one to look closer at. The design ensures you can always buy a top quality spin bike that looks good, feels good, and should fit into most smaller spaces. However, the negatives are also to do with space; the thin nature of the design means the seat can be extremely thin. For those who like a bit of padding, this offers precious little support around the posterior – though the seat can be adjusted if you so choose.
The LCD monitor is crisp and easy to read, though, so you don't have to worry about misreading any of the information provided. It's a good choice in general as it comes with a pulse sensor to help you see just how hard you are working yourself. At the same time, the design comes with an 18kg flywheel that offers consistent, comfortable performance.
Add in the fact that the little pedals are designed to keep your feet comfortably in place, and this is a very good choice for most people. It's a wise pick for various reasons, with this spin bike offering you a simple choice for cycling with that limits the potential for physical damage.
Over time, this might be a good choice for those who want something easily put away and comfortable to use. For the price you pay, you don't many bells and whistles, but it does a good enough job for any typical rider. For easier at-home workouts, this is definitely one to consider.
19. YKHOME Professional Spin Bike
If you are planning to buy a spin bike but have some time to wait until your home gym is ready, this model from YKHOME is a good choice. The reason? Delivery times can be quite extensive, so you might be waiting a while for this model to arrive at your doorstep. However, it makes up for that high delay by being a quality model that offers tremendous value for money.
For one, the design is among the sturdiest that we have seen in this price bracket. It gives you a bidirectional wheel that offers the best momentum and speed build-up possible. The seating is very comfortable, too, as are the handlebars. Each can be adjusted to help you find the right level of comfort, though.
The LCD monitor is crisp, clear, and packed with useful details about how well you have been performing on your spin bike. It also comes with all of the tools you need to install and build the spin bike, so no running to the DIY store to buy an essential fitting tool. It even comes with a nice little padded armrest on the handlebars for those who are wanting to get a quick rest in the aero position.
You might also wish to look for the floor protection mat included, as this can help you to avoid scraping or denting the floor due to prolonged usage. Overall, we think this model is a good choice for those who like a smooth, stress-free, and overall, quite quiet spin bike experience.
Just remember that the delivery times can often be in excess of one month, so don't expect the model to arrive within a short timeframe.
20. OVICX Stationary Spin Bike
Though you might pay a bit more to buy a spin bike with this model, you get something very worthwhile overall. It's a high quality choice; a spin bike of exceptional quality that is all about delivering consistency. The stability is highly impressive, too, despite the thin and slim frame. Speaking of that frame, some can find that they are perhaps a touch too bulky for this – at least at first.
Therefore, we do tend to recommend this mostly to people who are already in decent condition and want a high quality, competitive-standard spin bike to use instead. It's a good value purchase overall, sure, but it might not be suitable for those who are still to shed some of their excess weight beforehand. The light weight limits mean that it could become too hard to use.
The quality, though, is proven in the fact that the company who develops this, OVICX, offer a 3-year after-sales service for any buyer. This give you confidence that they expect the bike to still be working in good condition for some time. The comfortable adjustment that the bike offers allows for you to easily find the right resistance level and the correct height.
For that reason, you should definitely look to use this solution for a bike you have total control over. The resistance and safety levels are very useful, and the stepless resistance adjustment provides you with the chance to adjust to fit your own needs on any given day.
For a demanding but reliable spin bike, then, this is a model to consider for sure. Want to stop quickly? Simply hit the emergency button to bring the whole thing to a sudden stop!
21. BTM Spin Bike
With a 13kg flywheel and a 4-way adjustable seating and handling option, this spin bike offers a very useful starting place. While those who have been using a spin bike for some time might find it a touch too lightweight, those who are just beginning their fitness journey should find a bike to fall in love with here. It's a solid, durable, reliable choice that comes with unlimited resistance for you to pick from.
It comes with a 4-way adjustable handlebar and seat, meaning that you can easily find the right incline for you to work towards. The LCD display is very easy to read, too, offering you a lot of useful information to read through. On top of that, the unlimited resistance level means that you never need to stop; keep increasing until you find a level that is the most challenging and rewarding for you personally.
The phone and bottle holders are also a nice touch, meaning that you can keep everything within the reach of your hands as you work out. Now, you don't have to worry about losing your ability to control anything as you go through the spin bike workout.
Easy to move into your own chosen position, too, this is a lightweight spin bike that you should have mor or less total control over. With rapid assembly and easy maintenance over time, too, this is a fitness aide that is easy to keep in spotless condition.
Simply wipe it down with a damp towel and you can keep that bike fresh from build-up of debris and dust in no time. A solid all-around option, especially for beginners.
22. Sunny Health & Fitness Belt Drive Bike
Lastly, we recommend you take a look at this impressive indoor exercise bike from Sunny Health & Fitness. This model might cost you in excess of £400, making it a really expensive purchase, but it can deliver some pretty tangible rewards as time goes on.
It's a good choice for most people who are on the lookout for a top quality spin bike. The easy to use 13-level belt drive magnetic resistance gives you complete control over the entire experience and the challenge. On top of that, an impressive digital display can give you all of the help you need to quickly and easily record speeds, distance, and calories burned. Therefore, you can easily stay on top of all of the challenges you face when it comes to riding to the correct level of challenge. Set a target for yourself and use the LCD display to make sure you stay on top of that challenge!
The ergonomic pulse sensors also help you to see just how hard you are pushing your body, too, which can be a nice touch. On top of that, the bottle holder that is provided allows for you to keep your water close by, so you never feel too dehydrated during your workout.
We highly recommend this to just about anyone who is on the lookout for a fitness aide that is suited to all skill levels. As an all-around model, this is as useful for a first-time user of a spin bike as it is for a cycling supremo. If you want an ergonomically designed model that can feel really easy to ride and to adjust to your own personal preferences, you should absolutely check-out this particular model for evaluation.
Making the best decision on a spin bike for home
By keeping the above factors in mind, you should hopefully feel a bit more positive about buying a spin bike. You just need to take a look at each of the products suggested, and you should really have no problem at all in enjoying the experience of riding a spin bike.
It's something that you should really be able to enjoy if you simply put in the time and the effort to try it out. Like any other form of exercise, you need to be willing to give it 100% effort to see the results. If you put in the time, though, there is absolutely no reason why a spin bike cannot be a wise investment for you. If you are willing to make the space for a home spin bike, then you should be willing to commit to seeing the results come to life.
If you are truly serious about making sure you can get into the best shape of your life, then you might wish to invest in a spin bike. By using any of the products listed on this article, you should be able to make a purchase you are going to be happy with in the future.
The challenge you face when it comes to deciding regarding your spin bike comes down to the factors we have already mentioned. Overall, though, it comes down to price. Shop around on the list above, though, and we guarantee that you should be able to find a top quality spin bike that fits your aims and needs.
With a bit of time spent researching and comparing each product, you should have no problem at all in making a choice. And the sooner you make a choice, the sooner you can get your spin bike delivered and leaving a positive impact on your living quality!